Diamond Diner faces double digit sexual harassment suit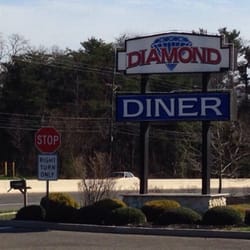 Hainesport, New Jersey – Gus Diamantis, the manager and owner of Hainesport's Diamond Diner has been charged with sexual harassment, including showing pornography to a waitress, soliciting that waitress for sex and encouraging the same waitress to sleep with other employees. The suit alleges Diamantis violated the Civil Rights Act of 1964 when it terminated a waitress for complaining of Diamantis' sexual advances. The Plaintiff is requesting $750,000 in lost pay, punitive damages, court fees and interests. The case is set to be heard in the Burlington County Superior Court.
Errin Verde was hired at Diamond Diner back in 2014. After a year of peaceful employment, Verde's supervisor Diamantis became sexually aggressive in his behavior towards Verde. He began by showing her pornographic pictures on his phone, suggesting that they engage in similar sexual acts. Verde brushed it off, but Diamantis continued, telling her "life would be much easier for you if you agreed to do other things for me on your knees." Diamantis continued his inappropriate behavior by making vulgar comments about other servers and implied that Verde should participate in sexual acts with her coworkers. Diamantis was very cavalier with his harassment, often making inappropriate inquiries and statements about her weight and romantic life.
Things came to a head in the summer of 2015. Verde burned herself while pouring hot water into teapots. Her injuries required medical care and time off. The day following her accident, Diamantis told Verde he would have to let her go because his insurance deemed her "high risk." Verde then attempted to file a workers compensation claim. Diamantis told Verde he would provide her with the information at a later time. Diamantis subsequently stonewalled her. Verde took it upon herself to investigate Verde's claim.
Under Robinson v. Jacksonville Shipyards, Inc., the mere presence of pornography in the workplace constitutes sexual harassment under Title VII of the Civil Rights Act of 1964. In Robinson, female welder, Lois Robinson, filed a sexual harassment and discrimination claim based on pornographic images displayed in the workplace. Judge Howell W. Melton ruled that Jacksonville Shipyards, Inc. had maintained a hostile atmosphere with the unrelenting visual assault on the sensibilities of female workers." The case turned on pictures hanging in common workspaces but failed to touch constitutional First Amendment questions.
Here, like Robinson, Diamantis' constant visual assault to the female sensibilities creates liability under Title VII for the restaurant. Further, and by far the more heinous, Diamanti's routinely propositioned Verde for sexual favors, even acting as a quasi-pimp in implying that she sleep with others to maintain her job. This type of sexual harassment is commonly known as quid pro quo sexual harassment. This is best described as an employer predicating an employee's favorable treatment at work, or even the employee's ability to work itself, on acquiescing to the employers request for sexual favors. Title VII further places strict liability on employers when it is a manager or supervisor who makes the indecent proposal.
The skilled New York and Philadelphia sexual harassment attorneys at the Derek Smith Law Group, PLLC, have years of experience litigating claims of sexual harassment, both pornography in the workplace and quid pro quo sexual harassment. We have recovered millions for our clients and have won judgments restricting employers from participating sexually harassing conduct. If you feel like you have been sexually harassed in the workplace, please give us a call, toll free, at 1877-4NYLAWS.
---
Call today to schedule a FREE sexual harassment or employment discrimination legal Consultation in NY, NJ & PA with one of our top rated employment law or sexual harassment attorneys here at the Derek Smith Law Group. You can reach us online or by calling 877.469.5297. Our New York City, New Jersey and Philadelphia labor & employment law attorneys handle a variety of cases involving sexual harassment, racial discrimination, pregnancy discrimination, and other employment-related claims. We serve clients throughout New York, including Manhattan, Brooklyn, Queens, the Bronx, and Staten Island. We also have offices in New Jersey and Philadelphia to serve you.
Make Sure Your Lawyers Have the Verdicts To Back Up Their Negotiations – Results Matter!