Has your personal space been violated at work? Did someone touch or abuse you without your consent? One of the most traumatizing forms of sexual harassment is unwanted physical contact. Unwelcome touching can range from offensive shoulder patting to outright sexual assault.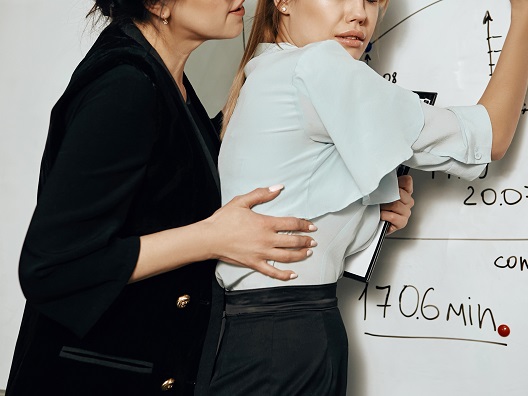 The goal is generally the same: to make a person feel demoralized and intimidated. Sexual Harassers use these tactics to exert control over the target. Now it is your time to fight back. If you have been the victim of unwanted physical contact at work, our attorneys can help you file an EEOC claim for sexual harassment or bring a sexual harassment lawsuit in New York, New Jersey, Pennsylvania or Florida state or federal courts.
If you are an employee and need representation in an employment law issue, contact us for a free review with an employment law attorney today.
Call Us To Get A Free Consultation
Sexual Harassment Law: What does 'unwelcome' physical harassment mean?
To be considered illegal sexual harassment, offensive contact must be "unwelcome." In other words, you did nothing to solicit or incite the behavior. You regard the behavior as undesirable or offensive. The best way to assert that the acts are unwelcome is to tell your sexual harasser to stop. Let him or her know you find the conduct offensive and unprofessional.
The law recognizes two forms of sexual harassment
(1) Quid Pro Quo sexual harassment is where an Owner, Manager or supervisor requires or coerces a subordinate employee to take some sort of sexual action in exchange for an employment benefit or to avoid a demotion or firing.
(2) The second form is called Hostile work environment sexual harassment involves any unwelcome sexual conduct that is severe or pervasive enough to alter the work environment. Inappropriate touching involves hugs, touches and other gestures of a physical nature, but maybe not necessarily be of a sexual nature, these physical encounters tend to make an employee feel uncomfortable and is not deemed appropriate workplace conduct. Under some circumstances, you can be afraid to speak up for yourself.
You might be too intimidated to say 'no.' You may fear retaliation or further sexual harassment. The law is on the victim's side — even if you did not explicitly say "no," or tell the harasser to stop, you might still have a case for sexual harassment. As long as the behavior is unwanted, you may convince a court or the EEOC that you have a valid sexual harassment claim.
The sexual harassment lawyers at the Derek Smith Law Group will guide you every step of the way and inform you on whether the unwanted physical contact is a case for an EEOC claim, a state or federal lawsuit and if severe enough the unwanted physical contact may be a misdemeanor or a felony under the law of your state.
Unlawful Physical Contact Come in Many Forms
A range of physical acts could constitute sexual harassment in the workplace. Some are simple yet inappropriate behaviors. Others are criminal sexual acts that could warrant criminal as well as civil charges. Speak to a sexual harassment attorney to have your rights as an employee explained to you and to see if you have a sexual harassment lawsuit or EEOC claim. Examples of physical harassment include:
Groping
Grinding
Patting or petting
Stroking
Massaging
Rubbing
Blocking a person's movements
Kissing
Fondling
Physical assault
Attempted rape or rape
Maybe you brushed it off as a one-time event, but then it didn't stop. Or, it only happened once but the conduct was especially severe, such as rape.  Either of those scenarios could be sexual harassment. Sometimes, harassment starts off seemingly innocent but then escalates into full-blown abuse.
A few specific examples of physical harassment are:
Grabbing your buttocks or breasts
Purposefully rubbing up against you
Trying to kiss you without permission
Rubbing his or her genitals on you
Hugging you without asking
Caressing any part of your body in a sexual way
If you have been violated, promptly report the abuse to your supervisor and the Human Resources department. Familiarize yourself with company anti-harassment policies. Use that information to gain leverage in the situation. If your complaints are ignored or the harassment continues, speak with a sexual harassment attorney right away. Our top sexual harassment attorneys have handled many sexual harassment lawsuits as well as EEOC claims.
Get Sexual Harassment Attorney on your side | Free Consultation
When your employer fails to protect you from sexual harassment in the workplace, consult with an attorney at the employment discrimination law firm to learn your rights and get the financial compensation that you deserve. Our skilled sexual harassment attorneys diligently advocate for victims' rights. Call us at 800-807-2209 today for a free consultation. Our sexual harassment lawyers serve clients in Manhattan, Brooklyn, Queens, the Bronx, and Staten Island and throughout the state of New York. We also represent employee's sexual harassment cases in New Jersey, Pennsylvania, and Florida. We do not charge any fee unless we recover for you.
Different Types of Sexual Harassment Cases We Handle: