What Makes a Hostile Work Environment?
As per the EEOC – harassment in the workplace becomes illegal when:
Enduring the offensive conduct becomes a condition of continued employment, or
The conduct is severe or pervasive enough to create a work environment that a reasonable person would consider intimidating, hostile, or abusive.
Employers are responsible for keeping sexual harassment and discrimination out of workplaces. It seems commonsensical, but oftentimes the actions of managers, supervisors or co-workers create an environment that's hostile to another employee. If the harassment or discrimination is so severe or pervasive that it interferes with an employee's ability to do his or her job, the workplace has become a hostile work environment. In addition, under New York City Law, the harassment does NOT have to be severe or pervasive to qualify. New York City has some of the most employee protection laws in the world! Under New York City law, the harassment need only rise above what is considered a "petty slight" or "trivial inconvenience." Furthermore, even single incidents of sexual harassment or discrimination may be enough.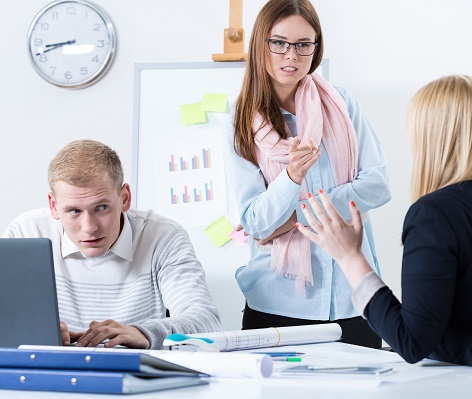 A hostile work environment can occur due to workplace conduct which is contrary to your comfort and peace of mind as an employee and is caused by some type of unfair discrimination or discriminatory harassment. The perpetrator may be your immediate boss, a senior staff member, a co-worker or even someone not directly employed by the organization, though what you need to show to prove a hostile work environment may differ depending on the identity of the perpetrator. If their actions create an intimidating and offensive work environment, this is illegal.
In many cases, the conduct in question is open to interpretation as to its intent and effect, or even if quite clear, can be hard to prove. It takes a skilled hostile work environment lawyer to develop a legally valid claim and present a compelling case in the fight to defend your rights in New York, New Jersey, Philadelphia & Maimi.
While this is a difficult predicament for any employee, the law only provides protection if the harassment or discrimination is directed at a person because of certain physical traits or membership in a set of specific groups. Together these traits and groups are called protected classes. Hostile work environment claims often cite instances of harassment on the basis of disability discrimination, age discrimination, sexual orientation discrimination, religious discrimination, sex discrimination or race discrimination. In other words, the harassment is being directed specifically at you because of some personal trait that is protected under the law. If the harassment if significant and recurring, and you reasonably believe that it must continue to be endured in order to maintain your employment, this constitutes a hostile work environment. The additional federal laws that support you when you feel you are facing this situation include Title VII of the Civil Rights Act of 1964, the Age Discrimination in Employment Act (ADEA) and the Americans with Disabilities Act (ADA). New York, New Jersey and Pennsylvania's state anti-discrimination laws provide even more workplace protections for employees in theses states. Both the state and federal laws identify protected personal traits and prohibit harassment – and therefore the creation of a hostile work environment – on the basis of those traits.
Employees in a protected class who have been the target of severe or pervasive harassment or discrimination because of their membership in that class can claim that they have suffered from a hostile work environment and look to the law for help. Other reasons for a discrimination claim can be weight discrimination, compensation discrimination, pregnancy discrimination, national origin discrimination, and discrimination based on genetic information. Call the Derek Smith Law Group and speak with a Hostile work environment or employment discrimination attorney today.
If you are an employee and need representation in an employment law issue, contact us for a free review with an employment law attorney today.
Call Us To Get A Free Consultation
What Are The Protected Classes Under Federal anti-Discrimination Laws?
Hostile Work Environment Lawyers
Protected classes are groups of people protected from discrimination and harassment under United States Federal anti-discrimination law, Title VII of the Civil Rights Act of 1964, along with the laws of New Jersey, Pennsylvania, New York and Florida's human rights laws, make employers legally liable for discrimination that happens in the workplace against someone for any of the following reasons: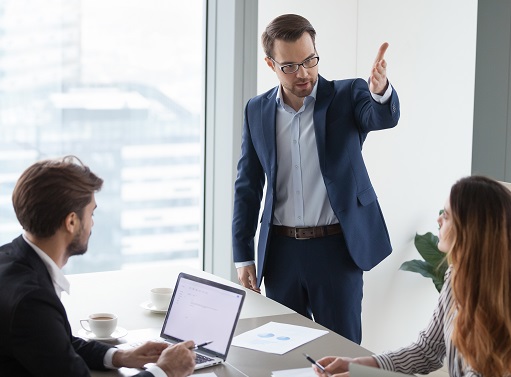 Does Who is Harassing You, Matter?
New York, New Jersey, Philadelphia & Maimi has tough laws regarding hostile work environments. These laws acknowledge the greater power senior managers hold in a workplace and treat acts of harassment committed by them as if they were committed by the employer.
The laws treat harassment committed by co-workers and lower-level supervisors differently. In these cases, employers can defend themselves by investigating the harassment and taking effective remedial measures to stop it. If they fail or do nothing, they can be legally liable for the harassment.
What should I do if you're a victim in a protected class in New York City, New Jersey, Philadelphia, Los Angeles & Maimi?
Don't worry if you don't have a copy of a harassing email or a recording of your harasser admitting the harassment. In many cases, especially when the harasser is in a powerful position or tied to people in powerful positions, the employer may make efforts to conceal his or her conduct. There may not be a single piece of obvious evidence, but when looked at as a whole, there is often a strong case. To protect your rights, it's important to speak with an employment attorney as soon as possible. Call today to speak with the New York City, New Jersey, Philadelphia & Maimi hostile work environment attorneys at the Derek Smith Law Group.
Can you sue a company for a hostile work environment?
To sue your employer for harassment under a hostile work environment theory, you must show that you were subjected to offensive, unwelcome conduct that was so severe or pervasive that it affected the terms and conditions of your employment. Getting yelled at all day long could be enough to meet this part of the test. In general, if an employee alleges that he or she is experiencing a hostile work environment, his or her employer should conduct an internal investigation to understand the reality of the situation. If the employer finds that there is a hostile work environment, he or she is required to redress the problem and stop the work environment from being hostile.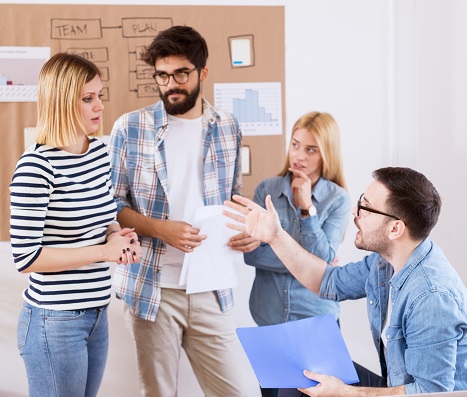 Even if the investigation concludes that there is no merit to the employee's complaint, the employer should still inform the employee about the investigation's findings. If the employer refuses or simply fails to deal with the problem – or, indeed, if the employer itself is the source of the problem – the employee can file a complaint with the federal Equal Employment Opportunity Commission (EEOC). The EEOC conducts its own investigation into the charge of a hostile work environment, and may also file suit against the employer on the employee's behalf.
Having an experienced hostile work environment attorney who can help guide you through the different processes can help you fight back against a hostile work environment. Contact the hostile work environment attorneys at the Derek Smith Law Group today for a free consultation about EEOC claim representation/mediation or filing a Sexual Harassment lawsuit. Our hostile work environment lawyers charge no fee unless we recover for you.
Contact our hostile work environment attorneys for a free consultation
For help addressing a hostile work environment and filing a lawsuit or EEOC charge, talk to the Employment discrimination and sexual harassment Attorneys at the Derek Smith Law Group, PLLC. We focus on employment law and our legal team has been litigating employment claims for over 20 years. The hostile work environment attorneys at the Derek T. Smith Law Group have been a strong and reliable advocate for clients dealing with difficult employment law issues such as hostile work environments, sexual harassment and employment discrimination. Our employment discrimination attorneys know the intricacies of employment laws and use that knowledge to deliver the most favourable legal results for you. Call us today at 800-807-2209. We know how incredibly difficult it may be to be in your position. Let our hostile work environment attorneys help.