Co-Worker Sexual Harassment Attorneys
You might have been told employment sexual harassment is only illegal if committed by your supervisor. That just isn't so — there are many situations where you can pursue legal recourse if you have been sexually harassed by colleagues or workplace peers. Co-worker sexual harassment often creates a hostile work environment, affecting you both professionally and emotionally.
But, you do not have to accept injustice at work anymore. While companies have been held liable for quid pro quo sexual harassment between an employee and a supervisor, the question of legal liability about sexual harassment between coworkers is not as clear-cut. Knowing where and when to turn for help is imperative, so speak with our attorneys today. We can help you seek justice for your emotional and financial suffering.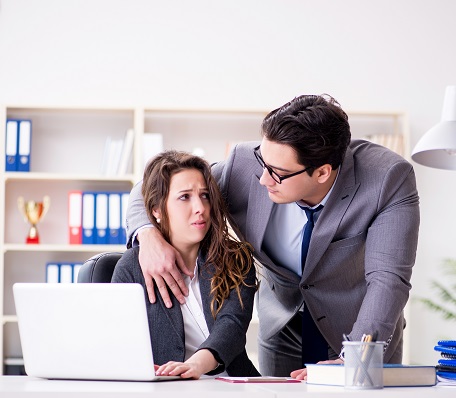 If you are an employee and need representation in an employment law issue, contact us for a free review with an employment law attorney today.
Call Us To Get A Free Consultation
What is co-worker sexual harassment?
Lines oftentimes become blurry in regards to sexual harassment between colleagues. What is offensive to one person may be perfectly acceptable to another. If you have been subjected to repeated offensive comments, lewd jokes, inappropriate pictures, invitations for dates, groping, touching, tagged in inappropriate social media posts or requests for sexual favors, and the behavior is unwelcome, it may constitute sexual harassment. From a legal standpoint, the offensive behavior must create a hostile work environment which interferes with your personal and professional life. Alternatively, a one-time event may be considered sexual harassment if the conduct was severe enough.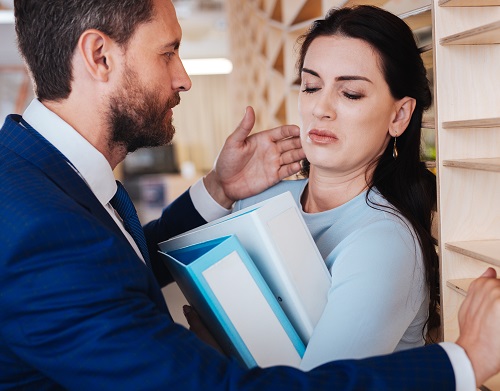 Letting your harasser know the behavior is unwelcome, unwanted and makes you feel uncomfortable is the first step in ending the inappropriate conduct. Many professionals try to brush off 
harassment
 as just part of the job. But, don't put your career in jeopardy and your emotional security on the line. A experienced New York City, New Jersey and Philadelphia sexual harassment attorney can help right the wrongs done to you.
Examples of workplace sexual harassment by professional colleagues
It may be unclear if a situation you have experienced is considered harassment. If you are unsure whether your circumstance warrants legal action, speak with a sexual harassment lawyer well-versed in New York City, New Jersey or Philadelphia employment discrimination laws.
Some specific examples of co-worker sexual harassment are:
Giving you a sexually-explicit gift
Repeatedly calling you "sweetheart," "honey," or "baby"
Purposely brushing up against you
Dropping a pencil, asking you to pick it up and then squeezing your buttocks
Offering to give you a good recommendation in exchange for sexual favors
Sending you flirty text messages, and complimenting you on your appearance
Posting sexual comments about you on social media
Making demeaning comments about women
Talking about sex with others near you
Different job sites have different codes of conduct dictated by the employee handbook. Some completely forbid intra-office fraternization. Others maintain specific rules for avoiding workplace harassment. Know the anti-harassment policies in your workplace, and follow the guidelines precisely for preventing and reporting inappropriate conduct.
Feeling safe from sexual harassment in the workplace
Workplace sexual harassment often goes unreported. Many men and women find reasons to not tell a supervisor, Human Resources or seek legal counsel about co-worker sexual harassment, such as:
You feel like you can handle the situation on your own
You work in a small office, and don't want unwanted attention
You want to avoid an uncomfortable confrontation
Your harasser is good friends with your boss
You are afraid your personal life will be scrutinized
Do not let embarrassment or other reservations prevent you from exposing the bad behavior from your co-workers. Many employees are unable to stop harassment on their own. Getting an experienced sexual harassment attorney on your side can help you maintain a safe work environment — and compensate you for lost wages, emotional distress, legal fees and more.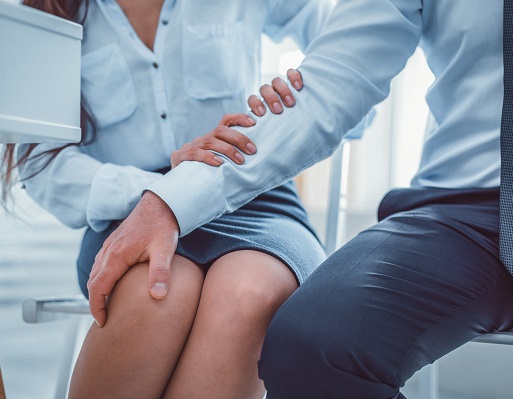 Consult with a Compassionate Sexual Harassment Lawyer | Free Consultation
When you have been demeaned as a professional and as a human being, contact the employment discrimination law firm for help. Our sexual harassment attorneys represent victims of workplace sexual harassment and sex/gender discrimination. Our employment discrimination attorneys work for you. To schedule your free initial consultation, call us today at 800-807-2209. We never charge legal fees unless we recover compensation for you. We can evaluate your Co-Worker Sexual Harassment case and let you know if you have a claim worth pursuing.