Sexual Harassment by a Supervisor in the Workplace
What should you do if you are being sexually harassed by your supervisor or manager?
Perhaps it began innocent enough. A request to meet after work, over drinks, to discuss a big project. Maybe your boss asked for your phone number to reach you in case of emergencies. Or perhaps something extreme happened — your supervisor or manager exposed himself to you.
In any event, supervisor sexual harassment is illegal and could be grounds for a sexual harassment lawsuit. An employer is vicariously liable for a hostile work environment created by a supervisor.  At the very least, if you feel as though your boundaries have been violated, speak with a knowledgeable New York City Sexual Harassment Lawyer. When dealing with supervisor sexual harassment in New York, New Jersey or Pennsylvania an experienced sexual harassment attorney can explain your employee rights in full detail.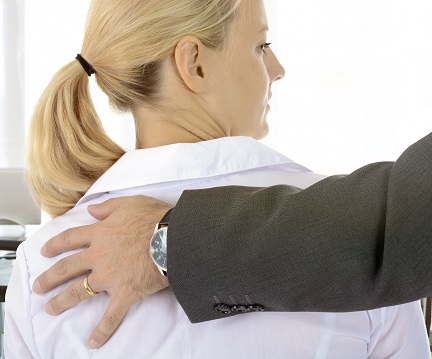 If you are an employee and need representation in an employment law issue, contact us for a free review with an employment law attorney today.
Call Us To Get A Free Consultation
Types of supervisor sexual harassment
Supervisor sexual harassment can range from physical touching to verbal abuse to sly off-color comments, sexual harassment comes in many forms. State and federal laws recognize two specific categories of harassment:
Quid pro quo — a common form of supervisor sexual harassment is called "quid pro quo." In Latin, this literally means "something for something." This occurs when sexual harassment becomes a condition of your employment. If you are compliant with the harassment, you may be rewarded with a job benefit, such as a promotion or raise. If you refuse a sexual advance, you could be fired or demoted. (Sexual Bribery)
Hostile work environment —generally, when harassment takes place over a period of time, it can create a "hostile work environment." A job site becomes legally hostile when the conduct in question serves to intimidate you and interferes with your work performance.
Typically, speaking the offending behavior must be "pervasive" or "severe" to become grounds for legal action. One time incidents won't be considered harassment unless the event was particularly egregious.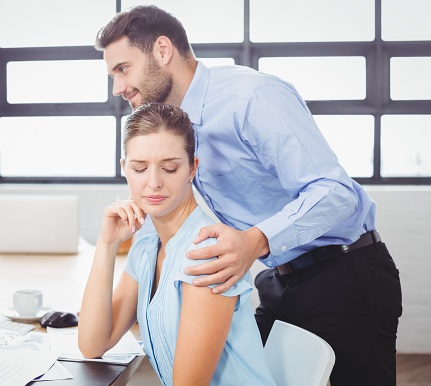 Employer liability for supervisor sexual harassment
Your employer is automatically liable for sexual harassment by a supervisor that results in a negative employment action such as:
Termination
Failure to promote
Failure to hire
Loss of wages
On other words, your employer should be held legally accountable if you were fired, demoted or not hired in response to thwarting a sexual advance. For example, your boss terminates you for not sleeping with him or her. Or you were passed up for a promotion because you asked your supervisor to not send your flirtatious text messages and explicit photographs.
If the supervisor's sexual harassment results in a hostile work environment, the employer can avoid liability only if it can prove that:
It reasonably tried to prevent and promptly correct the harassing behavior; and
The employee unreasonably failed to take advantage of any preventive or corrective opportunities provided by the employer.
If you file a sexual harassment lawsuit alleging violations of the City Law, you may be able to establish liability even if you did not take steps the proper actions to prevent and correct the behavior.
Retaliation is also illegal. It is unlawful to retaliate against a person for reporting sexual harassment, filing a harassment charge with the Equal Employment Opportunity Commission (EEOC), filing a lawsuit or testifying on behalf of someone else.
Contact our Sexual Harassment Attorneys for a Free Consultation
If you are dealing with a supervisor or manager sexual harassment, you are probably feeling lost, confused and embarrassed after being sexually harassed at work. When you don't know where to turn for help, contact the New York Employment Attorneys at the Derek Smith Law Group. We understand the pain you face and want to help you reclaim your life. To speak with a New York City sexual harassment attorney today, call us at 800-807-2209. Our sexual harassment lawyers serve clients in Manhattan, Brooklyn, Queens, the Bronx, and Staten Island and throughout the state of New York. We also represent employee's sexual harassment cases in New Jersey, Pennsylvania, and Florida.
Different Types of Sexual Harassment Cases We Handle: