What is the Family and Medical Leave Act?
When challenging events occur in your life, it is often necessary to take a temporary leave from work in order to attend to yourself or your family. The Family and Medical Leave Act (FMLA) which was enacted was signed into law on August 5, 1993 by former President Bill Clinton, is a federal law put in place that requires employers to provide employees unpaid leave for medical and family reasons that qualify under the Family and Medical Leave Act.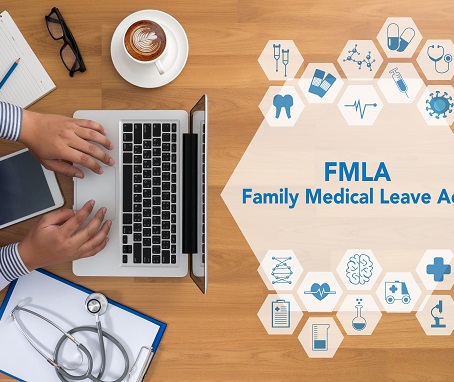 The FMLA also provides job protection while the employee is out on leave. Unfortunately, prior to the passage of the Family and Medical Leave Act (FMLA) many employees would do so fearfully, wondering if there job would still be there for them when they returned. In other cases, employers would use leave time as an excuse to cut benefits or seniority. Thankfully, legislation has been put into place to give people peace of mind when dealing with difficult personal issues and to prevent employers from taking advantage of these situations for their own gain.
The Family and Medical Leave Act does not cover all employees. Employees are only eligible if they have been employed by the company for at least 12 months before the intended leave. The employee must also have around 156 days or 1,250 hours worked within the 12 months before the leave.
The FMLA applies to people who need to take a temporary leave from work in order to undergo medical treatment and recovery, to give birth or care for a newborn child, to adopt a child, even a foster child or to care for an injured child, spouse or parent who is facing serious health or medical condition. The law allows for 12 weeks of unpaid leave during any 12-month period and up to 26 weeks leave for employees who need to care for a seriously ill or injured relative who is a member of the armed services. During this leave period, employers must respect several restrictions:
An employee cannot be terminated while on FMLA leave.
An employee must receive continued group health insurance coverage under the same terms and conditions while on leave.
An employer cannot demote an employee upon his or her return or otherwise unfavorably alter the terms or conditions of employment because the employee took leave.
Will my job be waiting for me when I return from a leave under the Family and Medical Leave Act?
Returning from a personal trial only to find out you've lost your job is something no one should have to face. Under the Family and Medical leave act an employee must be restored to the employee's original job, or to an equivalent job with equivalent pay, benefits, and other terms and conditions of employment. So while you may return and not have your exact same position in the company, you are at least entitled to a job and pay that is equivalent to the one you left before the medical leave
Will I get paid while I'm on leave under the Family and Medical Leave Act?
Under the Family and Medical Leave Act, an employer is only required to grant you an unpaid leave. But for an employee who has amassed time from vacation or sick time during his/her time of employment can choose to use that time for part of the FMLA leave. If you qualify for a FMLA leave, but your employer is denying your leave or you were fired for requesting or during your leave, call today for a free consultation and speak with one of our experienced FMLA violations attorneys. The employment discrimination lawyers at the Derek Smith Law Group can help you get your job back and even recover lost wages for the time you were out of work. Our FMLA lawyer represents employees in New York, New Jersey, Philadelphia, and Miami.