Dedicated Sexual Harassment Lawyers Protecting Employees from CEO Sexual Harassment
Sexual harassment by the CEO occurs when the CEO of a company makes unwelcome sexual advances, comments, or contact with an employee. This behavior creates a work environment of which no one would want to be part.
A Chief Executive Officer (CEO) is among the top of the leadership chain within any company. With that title comes a responsibility to set an example for your staff and middle management. This example includes acceptable behavior in the workplace. Sexually harassing members of your team would set the wrong example.
For over 25 years, the experienced sexual harassment attorneys at the Derek Smith Law Group in New York City, Philadelphia, Miami, Los Angeles, and New Jersey have helped victims of sexual harassment by the CEO get the compensation they deserve.
What Is Sexual Harassment by a CEO?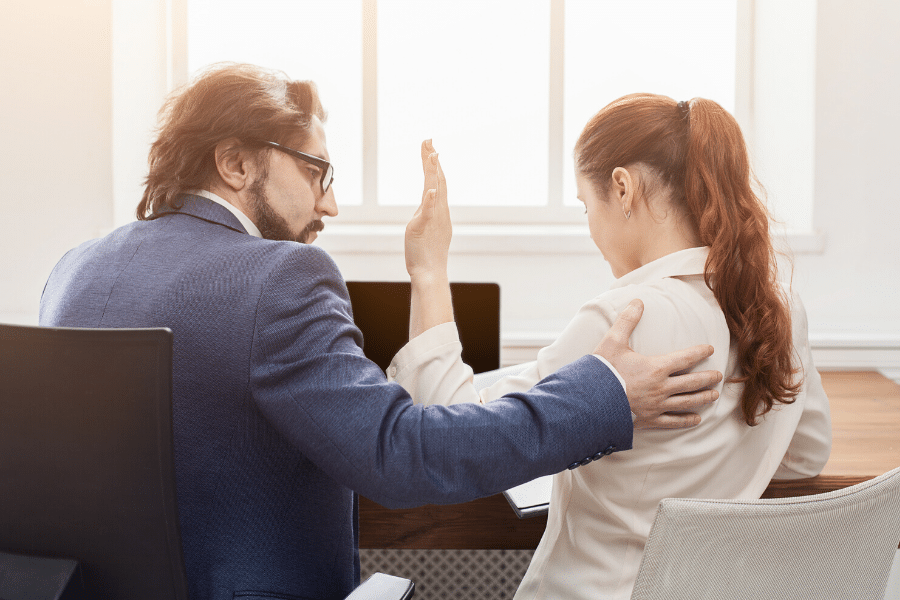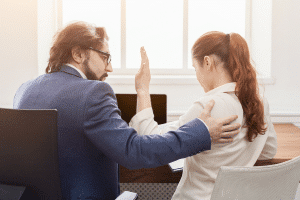 The CEO holds a certain amount of power and respect within a company. When he uses that power to harass you, an employee, it is easy to make you extremely uncomfortable. You may even be frightened he will use his power as CEO to affect your livelihood. It is an extreme, illegal abuse of power in the workplace. Sexual harassment from the CEO of the company can create both a quid pro quo and a hostile work environment.
What Is Sexual Harassment in the Workplace?
Sexual harassment occurs when an employee or job applicant experiences unwanted physical contact or unwanted sexual advances. Sexual harassers can be men or women. They may have any of the following positions within a company: Employer, CEO, Coworker, Supervisor/Manager, Client/Customer, Vendor, Nonemployee.
There are two types of sexual harassment: quid pro quo and hostile work environment. In a quid pro quo situation, the employee or job applicant is promised privileges, such as a raise, promotion, or job offer, in exchange for sexual favors. The hostile work environment occurs when the harassment creates a situation where any reasonable person would feel so uncomfortable at work that they would not be able to function and do their job.
To Whom Can Employees Report Sexual Harassment by a CEO?
Companies with CEOs typically have departments designed to handle workplace concerns. Whether they employ an HR department or a specific sexual harassment oversight committee or department, there is a place that employees can report any sexual harassment within the company.
When your CEO is sexually harassing you, the only place to go within the company is the designated team dealing with sexual harassment in the workplace.
What Laws Protect Employees from CEO Sexual Harassment?
Title VII of the Civil Rights Act of 1964 protects employees from sexual harassment in the workplace. This protection also covers CEO sexual harassment. Many states have similar laws protecting employees from CEO sexual harassment.
Under Title VII, any employee working for a company with 15 or more employees is protected from sexual harassment. Victims of CEO sexual harassment can file a charge with the Equal Employment Opportunity Commission (EEOC) within 300 days of the incident.
The EEOC will investigate the charge and issue a Right to Sue Letter. This letter provides employees with 90 days to file a lawsuit in federal court.
Can A CEO be Fired for Sexually Harassing an Employee?
A CEO may be removed from his or her position due to sexually harassing an employee. As the Chief Executive Officer, the Board of Directors would need to vote to remove the CEO.
Most contracts will include stipulations that would allow a contract to end due to such misconduct. Therefore, while it is not mandatory to remove a CEO who is sexually harassing employees, it is the best practice.
Can an Employee Be Fired for Reporting a CEO for Sexual Harassment?
It is illegal to fire an employee who reports sexual harassment from the CEO. This is known as wrongful termination. It is a form of retaliation in the workplace. Under the law, an employee has the right to report sexual harassment. Retaliation against a person who reports such actions will prevent others from reporting unlawful acts in the workplace.
You can report sexual harassment from the CEO. If you are subjected to wrongful termination as a result, you may have the right to file a charge for retaliation in the workplace. It is best to speak with an experienced sexual harassment attorney to help you understand your rights.
What Remedies Are Available to Victims of CEO Sexual Harassment?
Some of the remedies afforded by the court to victims of CEO Sexual Harassment may include: reinstatement of employment and/or benefits, reimbursement of medical and other related expenses, review and revamping of policies, termination of CEO, lost wages, pain, and suffering, emotional distress, punitive damages.
Contact Our Experienced Sexual Harassment Attorneys for Your Free Consultation
You have the right to work in an environment free from sexual harassment, especially when dealing with the CEO of your company. If you have been the victim of sexual harassment by the CEO, the experienced sexual harassment attorneys and former sex-crimes prosecutors of the Derek Smith Law Group can help in New York City, Philadelphia, Miami, Los Angeles, and New Jersey.
Contact us today at (800) 807-2209 for your free consultation or by filling this contact form. We will not collect any money until you win your case.
Sexual Harassment Cases We Handle: