Sexual Harassment Lawyer New York City
Act Now! Your rights may be time sensitive
Every employee in the State of New York is entitled to a working environment free from sexual harassment. Sexual harassment is a form of sex discrimination that violates Title VII of the Civil Rights Act of 1964. Title VII is a federal law that prohibits employers from discriminating against employees on the basis of sex, race, color, national origin, and religion. It generally applies to employers with 15 or more employees, including federal, state, and local governments. The Equal Employment Opportunity Commission (EEOC) receives and investigates complaints of sexual harassment in the workplace. This unlawful conduct may occur in employment, housing, educational institutions, or public accommodations. Most often, however, sexual harassment occurs in the workplace. The harasser can be the victim's supervisor, a supervisor in another area, an agent of the employer, a co-worker, or a non-employee.
The EEOC defines the offense as follows: "Unwelcome sexual advances, requests for sexual favors, and other verbal or physical conduct of a sexual nature constitute sexual harassment when submission to or rejection of this conduct explicitly or implicitly affects an individual's employment, unreasonably interferes with an individual's work performance or creates an intimidating, hostile or offensive work environment."
When dealing with a workplace sexual harassment EEOC claim or lawsuit employees should remember New York City anti-harassment (e.g. sexual harassment/sexism in the workplace ) and anti-discrimination (sex/gender discrimination) laws are some of the most pro-employee, comprehensive civil rights laws in the country and with New York City having well over 3.5  million private sector employees and another 250,000 city employees there are nearly 15,000 sexual harassment or gender discrimination lawsuits filed in New York City every year. Sexual harassment is a form of gender-based discrimination and no employee deserves to be harassed, discriminated against or mistreated at work. However, in New York City workplace gender discrimination, sexual harassment and occupational sexism occur far too often and when it does you need an experienced and dedicated sexual harassment attorney. Whether you are a man or a woman, regardless of your sexual orientation (Gay, Straight or Bi-Sexual), workplace sexual harassment and sexism is illegal. However, with the right New York City sexual harassment lawyer in your court, and proper knowledge of New York & New York City sexual harassment laws, which protect your rights as an employee, you can fight back.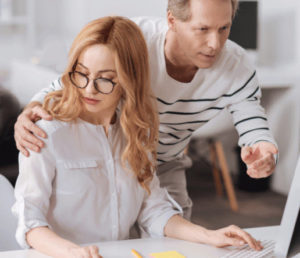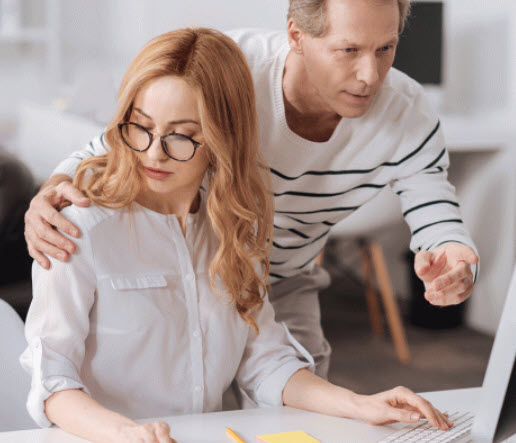 How Does the New York City Human Rights Law Define Sexual Harassment?
To be protected by the New York City Human Rights Law, which governs sexual harassment, occupational sexism and gender discrimination standards in NYC, the company or organization must have four or more employees. The Human Rights Law is Title 8 of the Administrative Code and it incorporates all the amendments since 1991 when the Law was revised. The Code is intended to prevent discrimination of protected classes in the workplace. You cannot be treated differently or unfairly based on your sex, gender, sexual orientation, race, religion, ethnicity, pregnancy or disability. The laws against sexual harassment were developed through a long line of court cases which strengthened the employee protections all employers are now governed by Some of the most notable sexual harassment court cases.
The Human Rights Law sees sexual harassment as a form of sex-based discrimination. Sex-based discrimination is illegal and may be compensable by law. In other words, if you were harassed at work and your employer did nothing to correct the situation, you may be able to file a lawsuit in court. Our sexual harassment lawyers at the Derek Smith Law Group will guide you through this process starting with a free consultation to evaluate your sexual harassment claim. Our sexual harassment lawyers are New York City, New Jersey and Philadelphia top attorneys in the area of sexual harassment and employment discrimination law and our attorney receive verdicts that bear this out year after year. The sexual harassment lawyers at the Derek Smith Law Group have earned the some of the highest verdict returned in Sexual Harassment and employment discrimination cases in New York City, New Jersey and Philadelphia.
Sexual harassment can occur in the workplace under a variety of conditions, but in general, it involves an unwanted sexual advance or conduct which negatively affects your employment. Harassment can be verbal, physical or pictorial. The sexual harassment complainant does not have to be the person at whom the offensive conduct is directed, but anyone affected by the harassing conduct. The victim of sexual harassment may be either a man or a woman. The harasser may be either a man or a woman as well. The victim and the harasser do not have to be of the opposite sex.
According to the Equal Employment Opportunity Commission (EEOC), there are two types of sexual harassment claims: hostile work environment sexual harassment and quid pro quo sexual harassment:
A hostile work environment sexual harassment occurs when an employee is subject to unwelcome behaviors such as sexual comments or actions of a sexual nature that create an intimidating, unpleasant, or offensive business atmosphere, and/or unreasonably interfere with his or her job performance. Examples of actions that may cause a hostile work environment include offensive comments, inappropriate materials or graffiti, sexually suggestive innuendos, jokes that are sexual in nature, sexual social media posts, sexual gestures and/or unwanted physical touching.
In situations involving sexual harassment as a hostile work environment, an employee or group of employees must prove that the following conditions were met:
A protected class was subjected to unwelcome harassment
The harassment was sexual in nature
The harassment affected a term, condition, or privilege of employment
The conduct was severe and pervasive
The employer was or should have been aware of the harassment and did not take necessary remedial action (the employer took no action at all, took insufficient action, or exacerbated the problem)
If you have been exposed to hostile work environment sexual harassment, contact our hostile work environment sexual harassment lawyers in New York City for a free consultation today.
Quid pro quo means "this for that". In this type of sex harassment, the victim must choose between accepting or submitting to sexual advances and suffering one or more employment-related consequences. For example, New York City workplace harassment would fall into the quid pro quo category if an employee suffered a pay cut, was denied a promotion or was fired upon the refusal of a date, one or more requests for a sexual favor, or other sexual advances. On the other hand, if an employee received a raise, bonus, or promotion only after fulfilling certain sexual requests, it could also be considered workplace sexual harassment under New York State and New York City law.
Sexual Harassment law in New York City as well as all over the country is constantly evolving, and there are a number of factors and details that are considered in determining New York City workplace harassment, including the following:
The response of the employer to formal complaints filed internally
The existing policies, procedures, and training protocol that relate to workplace harassment in New York City.
If you feel as you have exposed to Quid Pro Quo sexual harassment or workplace discrimination in New York City or Greater New York, contact us for a free Sexual Harassment legal advice consultation. Our sexual harassment attorneys charge no fee unless we recover for you.
Workplace Sexual Harassment Attorney in New York City, NY
When you are a victim of workplace sexual harassment whether in New York City the most difficult decision is the decision to no longer accept it.  We can and will assist you through this difficult and confusing legal process by helping you to formulate your sexual harassment EEOC complaint, assisting you with the investigation stages of your sexual harassment EEOC complaint and, if necessary, indicating your right to defend yourself from unlawful harassment through litigation in New York City or New York State courts. Verdicts in New York for sexual harassment, hostile work environment, quid pro quo and other NYC workplace harassment claims can be high, and employers will often deny wrongdoing and will even protect employees who sexually harass to avoid having to pay damages. If you are experiencing sexual harassment or other unlawful workplace harassment contact the premier New York sexual harassment lawyers.
Our New York City sexual harassment lawyers are well-versed in New York State, New York City and federal Sexual Harassment and employment laws. We use our legal savvy, vast education and compassionate attitude to secure positive results for victims of workplace sexism and sexual harassment in and around New York City.  Sexual harassment attorney Derek Smith, Rated one of the Top sexual harassment lawyers in New York City by SuperLawyers and Newsweek. Attorney Derek Smith is also recognized by The New York Law Journal as having obtained one of the highest workplace discrimination jury verdicts in the state of New York.
Different Types of Workplace Sexual Harassment
Sexual harassment is often disguised in many forms. Inappropriate workplace behavior extends far beyond "sleep with me for a promotion"-type conduct. Tasteless jokes, supposedly funny pictures and improper touching can all be considered unlawful in a certain context. When unseemly conduct at your job starts to affect your work performance and emotional state, speak with a sexual harassment lawyer right away. You may have options for legal recourse, and be entitled to collect compensation. You may find yourself subject to one or more of the following "Sexual Harassment" behaviors while at work. If you have been exposed to any type of sexual harassment contact our sexual harassment lawyers in New York City, New Jersey, and Philadelphia for a free consultation today.
For more information on New York City Sexual Harassment and how our sexual harassment attorneys can help, visit some of our other workplace sexual harassment related pages for additional information on New York state and New York City sexual harassment laws by following the links below:
Teasing. Bullying. Harassment. Violence. These sound like adolescent problems for high school students. Regrettably, these are still prevalent issues surrounding adult gay and lesbian workers. The Gay and Lesbian community faces sexual harassment and discrimination at unsettling high rates in the workplace. If you are being harassed at work, you may feel as though you do not have a chance to fight back. But — now is your time to stand up for your right to a fair and safe work environment.
Parties, picnics, and other off-site company events are perfect for co-worker bonding and provide a chance to let your hair down. Unfortunately, alcohol decreased inhibitions, and carelessness also provides a breeding ground for sexual harassment. You might not think you have a sexual harassment claim if the incident took place off-site or after-hours. However, your employer might still be responsible in a court of law.
Workplace stalking is illegal and you do not have to take it. At the highest level, stalking in the first degree — a Class D Felony — the stalker has "intentionally or recklessly" caused physical injury.
Few situations are more uncomfortable than unwanted requests for sex in the workplace. You are at work to get your job done — not to be the subject of sexual harassment. Under federal law, in addition to New Jersey, Philadelphia, New York City and State law, it is illegal to demand sex from an employee or co-worker.
Can a person go to jail for workplace sexual harassment? While most cases of sexual harassment are civil, New York City laws recognize several types of non-consensual sexual behavior and classify them by varying degrees of the law which can be criminal in nature.
A sexual bribe is the solicitation of sex, any sexual activity or other sex-linked behavior for a promise of elevation in work status or pay. A sexual bribe may be either overt or subtle but falls under the type of Quid Pro Quo sexual harassment. Quid Pro Quo is a 16th-century Latin term meaning "this for that".
When funny comments cross the line to offensive comments, lewd conversations and inappropriate sexual joking, it can create an intimidating, uncomfortable working environment. Being exposed to unwelcome sexual jokes, or being the target of sexual teasing at work is not funny — in fact, it's illegal. If you have been exposed to this type of sexual harassment contact our sexual harassment lawyers in New York City for a free consultation today.
What is considered Sexism in the Workplace? Occupational sexism (also called sexism in the workplace and employment sexism) refers to any prejudice, stereotyping, or discrimination, typically against women, on the basis of sex. Some of the most common types of sexism are:
Stereotypes – The belief that a woman's place is at home with the children
Salary / Wages – If you are being paid less than you equally qualified counterparts because of your gender.
Raises / Promotions – being just as qualified or more qualified than their male co-workers, yet still passed over for a promotion or denied a raise while less qualified male employees are promoted and given raises.
When a present from a co-worker crosses the line, you may be entering sexual harassment territory. Giving someone sexually explicit gifts at work is not only unseemly, but it might also be illegal. It may create a hostile work environment.
You might have been told employment sexual harassment is only illegal if committed by your supervisor. That just isn't so — there are many situations where you can pursue legal recourse if you have been sexually harassed by colleagues or workplace peers. Co-worker sexual harassment often creates a hostile work environment.
The U.S. Equal Employment Opportunity Commission's guideline state that an employer is automatically liable for harassment or sexual harassment by a supervisor that results in a negative employment action such as termination, failure to promote or hire, and loss of wages.
Sexual orientation harassment refers to harassment or differential treatment based on someone's perceived or actual gay, lesbian, bi-sexual, or heterosexual orientation. If you have been exposed to sexual harassment by a supervisor or would like more information on sexual orientation harassment, contact us today.
By definition, sexual coercion is "the act of using pressure by intimidation, alcohol or drugs, or forced to have sexual contact with someone against his or her will." Sexual Coercion can be overt or covert which makes it hard to identify. Sexual coercion includes all forms of sexual contact, including intercourse, oral sex, kissing, petting and more. Abusers use a range of pressure tactics to convince the victim to submit to sexual activity when the victim has already refused.
Has your personal space been violated at work? Did someone touch or abuse you without your consent? One of the most traumatizing forms of sexual harassment is unwanted physical contact. Unwelcome touching can range from offensive shoulder patting to outright sexual assault.
The customer is not always right. When you are sexually harassed by someone who does not work for your organization, your employer may be held legally responsible for the abuse. When your employer fails to make your workplace a safe place free from all types of sexual harassment, verbal harassment, emotional harassment and physical harassment, you deserve to stand up for your rights.
You might not think it is illegal because you were tormented at your workplace, by a member of your own gender. However, sexual harassment far extends the typical scene of a male boss seducing a young, female employee. Men can and have been known to sexually harass other men at work, and women can sexually harass other women at work— in either instance, the behavior is deplorable and illegal.
Retaliation After a Complaint of Sexual Harassment
What do you do if you've spoken up against sexual harassment in your organization and are now facing negative consequences for doing so? You may have a claim for retaliation if you were fired, demoted or treated unfairly for filing a sexual harassment claim, testifying in court or being involved in the investigation, this is illegal in New York. The Law protects you against retaliation as long as you have a reasonable good faith belief that the employer's conduct is illegal, even if it turns out that you were mistaken. We will advise you that a claim of workplace retaliation can help support a sexual harassment lawsuit in cases where it appears that the employer fired the employee as punishment for having asserted a protected right under New York City or NY state law.
What to Document During Sexual Harassment Cases
Workplace Sexual harassment typically consists of numerous incidents. Detailed and an accurate written log, or diary, of the incidents, will help prove your claim of sexual harassment by providing evidence of what took place and when. Documentation is such an important part of filing a valid sexual harassment claim, it's important to include every detail, no matter how minor. Victims should write down or record below aspects as they happen, so they're fresh in the mind:
Each specific information, including the time and date of all details
All the people directly and indirectly involved
Record offensive conversations or remarks
Keep a log of emails or memos you have received
Complaints you have made: when, to whom, what you said and the response
Any reactions to the alleged sexual harassment
How the incident made you feel
How it affected work performance
How it affected your general well-being
Finding the Right Sexual Harassment Lawyer
Every sexual harassment case is unique, and different attorneys will offer different types and levels of experience. When choosing the best  New York City sexual harassment lawyer for you, a good fit is important. In other words, you should feel comfortable and safe with your New York sexual harassment attorney. This is important because you may need to share very personal information with your lawyer, but you must first feel at ease with him or her before you can do so.
There are also certain qualities you should seek when choosing among sexual harassment lawyers in New York, including the following:
Experience: Your New York City sexual harassment lawyer should have extensive courtroom practice not only in New York City but all of New York.
A New York City Sexual Harassment lawyer should feel so strongly about your lawsuit that you should not be charged a fee unless your Attorney recovers damages in your case.
Trial record: The most reliable New York City sexual harassment lawyers will have successful track records with New York Labor & Employment laws, sexual harassment and discrimination cases.
Published works and academic achievements: Do some research to see if your sexual harassment attorney in NYC has published any articles in the field, if he or she has received any honors or other academic accolades, or if he or she has given any significant lectures. By doing this, you can get an idea of your attorney's level of accomplishment in New York City sexual harassment law.
Ethics: You want a New York attorney who is trustworthy and honest. Consult your lawyer's Martindale-Hubbell AV rating to see how he or she rates among peers.
Support staff: Your sexual harassment attorney in New York City should be surrounded by a team of skilled and knowledgeable colleagues and support staff who can produce accurate and efficient work toward your sexual harassment case.
Client Testimonials: Try to speak with other clients of your New York City lawyer—they can give you an idea of what it is like to work with not just their attorney but their law firm as a whole. Trust word of mouth recommendations from friends.
Questions a New York City Sexual Harassment Lawyer Can Answer For You:
When you have been sexually harassed in the workplace, you may seek the advice of a New York City sexual harassment lawyer for a number of reasons. If you are uncomfortable with how to report the harassment within your office setting, a sexual harassment attorney can help you to best navigate the system and report the harassment appropriately. Your attorney can evaluate your situation and answer the many questions you may be facing.
What is sexual harassment in New York City?
What are some examples of sexual harassment?
What to Do If You Are Sexually Harassed at Work?
What are there time limits for filing sexual harassment charges?
What is the timeline of a New York City Sexual Harassment Case?
Can you sue for sexual harassment if the harasser is not an employee?
Can I be punished by my employer if I report sexual harassment at work?
If you are considering filing a sexual harassment lawsuit or an EEOC claim, our New York City sexual harassment lawyers can represent you through all legal proceedings. Our sexual harassment lawyers offer a free Sexual Harassment legal advice consultation and we charge no legal fee unless we recover for you in your sexual harassment lawsuit or EEOC claim.
For more information on sexual harassment in the workplace, read our employment law blog:
Talk to an Experienced New York City Sexual Harassment Attorney Today
Do you believe you are a victim of a sexual harassment or employee rights violation or other injustice? Contact our firm for a case evaluation. While harassment at your job can be difficult and upsetting to deal with, remember that in the state of New York, you have rights in the workplace. Contact us if your rights have been violated at work. The New York City sexual harassment lawyers of Derek Smith Law Group, PLLC offer extensive knowledge, experience and have a successful track record representing victims of harassment. We can be reached in New York at (212) 587-0760 and Philadelphia at (215) 391-4790.
Our sexual harassment lawyers serve clients in Manhattan, Brooklyn, Queens, the Bronx, and Staten Island and throughout the state of New York. We also represent employees sexual harassment cases in New Jersey, Philadelphia & Miami.