Learn about what compensation employees can receive in an employment discrimination case.
Employment discrimination occurs when employees or job applicants receive negative treatment due to specific characteristics. These characteristics, known as protected classes, include race, religion, national origin, color, sex, gender, and more. When violations of workplace discrimination laws lead to a hostile work environment, you must take action.
The courts offer remedies to victims of employment discrimination. These remedies help you move on from the events leading you to court. They help you recover. To ensure you ask the courts for the remedies you need and want, you should work with a dedicated discrimination lawyer. Your lawyer will guide you through the entire process to ensure you get the relief you deserve.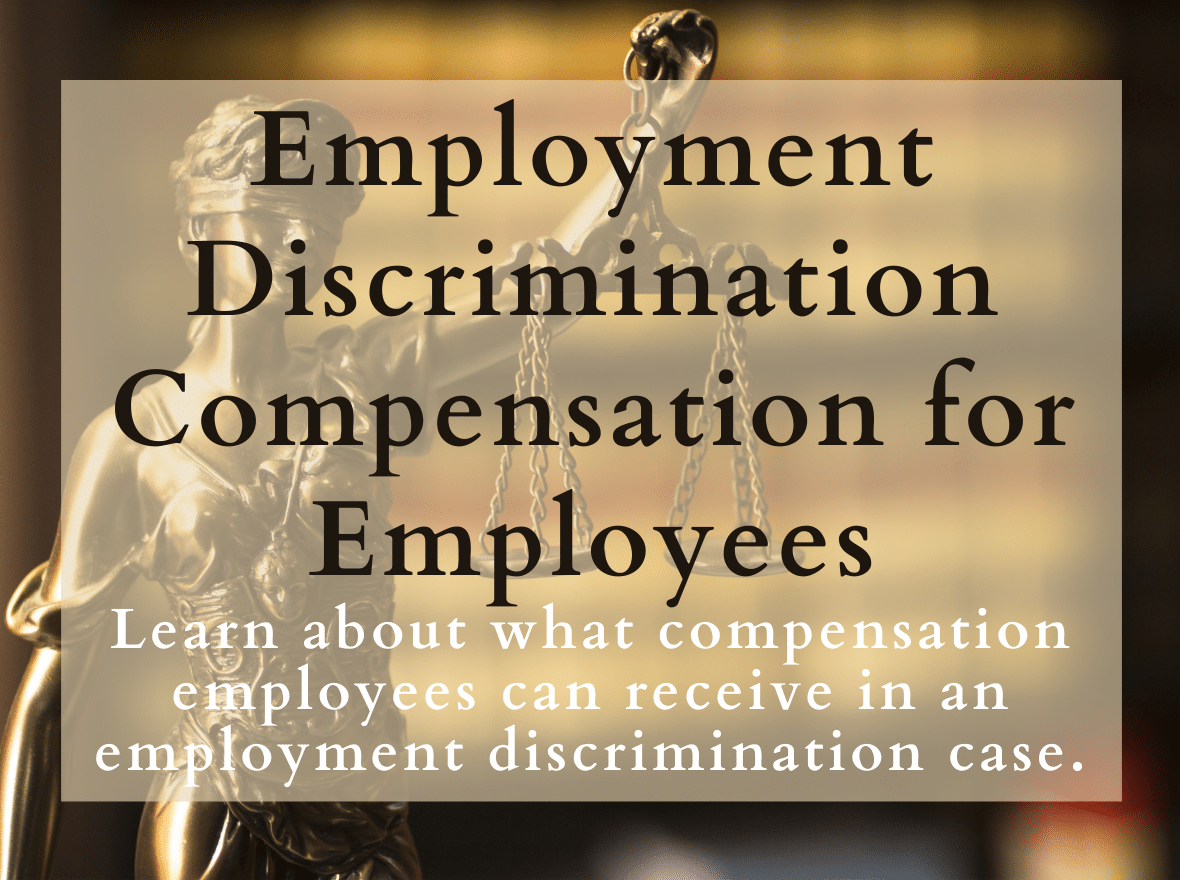 What Constitutes Employment Discrimination?
Employment discrimination affects employees and job applicants. Employers, CEOs, managers, supervisors, coworkers, clients, customers, and nonemployees can create a hostile work environment for any employee or job applicant by violating their civil rights under the law.
Federal and state laws include the following categories in their lists of protected classes:
In some cases, an employer may fire an employee in violation of employment discrimination laws. Retaliation and wrongful termination against employees are prohibited by law. An employer cannot fire you or otherwise retaliate against you because of your status in a protected class. Additionally, an employer cannot punish you because you reported an act of discrimination.
What Remedies Are Available for Victims of Workplace Discrimination?
The courts may award damages or relief to victims of discrimination at work. Please note, no two cases are alike. Therefore, no two settlements or awards are the same. One case's outcome does not guarantee your case will have the same outcome.
Remedies may include some of the following types of relief:
1. Injunctive Relief. Injunctive relief is a remedy forced upon your employer to help correct the problem. They may include some of the following options:
Reinstatement of Employment
Implementing Reasonable Accommodations
Removal of Person(s) Behind the Discriminatory Practices
Reviewing and Revamping Discrimination Policies and Procedures
2. Lost Wages. Employers may fire (or wrongfully terminate) employees, force employees to quit, or otherwise retaliate against employees and job applicants. As a result, salaries and wages get cut. Benefits also get cut.
Courts may reimburse you for lost wages and out-of-pocket expenses. Lost wages include:
Back Pay- any money owed from the date of termination moving forward towards the moment of filing.
Front Pay- If you do not get reinstated in your employment position, you may receive front pay. Front pay includes any money that you could make with an employer after the lawsuit ends until you start a new job. Age, length of employment, length of the average employee's employment, and length of time to find new employment determine front pay. You must make a valid attempt to find gainful employment to be eligible for front pay.
Reimbursement of Benefit Premiums – When you lose your job or suffer a reduction of hours, you lose your health insurance benefits. You may request payment of the premiums as part of your lost wages.
3. Attorney's Fees and Costs. Employment lawyers work on a contingency basis. Therefore, they do not receive payment for time or expenses until you recover on your claim.  You may request money for associated medical fees, your attorney's fees, and court costs as remedies from the courts.
4. Cumulative Damages. Intentional infliction of emotional distress and pain and suffering are remedies offered under cumulative damages. These remedies provide relief for the anguish, anxiety, mental and psychological pain, and physical pain suffered from employment discrimination.
5. Punitive Damages. Some companies, especially those who committed extremely horrific acts of discrimination at work, deserve an extra bit of punishment. Punitive damages punish excessive acts of discrimination.
6. Liquidated Damages. Some federal laws require double or treble damages for violations. Back pay may be multiplied by two or three to offer additional remedies.
Your discrimination and sexual harassment lawyers can help you decipher the types of remedies available to you. They can then help you request those remedies from the court.
Does the Law Limit Available Remedies?
Federal law limits available cumulative damages for employment discrimination victims. Remedies under federal law are as follows:
$50,000 if the company has 15-100 employees
$100,000 if the company has 101-200 employees.
$200,000 if the company has 201-500 employees
$300,000 if the company has more than 500 employees
State laws are less restrictive. Contact an experienced discrimination lawyer to learn what remedies may be available for your claim.
What Is the Average Settlement for a Workplace Discrimination Claim?
There is no true average settlement for a workplace discrimination claim. No two cases are alike. Therefore, no two settlements will be alike. However, your settlement will be based on the following:
The amount of income you lost
Whether the federal law requires double or treble damages
Any related expenses you may incur
Your attorney's fees and court costs
The amount of anguish you endured as related to the claim
The severity of the discrimination
How Long Does a Workplace Discrimination Claim Last?
Workplace discrimination claims can last a few months to several years in the court system. If your employer is willing to settle the case and offer fair remedies early in the process, your claim will settle quickly and you can move on with your life.
However, if your employer refuses to settle and you must go through the litigation process, your case may take several years to settle or reach a final judgment in court.
Contact an Experienced Employment Discrimination Lawyer for a Free Consultation!
Every workplace should refrain from discrimination. When you experience workplace discrimination, you deserve compensation. The courts have remedies available to those who stand up for their rights.
Call the dedicated employment discrimination attorneys at the Derek Smith Law Group today to help draft your claim and request the remedies you are entitled to.
Were You a Victim of Discrimination and Sexual Harassment at Work? Do You Want to Know More About the Available Remedies for Your Case? Please Call Us at 800.807.2209 or Email derek@dereksmithlaw.com.