Military Status Discrimination in the Workplace
Discrimination Lawyers Fighting for the Employment Rights of Military Veterans for Over 25 Years.
Military status discrimination is illegal under both federal and state laws. Military status discrimination laws prohibit discrimination based on an employee's past, present, or future military service. Military personnel put their lives on the line every time they suit up to go to work. Their one job is to protect us and our freedoms. Yet, many employers conveniently forget the sacrifice that people currently or previously in the military make.
Instead, employers often look at the bottom line. They treat many in the military, especially in the reserves, as a burden instead of the heroes they are. If your employer discriminates against you as a military member, you need an attorney that can help you stand up for your rights. You deserve a discrimination lawyer that respects you and your service to our country. Your lawyer should stand by your side as your advocate, helping you fight for your rights as an employee.
What Is Discrimination Based on Military Status?
Military status refers to veterans, current military personnel, reservists, members of the National Guard, and family members of current military personnel. Discrimination occurs when any negative employment decision or harassment is made based on an employee's or job applicant's military status. Employers discriminate based on military status when they deny a chance for an equal employment opportunity to an individual because of their past, current, or future military status or obligation in the uniformed or armed services.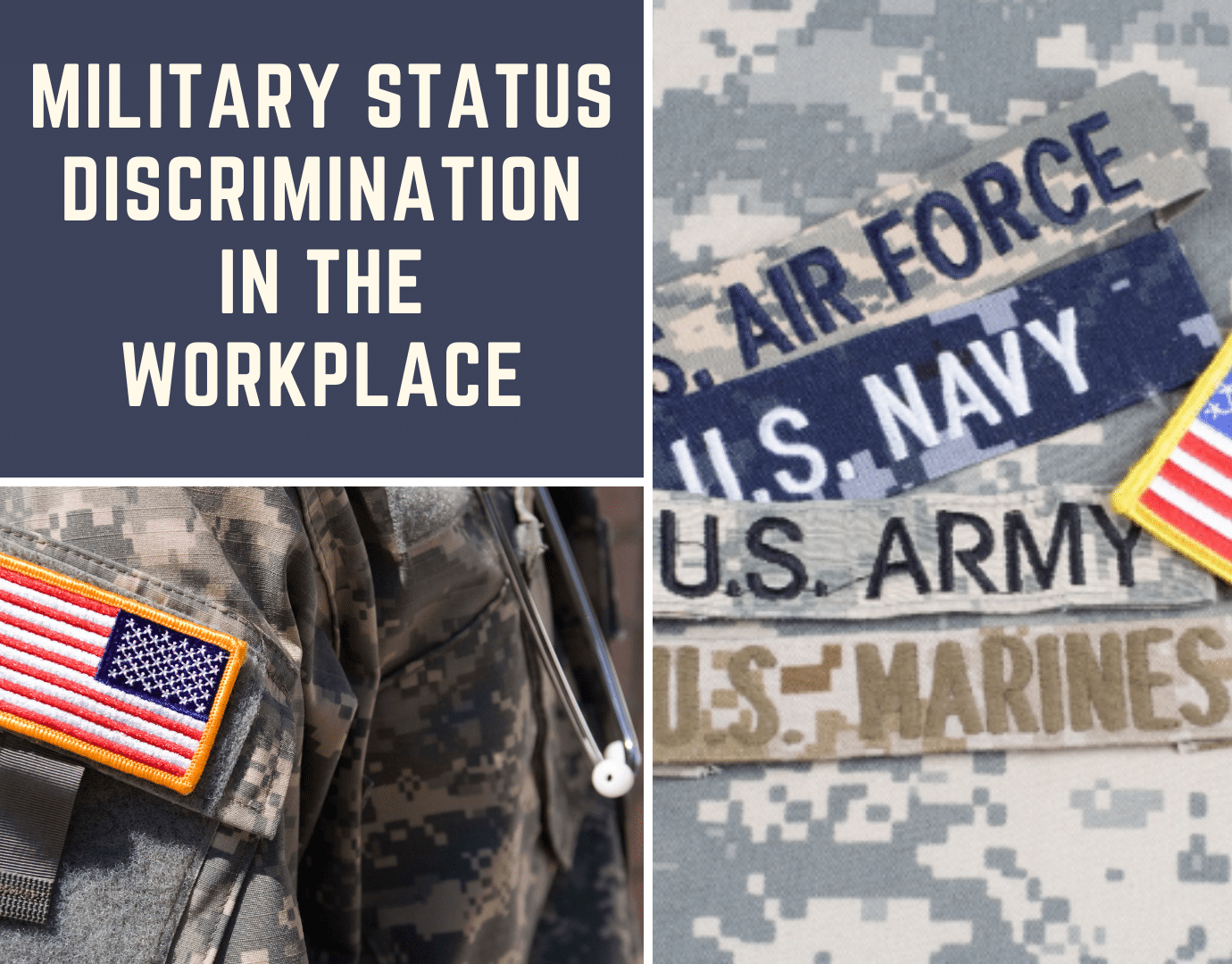 Military status discrimination can result in wrongful termination, retaliation, demotion, and other negative employment decisions.
It can also result in the refusal to reinstate employment, refusal to promote military service members, harassment, or other forms of veteran status discrimination.  It can even result in the denial of FMLA leave for military members and their family members learning to readjust to life with a deployed family member.
How Would You Recognize Military Status Discrimination in the Workplace?
In a society with parades for military heroes when they come home, it seems odd for an employer to negatively target veterans and military members. Yet, it happens in the workplace more often than you would think.
Examples of Military Status discrimination may include:
Your employer fires you because you are a reservist who is called to active duty.
A company refuses to hire you, a veteran, because they don't believe in war.
Your boss refuses to promote veterans because they don't believe veterans promote the company values.
A company refuses to hire you as a National Guard member because they are worried you will be called away for training exercises or deployment.
Your boss denies you, a member of the military, and your family the right to participate in company health insurance.
Your employer denies you, a military spouse, the right to take leave from work to be with your spouse on leave from active duty.
Your employer refuses to provide military spouses the leave needed to rearrange childcare while their spouse is on active duty.
Your boss demotes you when you return from active duty.
Coworkers make outrageous statements about the military. You report them as offensive. Nothing changes.
Coworkers make jokes to you about being a veteran.
What Laws Protect Employees from Military Status Discrimination?
The Uniformed Services Employment and Reemployment Rights Act (USERRA) was enacted in 1994. Its sole purpose is to prohibit employers from refusing employment to veterans and active military personnel. Under USERRA, veterans and active military personnel qualify for employment protection under the following circumstances:
The employer receives advanced notice of deployment in writing.
You have been in the military for five years or less while working for your current employer.
You return to work or apply for reemployment in a "timely manner."
You have not been dishonorably discharged from the service.
If you meet these conditions, you are entitled to the following:
Reemployment at your current or an equivalent position.
Health insurance for you and your family at your employer's rate for up to 2 years.
Reinstatement of your employer's health insurance policy without a waiting period and regardless of most pre-existing conditions
This law also protects veterans and active military members from harassment and discrimination based on military status.
How Can the Family and Medical Leave Act Provide Protection for Veterans and Military Personnel at Work?
The Family and Medical Leave Act (FMLA) protects family members of people in the military. Under the FMLA, you have the right to use up to 26 weeks of unpaid time off to care for a spouse, child, or next of kin who has been seriously injured in the line of duty. This benefit is also known as Military Caregiver Leave.
You also have the right to take up to 12weeks of unpaid leave because your family member has been called to active duty. This Qualifying Exigency Leave is meant to provide you with the opportunity to:
Deal with issues caused by notice of fewer than eight days.
Attend official ceremonies, programs, and events.
Handle childcare issues arising from being the sole parent while your spouse is on leave.
Making or updating all legal and financial issues related to the deployment.
Attending needed counseling related to the deployment.
Spending up to 5 days with your family member during official military leave
Vietnam Era Veterans Readjustment Assistance Act Protect Veterans from Discrimination at Work
The Vietnam Era Veterans Readjustment Assistance Act and the Americans with Disabilities Act Amendments Act prohibit employers from discriminating against veterans who have a disability.
Protection Against Military Status Discrimination in the Workplace
Finally, many state laws include military status as a protected class under their state-wide employment discrimination laws. As a result, employers, their staff, and nonemployees cannot harass, discriminate against, or retaliate against employees or job applicants who are or were members of the military or related to members of the military.
How Do I File a Complaint for Military Status Discrimination?
If you are the victim of military status discrimination under USERRA, you can file a complaint in one of two places:
The Department of Labor
Federal Court
USERRA does not expressly have a time limit to file your complaint. However, the standard set by some courts has been four years to file a complaint.
Complaint about Military Status Discrimination Under the FMLA
If you wish to file a complaint under the Family and Medical Leave Act, you may file the claim with the Secretary of Labor or the federal court within three years of the incident.
Complaint for Military Status Discrimination Under Disability Discrimination Laws
You can file claims for disability discrimination with the Equal Employment Opportunity Commission within 180 days of the incident. However, if you file in a state with a state-wide disability anti-discrimination claim, the EEOC provides you with 300 days to file your claim.
File a Claim for Veteran Status Discrimination Under State Laws
Many states with military anti-discrimination laws set their own statute of limitations to file your claim for employment discrimination and harassment based on military status. Contact an employment discrimination lawyer to help you determine the laws best suited for your claim. They can ensure you file your charge within the proper time limit under the law.
How Long Will a Military Discrimination Lawsuit Take to Settle?
No two military discrimination claims are the same. However, many may follow similar paths. Before your attorney files a military discrimination claim with the courts or governing agency, they may attempt to negotiate a settlement with your employer. If your employer agrees, the claim can settle in as little as a few months.
However, many times, employers will not agree to negotiate until after the claim gets filed. Settlement negotiations can occur throughout the entire litigation process. The settlement can occur anywhere from a few months to several years into the process.
Sometimes, your employer will insist the case goes to trial. The case may take several years until the court enters a final judgment.
A dedicated discrimination lawyer can help negotiate your claim throughout the entire process. With your attorney's help, your case can settle sooner rather than later as long as your employer is willing to meet and negotiate a fair and equitable settlement.
What Is the Average Settlement for A Military Status Discrimination Lawsuit?
When your employer practices military status discrimination, you have a right to recover damages. The courts will gladly provide remedies for military members and their families when their jobs violate their rights. You may request your employer pay for your out-of-pocket expenses, lost wages, pain, and suffering, and emotional distress.
You may also ask for relief, such as the reinstatement of your job and changing company policy. Contact a dedicated employment discrimination lawyer to help you draft your demand letter for the courts to get the relief you deserve.
Do You Need a Military Discrimination Lawyer?
Working with a discrimination lawyer can help you ensure your claim is filed under the proper laws, meets all timelines set by the law, and receives the damages you deserve. Your attorney knows the law. They are an unbiased party that will fight for your rights under the law.
Your attorney will advocate for you the way you fought for our rights while in the military. They can help you stand your ground in the civilian world. Your lawyer can help ensure your claim is filed in a timely manner to receive its day in court. They can help you negotiate your claim from the moment you walk into their office until the moment before the court enters the final judgment.
In the end, your lawyer is on your side. They will work tirelessly to ensure your voice is heard and your story is told.
Contact Our Experienced Military Status Discrimination Attorneys for Your Free Consultation
You have put your life on the line to protect our country and our freedoms. If your employer chooses to punish you or your family for this act of courage, the Derek Smith Law Group's experienced attorneys can help.
Did You Experience Discrimination, Retaliation, or Termination in the Workplace Because of Your or Your Family Member's Military Status? Please Ask Us Your Questions at 800.807.2209 or derek@dereksmithlaw.com.