Sexual Harassment Lawyer Explains Stalking in the Workplace | New York City, New Jersey, Philadelphia & Miami Lawyer
What is Workplace stalking? – Studies have found that one in every six violent crimes in America occurs in the workplace, accounting for approximately one million employment related crimes a year. Have you been victimized too? When a fellow employee's unwanted interest in you turns to workplace stalking, you may have both a criminal and civil case against them. Do not let a co-worker, customer or supervisor's inappropriate behavior at your place of employment threaten your emotional and financial well-being. If you feel you are a victim of employment stalking report the inappropriate behavior to your Manager, HR and building security department immediately  With the help of our New York City sexual harassment lawyers on your side, you can end the violence and get your peace of mind back at work.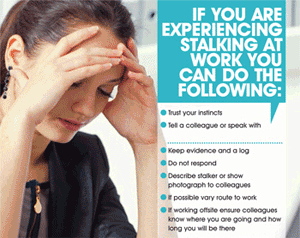 The Derek T. Smith Law Group, PLLC focuses their practice on employment discrimination claims and lawsuits, specifically employment sexual harassment and discrimination charges. Most workplace stalking employees reported that they were at a loss about what they could do to stop the stalker, and in many cases the tactics they tried seemed to make matters worse. Our labor & employment law attorneys have encountered hundreds of employees like you who have been threatened and traumatized on their job site. Our sexual harassment and discrimination attorneys use every resource possible, including helping you file an EEOC claim, to help you successfully resolve your case quickly so you can rebuild your life. Our employment discrimination and sexual harassment lawyers serve clients in Manhattan, Brooklyn, Queens, the Bronx, and Staten Island and throughout the state of New York. We also represent employees employment sexual harassment and employment discrimination cases in New Jersey and Philadelphia.
What is workplace stalking in New York City, New Jersey, Philadelphia & Miami?
Stalking is a crime in New York City, New Jersey and Philadelphia. If you were stalked at work, your harasser may face criminal penalties. If you did not receive proper support from your company, you may be able to file an EEOC claim or a  lawsuit against the stalker and your employer. Stalking in itself is harassment, however, it may also be considered a form of sexual harassment, especially if the unwanted conduct is that of a sexual nature accompanied by the menacing.
The term "stalking" has different legal meanings based on the level of severity. In general, it means that the stalker has caused reasonable fear of material harm to the victim's physical, emotional, or mental health and/or has caused fear that the victim's professional life is threatened. The stalker has called, texted, emailed, followed, or otherwise initiated contact on a frequent, persistent basis. Workplace stalking does not only apply to your employment peers. The stalker could be a co-worker, but could also be a customer, supervisor or even if it's the owner. Workplace stalking is illegal and you do not have to take it. At the highest level, stalking in the first degree — a Class D Felony — the stalker has "intentionally or recklessly" caused physical injury.  Contact an experienced New York City, New Jersey or Philadelphia sexual harassment attorney today for a free consultation to discuss your workplace stalking case.
What Are the Forms of Workplace Stalking?
What does it mean to be stalked at work? And when does it constitute civil, legal action? Some examples of stalking at work in New York City, New Jersey and Philadelphia include:
Showing up at your desk or office several times a day, unannounced
Following you, watching you, maintaining surveillance on you
Breaking into your home/office
Vandalizing your property
Persistent emails, telephone calls/hang-ups, letters, cards, faxes of a sexual or romantic nature
Unwanted contact through social media in chat rooms, newsgroups, Facebook, Instagram, etc. ("cyberstalking")
Appearing at your home, gym, or a social setting uninvited
kidnapping you, holding you hostage, assaulting you
Stealing/opening your personal mail to obtain personal information about you without your consent
Repeatedly asking for dates, after you have said 'no' several times
Harassing your family, friends, pets, colleagues, or your employer
Filing frivolous court claims against you in order to harass or simply keep in touch with you
sending unwanted gifts of any kind such as flowers, candy, toys, books, jewelry, pictures or, threatening gifts such as bullet casings, lockets of hair, bloody clothing.
Convincing his/her friends to spy on you, or harass you ("stalking by proxy")
Typically, one of these behaviors probably is not serious enough to be considered stalking on its own. But, a combination of employment stalking behavior, especially in addition to other forms of harassment, might be severe or pervasive enough to legally constitute harassment.
Workplace stalking can occur between these groups of people:
Speak with one of our New York City, New Jersey, Philadelphia or Miami Harassment Attorneys today
As an employee, you are entitled to a safe workplace free of violence and harassment. If someone has been stalking you at work, consult a harassment attorney at the Derek T. Smith Law Group, PLLC today. You can reach us by calling 877-469-5297 or by clicking the Free Consultation button at the bottom of this page. We offer a Free Consultation and charge No Fee unless we recover for you.
Our labor & employment attorneys defend employee's rights in employment discrimination and sexual harassment claims in New York City, New Jersey, Philadelphia & Miami.
For more information on New York City, New Jersey and Philadelphia labor & employment laws, and other types of Sexual Harassment and Employment Discrimination visit our Employment Law Blog