Sexual Harassment in Antarctica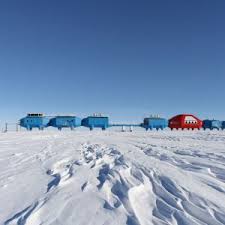 Sexual Harassment in Antarctica
Where ever you go and whatever your profession, no one is safe from sexual harassers. For instance, even in Antarctica. Recently, two women have stepped forward with their claims of sexual harassment at the hands of a prominent geologist at the Boston University. The alleged harassment took place nearly 20 years ago during field expeditions to remote parts of Antarctica.
At the time, the purported harasser David Marchant, the lead of Boston University's Antarctic Research Group and while in Antarctica he made misogynistic slurs to female research scientists andurged her to have sex with his brother, who was also on the expedition.
These women are only a sample size of the woman in science that are subject to sexual harassment. This is a growing issue that has arisen in classrooms, laboratories, conferences and the field as more and more women enter an area historically dominated by men.
Kathryn Clancy, an anthropology professor at the University of Illinois studies sexual harassment in science. According to Clancy, lewd come-ons and coercion in isolated locations—like Antarctica—are often different from unlawful conduct that happens elsewhere. Often the female victims feel like they have no choice and no one to make official complaints to. Over and over again, Clancy interviewed individuals that repeated the same phrase — "WHAT HAPPENS IN THE FIELD STAYS IN THE FIELD." Such statements are extremely concerning, as Clancy states, "THERE'S A CERTAIN KIND OF SILENCING THAT HAPPENS WHEN YOU ADD THE REMOTENESS OF THE FIELD TO IT."
This isolation effect that occurs in the field is exactly why Marchant's victims stayed silent so long. It was not until the past year that these women found the voice to come forward. Other people who accompanied the women and Marchant to Antarctica also issued statements supporting their accounts.
Now that a Title IX investigation is finally taking place, other victims are using their voice when asked. One unnamed woman said that Marchant's verbal abuse was never-ending. Moreover, that Marchant promised to block her sources of funding, and this threat convinced the unnamed woman to abandon a scientific career.
Another woman backing up these claims is now a high school teacher. She wrote to investigators explaining that, "HIS TAUNTS, DEGRADING COMMENTS ABOUT MY BODY, BRAIN, AND GENERAL INADEQUACIES NEVER ENDED."
Moreover, another former graduate was told by Marchant that she could go on an Antarctic research trip, but he later rescinded the invitation when a male student expressed interest. The woman explained, "IT WAS THE FIRST TIME IN MY LIFE THAT ANYONE HAD EVER IMPLIED THAT I WOULD NOT BE SUCCESSFUL BECAUSE I WAS A WOMAN."
 All of these above details are examples of sexual harassment and triggered the current Title IX investigation.
What is Title IX? Title IX is a federal law within the Education Amendments Act of 1972 that states: "NO PERSON IN THE UNITED STATES SHALL, ON THE BASIS OF SEX, BE EXCLUDED FROM PARTICIPATION IN, BE DENIED THE BENEFITS OF, OR BE SUBJECTED TO DISCRIMINATION UNDER ANY EDUCATION PROGRAM OR ACTIVITY RECEIVING FEDERAL FINANCIAL ASSISTANCE."
Although we hear about Title IX typically in the contexts of athletics, it also applies to every single aspect of education, including course offerings, counseling, financial assistance, student health insurance, housing, marital and parental status of students, education programs and activities, employment, and graduate programs in the field… like the Antarctica expedition.
Who can file a Title IX complaint? Anyone who believes acts of discrimination on the basis of sex against occurred against an individual or group in a program or activity that receives federal educational financial assistance may file a complaint with the U.S. Department of Education's Office for Civil Rights (OCR) under Title IX. This means most schools and universities qualify. It is important to note, that the filer does not need to be a victim of the alleged discrimination, they may simply be affected by the general "hostile sexual environment" or complain on behalf of an individual or group.
Taking legal action under Title IX can be a powerful way to help not only yourself but other students. If you feel like you have been a victim of sexual harassment or unlawful discrimination, call the experienced New York City sexual harassment attorneys at the Derek Smith Law Group, PLLC. Our attorneys work diligently to protect the civil rights of our clients in both the workplace and in the classroom, or another educational setting. Whether you are in New York City or Philadelphia, our sexual harassment attorneys have settled cases with large corporations and major universities and they may be able to help you too. Give our talented discrimination attorneys a call, toll-free, at 1877 4NYLAWS, for your free consultation.
---
Call today to schedule a FREE sexual harassment or employment discrimination legal Consultation in NY, NJ & PA with one of our top rated employment law or sexual harassment attorneys here at the Derek Smith Law Group. You can reach us online or by calling 877.469.5297. Our New York City, New Jersey and Philadelphia labor & employment law attorneys handle a variety of cases involving sexual harassment, racial discrimination, pregnancy discrimination, and other employment-related claims. We serve clients throughout New York, including Manhattan, Brooklyn, Queens, the Bronx, and Staten Island. We also have offices in New Jersey and Philadelphia to serve you.
Make Sure Your Lawyers Have the Verdicts To Back Up Their Negotiations – Results Matter!