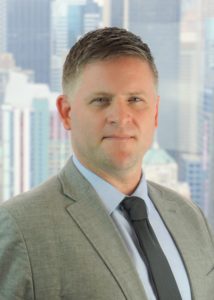 Seamus P. Barrett, Esq. | Attorney
New York Employment Attorney
Email: Seamus@dereksmithlaw.com | Phone: (212) 587-0760
Seamus is an attorney at the Derek Smith Law Group, PLLC, where his practice of law focuses exclusively on representing employees whose claims include workplace discrimination, sexual harassment and assault, hostile work environment, retaliation, civil rights violations, and wage and hour violations by employers.  Throughout his career, in addition to employment litigation, substantial pre-litigation and settlement negotiation experience, Seamus has negotiated, reviewed and drafted numerous employment and work-for-hire agreements, as well as intellectual property, copyright and trademark licensing and rights assignment contracts for music, television, film and digital media. Seamus has also served as a pro bono mediator at the NY City Civil Court in Jamaica, Queens.
Employment Discrimination and Plaintiff-side Litigation
Seamus' employment discrimination practice focuses on the representation of employees in employment discrimination matters, including sexual harassment, racial discrimination, gender discrimination, age discrimination, disability discrimination, religious discrimination, sexual orientation discrimination, national origin discrimination, familial status/caregiver status discrimination, arrest/criminal conviction history discrimination, bankruptcy discrimination, hostile work environment, retaliation, wrongful termination, breach of contract and wage and hour violations.  The statutes under which Seamus has brought claims against employers and successfully negotiated favorable settlements for workers whose rights have been violated include Title VII of the United States Code, The Fair Labor Standards Act (FLSA), The Family Medical Leave Act (FMLA), The New York Labor Law
(NYLL), The New York State Human Rights Law (NYSHRL) and The New York City Human Rights Law (NYCHRL).
Education:
Columbia University
Bachelor of Arts in Political Science; with a concentration in Political Philosophy
City University of New York School of Law
Juris Doctor
Bar Admissions:
State Court(s): New York
Federal District Court(s): Southern District of New York, Eastern District of New York, Western District of New York