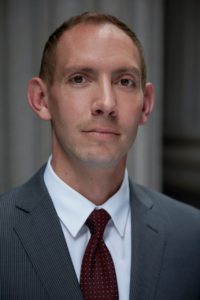 Samuel C. Wilson, Esq. | Managing Partner
Philadelphia Sexual Harassment & Employment Attorney
Email: samuel@dereksmithlaw.com | Phone: (215) 391-4790
Born: DuBois, Pennsylvania
College: Penn State University, Smeal College of Business Administration, B.S.
Law School: University of Dayton School of Law, Dayton, OH, Juris Doctorate.
Bar Admissions:
State Court(s): Commonwealth of Pennsylvania | State of New Jersey
Federal Court(s): Eastern District of Pennsylvania | District of New Jersey
Practice Areas:
Philadelphia Employment Attorney focusing on Sexual Harassment and Employment Discrimination cases including: Racial Discrimination, Hostile Work Environment, Retaliation, Public Accommodation Discrimination, Wage & Hour Violations, and Whistleblower Violations.
Biography:
Employment Law Attorney, Samuel C. Wilson graduated from Penn State University with his Bachelor of Science Degree in  Marketing from The University of Dayton School of Law. Prior to becoming an attorney, Sam primarily worked in the not-for-profit sector assisting in business and economic development.
Sam is a welcome and valued addition to the Derek Smith Law Group, PLLC. Sam regularly works on a broad range of employment discrimination cases. Sam enjoys working as an Employment Law Attorney because of his firm belief that people who want to go work and earn an honest living should have the opportunity to do it free from a harassing and hostile work environment.
Sam always tries to settle his cases quickly and privately. If this is not possible, Sam is not afraid to litigate his cases all the way to a jury verdict, fully understanding that each step in litigation is another possible opportunity to settle the case.
The Derek Smith Law Group, PLLC has obtained some of the largest jury verdicts in employment law and Sam uses that leverage to obtain the largest settlements for his clients.
SAMUEL IN THE MEDIA