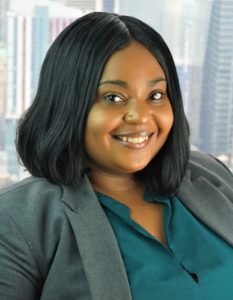 Arion Cintron | Managing Paralegal
Arion Cintron is the Managing Paralegal for the New York office of the Derek Smith Law Group, PLLC where she assists her attorneys in vigorously representing employees in employment discrimination and sexual harassment cases. Arion comes to the Derek Smith Law Group, PLLC with extensive experience as a Paralegal. Prior to joining the firm, Arion worked as a Paralegal for a family law firm in the Bronx handling adoption proceedings. She then worked for a personal injury firm in downtown Manhattan as a Legal Assistant where she worked on litigation in slip/fall accidents, construction accidents, motor vehicle accidents, wrongful death, and civil rights violations. In less than a year, Arion worked her way up the ladder and became the Executive Paralegal for the personal injury firm where she was employed.
OTHER ACTIVITIES:
As Managing Paralegal, Arion provides onboarding training and assistance to her fellow Derek Smith Law Group, PLLC staff members. She also meets with prospective clients to discuss their potential employment discrimination and sexual harassment claims. She is a paralegal who cares and always aims to provide the most personable and professional experience to every client she comes across.
Additionally, Arion is passionate about the law and has had a lifelong dream of being an attorney.  She recently applied to law school for entry in the Fall of 2019 and hopes to practice as an Associate Attorney for the Derek Smith Law Group, PLLC in the future.
EDUCATION:
The City University of New York-Hunter College
Bachelor of Arts in Political Science, Africana Studies, and Arabic Language, Summa Cum Laude.