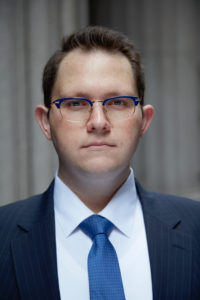 Abraham Z. Melamed, Esq. | Managing Partner
New York Employment Discrimination Attorney
New York Sexual Harassment Lawyer
Consumer Fraud Attorney
Email: abe@dereksmithlaw.com | Phone: 212-587-0760.
Born:
Denver, Colorado
College:
Touro College, Bachelor of Arts in Political Science, with honors
Law School:
The Benjamin N. Cardozo School of Law, Juris Doctorate with a triple concentration in Constitutional Law, Criminal Law and Procedure and General Litigation
Bar Admissions:
State Court(s): New York
Federal District Court(s): Western, Eastern and Southern Districts of New York
United States Court of Appeals for the 2nd Circuit
Practices Areas:
Employment Discrimination, including: Racial Discrimination, Hostile Work Environment, Retaliation, Gender Discrimination, Age Discrimination and Disability Discrimination.  Sexual Harassment.  Civil Rights.  Consumer Fraud.  Wage and Hour Violations.
Biography:
Abe is an attorney with the Derek Smith Law Group, LLP, where he focuses his practice on employment discrimination, sexual harassment, civil rights, wage and hour cases, and consumer fraud.
Abe graduated with a B.A., cum laude, from Touro College in Brooklyn, New York, where he majored in Political Science and was an active member of the Political Science Club. Abe went on to graduate with a J.D. from the Benjamin N. Cardozo School of Law, where he concentrated in constitutional law, criminal law and procedure and general litigation. While in law school, Abe served as an associate editor of the Cardozo Journal of Law and Gender, and he was awarded the Charles Ballon Writing Award upon graduation in recognition of his academic Note of Scholarship, which was published in the UCLA Women's Law Journal (https://escholarship.org/uc/item/29w0c93g). His Note focused on the current legal structure of parental leave in the United States and the constitutionality of federal and state laws relating to parental leave.
Immediately prior to joining the Derek Smith Law Group, Abe held dual positions as Of Counsel to a boutique law firm specializing in complex commercial, corporate and real estate litigation and transactions and as the Staff Attorney for the National Organization of Social Security Claimants' Representatives, where Abe engaged in lobbying and policy efforts throughout the country and in Washington D.C., to enhance the rights of Social Security claimants.
Throughout his last year of law school, and immediately following graduation, Abe developed his litigation skills as a Law Clerk and then as a Litigation Associate at two well-known law firms in Manhattan. Abe focused his practice on the litigation of plaintiff-side civil rights, personal injury, medical malpractice and labor & employment cases. Abe gained valuable experience by handling cases from start to finish, including drafting a number of appellate briefs to appellate courts in the State of New York.
In the evenings, Abe serves as an Adjunct Professor of Political Science and Pre-Law Advisor at his undergraduate Alma Matter, Touro College. Abe teaches multiple sections of the courses "American Government" and "Introduction to American Law." Abe also advises students who are planning to attend law school on the application process, how to choose the best school and how to ultimately succeed in school and in the practice of law.
Publications
Abe has published scholarship in the areas of constitutional law, social security law and general litigation, in the UCLA Women's Law Journal, the New York Law Journal and NOSSCR's Social Security Forum.
Organizations:
National Employment Lawyers Association
New York Chapter
Federal Bar Association
New York State Bar Association
American Bar Association
American Constitutional Law Society
New York Office
One Penn Plaza, Suite 4905
New York City, NY 10119
Phone: 877-469-5297
Fax: 212-587-4169
Click for street directions »
Philadelphia, PA Office
1845 Walnut Street,
Suite 1600
Philadelphia, PA 19103
Phone: 215-391-4790
Click for street directions »
New Jersey Office | Hewitt
73 Forest Lake Drive
Hewitt, NJ 07421
Phone: 800-807-2209
Fax: 212-587-4169
Click for street directions »

Our NY, NJ & PA Attorneys offer a Free Consultation and we charge No Fee Unless We Recover For You