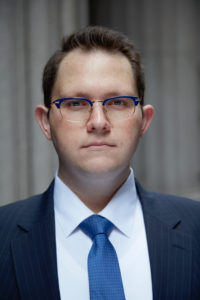 Abraham Z. Melamed, Esq. | Managing Partner
New York & California Employment Discrimination & Sexual Harassment Attorney
Email: abe@dereksmithlaw.com | Phone: 212-587-0760, ext: 205
Abe is a managing attorney with the Derek Smith Law Group, PLLC, where he focuses his practice on representing exclusively employees in employment discrimination, sexual harassment, civil rights and wage and hour cases, as well as exclusively consumers in consumer fraud class actions.
Abe has represented clients in all aspects of litigation, from pre-litigation negotiation all the way through trial, and has obtained millions of dollars in settlements on behalf of his clients. 
Throughout his career, Abe has rounded out his vast legal knowledge and litigation skills in a number of areas of the law, including complex commercial, corporate and real estate litigation and transactions, personal injury and medical malpractice litigation, and lobbying and policy work throughout the country and in Washington D.C.
Employment Discrimination Litigation
Abe's employment discrimination practice focuses on the exclusive representation of employees in employment discrimination matters, including Sexual Harassment, Racial Discrimination, Gender Discrimination, Age Discrimination, Disability Discrimination, Religious Discrimination, National Origin Discrimination, Hostile Work Environment,  Retaliation, Wrongful Termination, Breach of Contract and Wage and Hour Violations.  Abe is also a Managing Attorney of the employment discrimination practice group, where he manages and mentors junior attorneys at the Derek Smith Law Group, in all aspects of litigation.
Class Action Litigation
Abe also acts as the Managing Attorney for the Derek Smith Law Group's emerging class action practice, including acting as lead counsel on large-scale class actions against multi-billion dollar companies for consumer fraud, as well as managing wage and hour class actions, particularly those that cross over with discrimination matters.  Abe manages the junior and senior attorneys in the Derek Smith Law Group's class action practice group, in all aspects of class action litigation, including investigations of class action allegations and litigation of class action claims.
Other Activities
In addition to his dedication to his clients, in the evenings, Abe serves as an Adjunct Professor of Political Science and Criminal Justice and Pre-Law Advisor at his undergraduate Alma Matter, Touro College.  Abe teaches multiple sections of the courses "American Government," "Introduction to American Law," and "The Criminal Justice System."  Abe also advises students who are planning to attend law school on the application process, how to choose the best school and how to ultimately succeed in school and in the practice of law.
Education
Juris Doctorate. Concentrations in Constitutional Law, Criminal Law and Procedure and General Litigation
Associate Editor, Cardozo Journal of Law and Gender; Charles Ballon Writing Award in recognition of academic Note of Scholarship, which was published in the UCLA Women's Law Journal (https://escholarship.org/uc/item/29w0c93g), focusing on the current legal structure of parental leave in the United States and the constitutionality of federal and state laws relating to parental leave.
Bachelor of Arts in Political Science, Cum Laude.
Bar Admissions:
State Court(s): New York, California
Federal District Court(s): Eastern District of New York, Southern Districts of New York, Western District of New York
United States Court of Appeals for the 2nd Circuit
Publications
Abe has published scholarship in the areas of constitutional law, social security law and general litigation, in the UCLA Women's Law Journal, the New York Law Journal and NOSSCR's Social Security Forum.