Investigation Leads to Allegations Against Andrew Cuomo for Sexual Harassment and Retaliation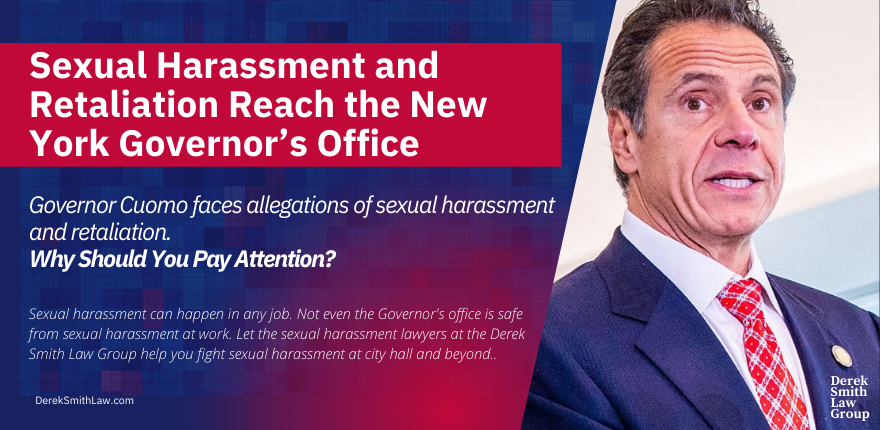 Sexual harassment allegations flood New York Governor Andrew Cuomo's office after the NY Attorney General's office completed their investigation. Allegations against the New York Governor of sexual harassment and sexual misconduct, retaliation against a whistleblower, and an overall hostile work environment came to light in February 2021.
As a result of the allegations, the Attorney General's office appointed Joon Kim and Anne Clark as special investigators. Their investigation uncovered 11 women who were allegedly sexually harassed by the New York governor. The allegations also claim the Governor created a hostile work environment for women working within his office or provided him protective detail. One alleged victim of his purported sexual misconduct claimed the Governor retaliated against her when she reported his alleged misconduct.
Sexual harassment knows no bounds. It can occur in any workplace at any time. Read on to learn more about the allegations against the New York Governor and how understanding these allegations can help you fight sexual harassment in your workplace.
Sexual Harassment and Retaliation Allegations Against Andrew Cuomo
The New York Attorney General's office released their findings in the investigation against Andrew Cuomo and the alleged sexual harassment allegations from February 2021. The report relates to a civil investigation. No criminal charges have yet been brought against the Governor
The report is now available to the public. According to the investigation, the Attorney General's investigators interviewed over 170 witnesses regarding the behaviors and actions within the Governor's office. The investigation surfaced 11 alleged victims of Governor Cuomo's alleged acts of sexual harassment.
According to the report, Andre Cuomo would allegedly touch members of his staff and security detail inappropriately. One officer claimed the Governor put his hand on her stomach and dragged it over to her gun. Another victim claims that he rubbed the back of her neck. Yet another victim alleged that the Governor would ask inappropriate questions, such as whether she would date an older man if she had a boyfriend and other questions regarding her sexual preferences and dating preferences.
One woman alleges that she reported the Governor's actions. As a result, she claims she faced retaliation as a whistleblower. Many women claimed the Governor's actions created an uncomfortable and hostile work environment for all the women within the office.
Once again, these allegations and the report all relate to a potential civil lawsuit against the Governor. No criminal charges have been brought against the Governor for his alleged actions. The Governor continues to adamantly deny these allegations. As of now, he has refused to step down from his position of Governor of New York.
What Do These Allegations Mean for the Average Employee?
First, no one is safe from sexual harassment, sexual misconduct, and retaliation in the workplace. Whether you are a whistleblower or an employee trying to keep to yourself, you may be the victim of the next sexual harassment scandal.
However, some more important takeaways from this case are the nature of the sexual harassment allegations. Only a small number of the allegations against Andrew Cuomo relate to physical acts of sexual harassment. Most of the alleged acts of sexual harassment were comments and inappropriate questions.
Therefore, if you find yourself at the receiving end of sexual comments, you may have a claim for sexual harassment at work. If your employer, coworker, or boss asks any inappropriate questions about your sexual history, dating history, and sexual preferences, you may have a claim for sexual harassment at work.
Sexual harassment can be verbal, physical, or visual. In the case of Andrew Cuomo, the alleged sexual harassment is both physical and verbal. Moreover, the physical and verbal claims of sexual harassment allegedly created a hostile work environment for all the women within the office. In other words, the behavior within the office was so horrible. It made it impossible for the women in the office to conduct normal daily employment activities.
How Will the Outcome of the Claims Against Andrew Cuomo Affect Other Workplaces?
This sexual harassment case is very important to every employee and employer in New York and across the country. Not only will the outcome determine the state of the Governor's office in New York. It will determine how sexual harassment in the workplace gets treated moving forward.
If the Case Goes in Favor of Andrew Cuomo
Suppose it turns out that Andrew Cuomo did not commit acts of sexual harassment or retaliation. In that case, sexual harassment claims against high-level executives and people in the limelight will face more scrutiny than ever before. Victims of sexual harassment may find the court of public opinion to be extremely difficult to overcome. They may find that they must explain themselves over and over again in hopes of being taken seriously.
If the Case Goes in Favor of the Alleged Victims of Sexual Harassment
If the case finds in favor of the alleged victims of sexual harassment, it may help victims in the workplace when facing sexual harassment in the future. They will likely have more likelihood that people and a jury will believe their stories. They may even have a better chance to settle claims of workplace sexual harassment before it reaches the courtroom.
If Governor Cuomo is found responsible for these claims of sexual harassment, he will have to step down and resign from his post as Governor of New York (or be impeached). It may create political fodder between the potential candidates in the next election that may weigh heavily on voters.
What Should You Do as the Victim of Sexual Harassment in Your Workplace?
If you experience verbal, physical, or visual acts of sexual harassment at work, do not be afraid to speak up. You have a right to ask for the treatment to stop immediately. However, if your employer, HR team, or union rep ignores your claims, you have the right to speak with a sexual harassment lawyer and file a claim in court.
Your sexual harassment lawyer can help you file your complaint within the proper court or agency and within the proper time frame. They can help you develop your claim and gather the evidence necessary to file a claim against your employer.
If You've Suffered Sexual Harassment in the Workplace, Contact the Derek Smith Law Group.
You do not need to stay silent as a victim of sexual harassment at work. If your employer sexually harasses you at work, contact the sexual harassment lawyers at the Derek Smith Law Group in New York City, New Jersey, Philadelphia, Miami, and Los Angeles. Call us at 800.807.2209 for a free consultation.
Have a question?
We are here to answer any questions you have regarding Sexual Harassment, Discrimination, Pregnancy, Race, National Origin, Age, Disability, Criminal History, Gender, Sexual Orientation, or any Protected Class Discrimination law.