In a case of breach of employment contract, Walwin Taylor, of the Derek Smith Law Group, challenged Juventus Cosmetic Surgery on behalf of his client and prevailed
This is a breach of employment contract case. When a contract is agreed upon, it is up to both parties to follow the terms. When one party reneges on its responsibilities, both parties suffer. In this case, the client was promised a contract of employment for 2 years and the Defendant never followed through with its obligation.
The Plaintiff is a well-renowned plastic surgeon. At the time this contract was entered, he lived and worked in New Jersey. He entered into an employment contract with Juventus Cosmetic Surgery, a plastic surgery center in Miami. The employment contract offered two years of employment with a guaranteed base salary of $11,000 per week.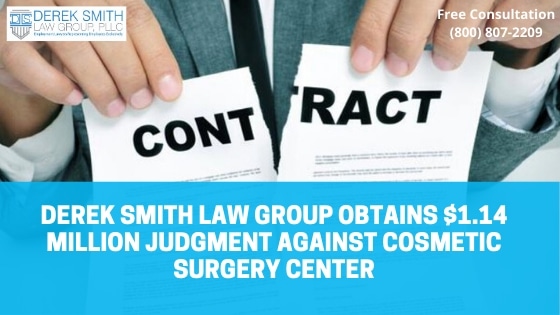 In exchange for the weekly salary, our client promised to perform surgeries under the Juventus name in their Miami location. He also promised to allow Juventus Cosmetic the use of his credentials for their marketing campaign. Our client's credentials are quite impressive. He is a board-certified cosmetic surgeon who received his undergraduate degree from MIT and his MD from Harvard Medical School.
Our client fulfilled all of his obligations under the contract and began the tedious task of reorganizing his work life and family life around relocating to Miami for at least the next two years.
Throughout this entire process, Juventus Cosmetic continued to communicate with him, leading the client to believe that he would commence work in Miami as per the contract.
During this time, Juventus Cosmetic began to use our client's before and after client surgery photos and his credentials to market themselves in the Miami area. It is apparent that their goal was to entice potential clients/ patients to use their facility and the services of our client, a well-renowned surgeon.
Over time, it became clear that Juventus Cosmetic was not going to honor the contract and refused to pay the guaranteed salary per the contract.
They continued to grow and attract business with the ongoing marketing campaign.  And, of course, they continued to use his name and credentials in their online advertisements and social media. Yet, they never actually paid him a dime as promised.
B.C. Forbes once said, "The bargain that yields mutual satisfaction is the only one that is apt to be repeated." It was clear to our client that this cycle was not going to yield mutual satisfaction and needed to stop.
We went through the normal channels to attempt to resolve our client's claim against Juventus Cosmetic. However, in the end, they failed/ refused to compensate our client.
Mr. Taylor notes, "Employment contracts are a part of our specialty. When we see a breach of contract, we work with our client to make sure justice is served. This was a clear breach of contract and our client is well-deserving of a final judgment in his favor for $1.14 million.
Contact Our Breach of Employment Contract Attorneys Today
If you are the victim of a breach of employment contract, the experienced employment attorneys at the Derek Smith Law Group can help. We have helped hundreds of clients seek justice when their employer chooses to ignore its obligations.
Contact us by filling this form or call us today at (800) 807-2209 for your free consultation.