In the wake of the Larry Nassar sexual abuse scandal, students and the community called for Michigan State to make major changes. Nassar was a longtime university employee, in addition to his role as a doctor with USA Gymnastics. In January, a judge sentenced him to 175 years in prison for the sexual assault of young female numerous athletes under his care.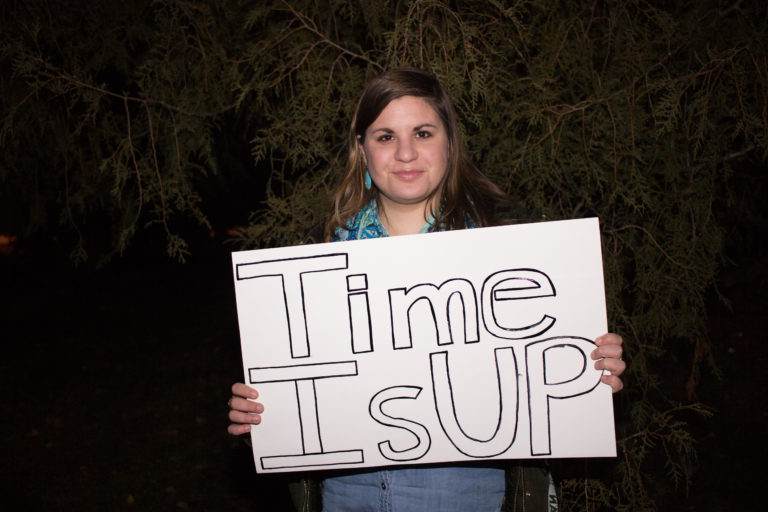 Initially, the university took a hard stance, saying that the president of Michigan State University, Lou Anna Simon, would remain in power. President Simon, the school's leader of 13 years, came under fire for what many say is the mishandling of the Nassar scandal, claiming she was tone deaf. Moreover, that she must be held accountable for what happened while MSU employed the monster as a sports physician from 1997 to 2016. However, all it took was the threat of hundreds of students say they will march on the school's administration building to call on university's president to remove herself.
Tom Leonard, the speaker of the House in Michigan, applauded Simon's decision saying, "I am glad Lou Anna Simon finally did the right thing. The university's response to this crisis simply hasn't been good enough, and I hope that changes going forward for the sake of both the victims and the entire Michigan State University community."
Despite President Simon stepping down January 24, 2018, the peaceful protest went on as scheduled. On Friday, January 26, 2018, at 6 p.m. students and the community met in front of "the rock," a large rock adjacent the university's auditorium where students occasionally gather for protests and other causes.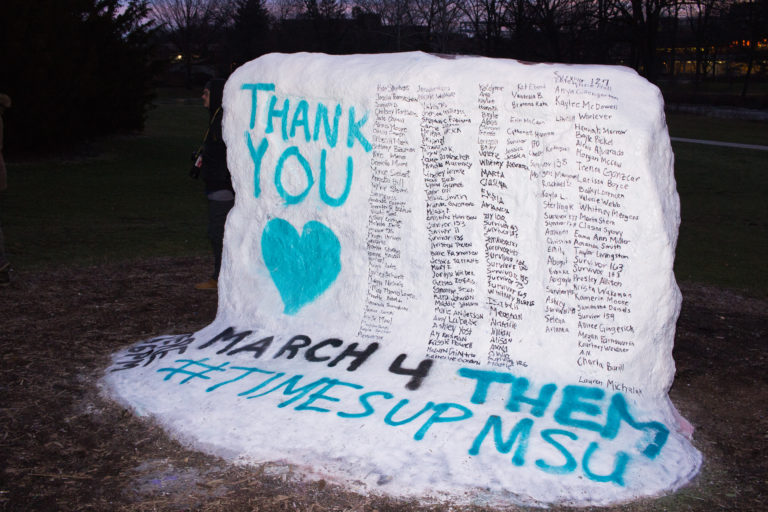 At "the rock," students and the Michigan community continued to come together to support one another and push for change on college campuses. At the protest, students spoke to the crowd and postcards addressed to each of the members of the board of trustees were handed out with space to write a message to them.
There was an overall feeling that the school had failed, must do more, and needs to take steps to assure such events never happen again.
Kristin Ebert, the mother of Cat Ebert, a victim of Nassar was one of many at the gathering that night. At the protest, she explained that the university, "handled this one very poorly and that the adults that found out in 1997 should have said something right away and then my daughter would not have been a victim."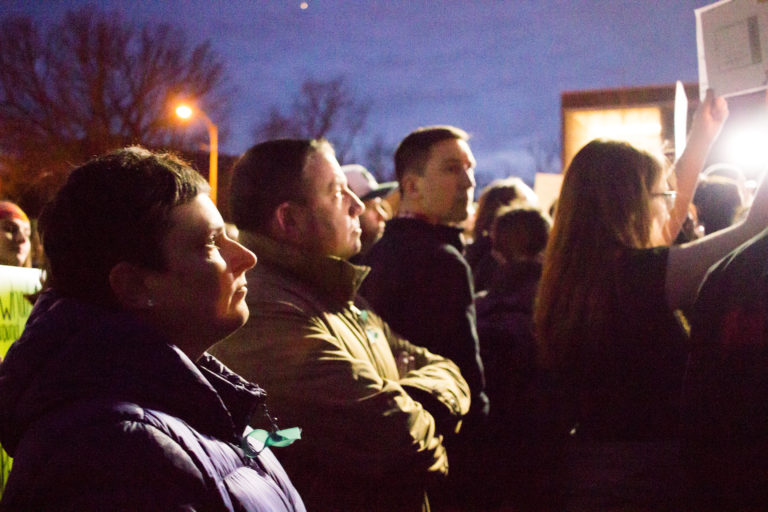 Ebert hopes that, "MSU becomes a leader in the country of how to recreate the culture of sexual assault in reporting it in the university setting… [Including] coming up with policies and leadership that will guide other universities. I think this is an opportunity for change, for them to do above and beyond what they did in the past."
Another protester, Lily Power, a social relations and policy junior at MSU believes that the university handled the Nassar scandal extremely poorly. In fact, in her opinion, she feels that the universities multiple failures in the Nassar investigation were, "gross negligence at best," or, "a criminal cover-up at worse." Power recalled the university being in the "news for years… since 2012 or 2010." She added that Michigan State is, "known for miss handling [sexual harassment and assault] and not taking it seriously, especially when it comes to athletes."
Power also wants more resignations from the university's administration because they failed the victims. "We got President Simon to resign, so I am really hoping that we get enough bad press that the board of trustees has a lot of resignations, or that the governor or House of [Representatives] for Michigan calls for an investigation of them or calls for their resignation."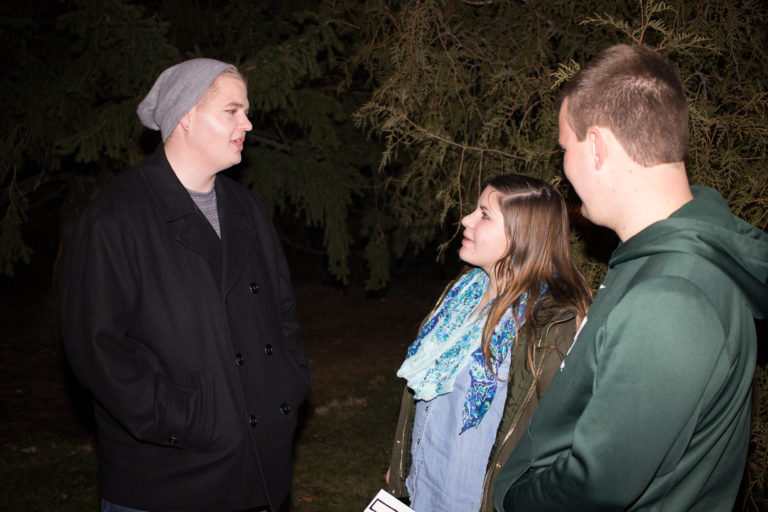 Davis Donigan, a marketing major, vocalized the sentiment of many others at the protest, plainly stating that "this is disappointing." Like Power, Donigan hopes to, "promote the support of sexual assault victims" and "see more resignations of more members that were involved in this case." Specifically, those, "who contributed to keeping this information withheld from everybody."
Eric Jenceleski, a MSU sophomore, says that the university, "knew about this for way too long and they did nothing to take an advancement on it… they just did their best to cover it up as best as they could." He noted that "From what I've seen, [MSU] tries to hide [sexual assault and harassment cases] as quickly as possible."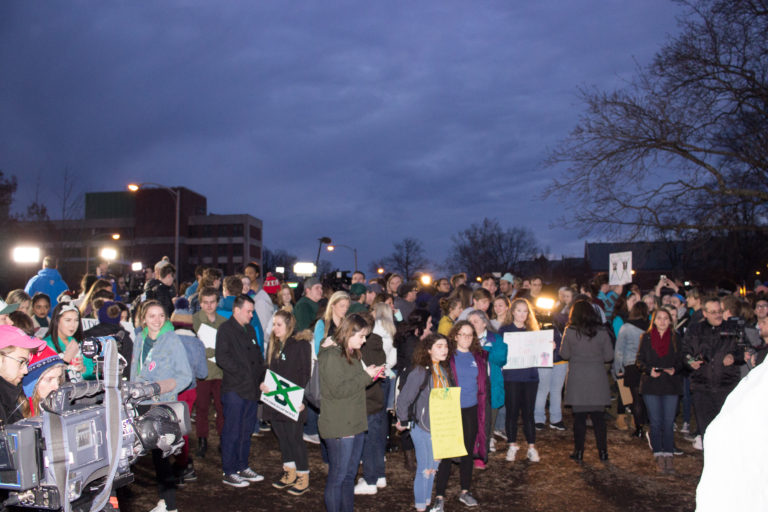 Adam Green who studies political theory and constitutional democracy, agrees that the way that the administration handles sexual assault cases should not be tolerated, which is why he joined others to protest the administration and support victims. He hopes that "the university just realizes that it is only going to take one case for someone to get fired or somebody gets put in jail. It's not going to take over 150 victims for we start standing up and saying that this is wrong."
The hopes of many students and parents at the protest were answered this week with the Michigan Senate announcing it is developing a budget that would require public universities—like MSU—to prove that the universities are meeting new sexual assault prevention standards or risk state funding. With the new protocols, Michigan's 15 public universities must wait to receive funding until they provide the required proof such as documenting that their policies are transparent and follow the best practices for sexual assault prevention and compliance with Title IX federal protection law. (http://www.detroitnews.com/story/news/politics/2018/02/14/michigan-senate-msu-budget/110410118/)
---
*** A special thanks to Kim O'Connell who conducted interviews at the protest and took photos of the action. Also, thank you for all interviewees for sharing your thoughts and hopes. ***
---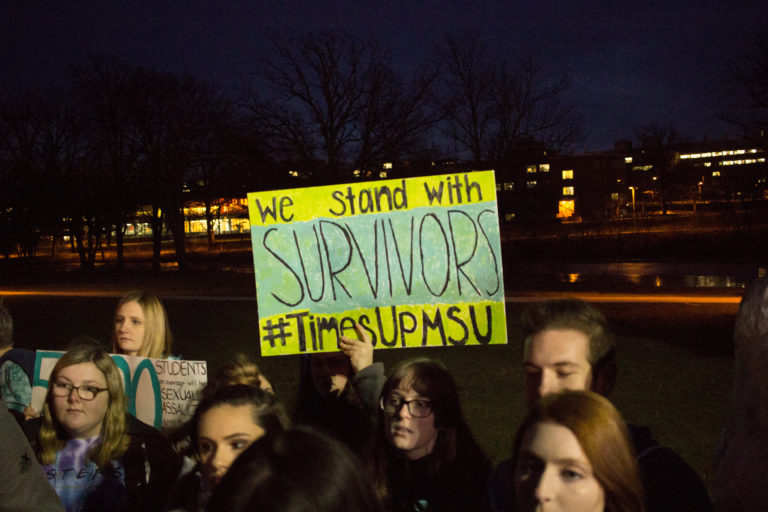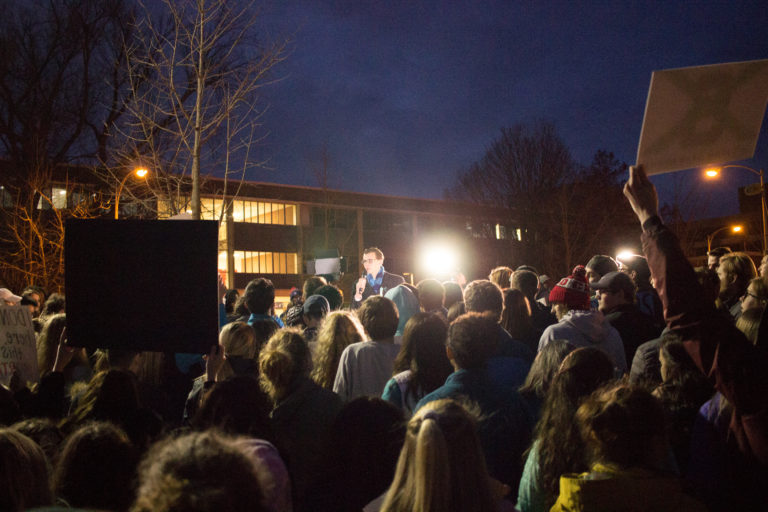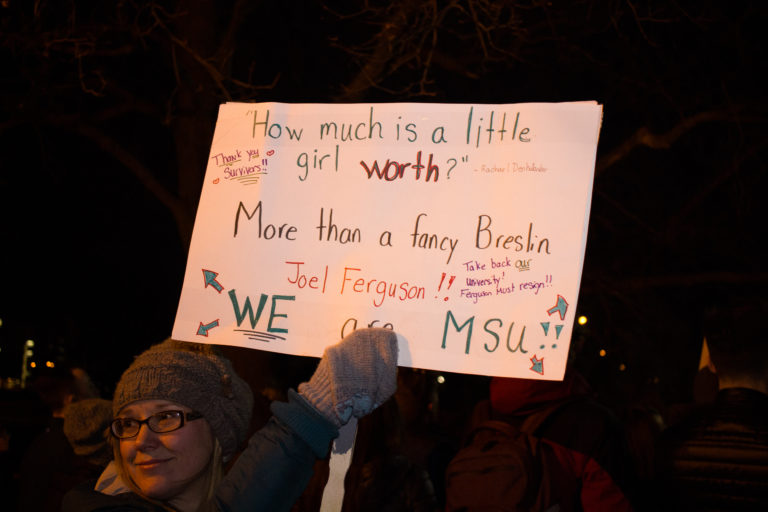 ---
If you feel like you have been a victim of unlawful discrimination or sexual harassment on campus or at work, call the experienced attorneys at the Derek Smith Law Group, PLLC. Our Florida, New York, California, and Pennsylvania discrimination attorneys work diligently to protect the civil rights of our clients. Whether you are in Miami, New York City, Los Angeles, or Philadelphia, our attorneys have settled cases with large corporations and major universities, and they may be able to help you too. Give our talented discrimination attorneys a call, toll-free, at, for your free consultation.
---