For the past two weeks, we have heard and read nonstop coverage on Justice Brett Kavanaugh and his accusers' very serious accusations of sexual assault and sexual harassment. However, whether or not you believe Kavanaugh or his accusers, there is a new question making headlines concerning whether or not Kavanaugh committed perjury. This is a question that Kavanaugh cannot hide behind statutes of limitation, as it would be a fresh criminal charge, which would certainly block him from ever sitting next to Justices Roberts, Thomas, Ginsburg, Breyer, Alito, Sotomayor, Kagan, and Gorsuch.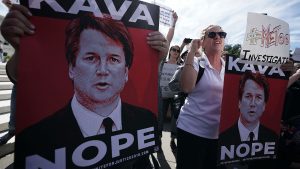 What is Perjury?
Lying under oath is basically the definition of perjury in the legal world. It occurs when a witness under oath or searing under penalty of law intentionally lies to mislead the court or Congress of the facts of the pending matter. It does not matter if an individual swears to tell the truth in writing or testimony either. Moreover, when making such a promise to tell the truth, an individual is promising to suffer the consequences of lying, which could be prison time, fines, or both.
What does perjury have to do with Kavanaugh becoming a member of the Supreme Court?
Well, perjury goes to the very heart of whether Kavanaugh should be confirmed to the court because besides being a federal crime to lie to the Senate—just as Bill Clinton— also under the Model Code for Judicial Conduct Rule 1.2 Promoting Confidence in the Judiciary, judges must "A judge shall act at all times in a manner that promotes public confidence in the independence,* integrity,* and impartiality* of the judiciary, and shall avoid impropriety and the appearance of impropriety." Under a further explanation of the rule the American Bar Association also notes in Comment on Rule 1.2:
 Public confidence in the judiciary is eroded by improper conduct and conduct that creates the appearance of impropriety. This principle applies to both the professional and personal conduct of a judge.
A judge should expect to be the subject of public scrutiny that might be viewed as burdensome if applied to other citizens, and must accept the restrictions imposed by the Code.
Conduct that compromises or appears to compromise the independence, integrity, and impartiality of a judge undermines public confidence in the judiciary. Because it is not practicable to list all such conduct, the Rule is necessarily cast in general terms.
Judges should participate in activities that promote ethical conduct among judges and lawyers, support professionalism within the judiciary and the legal profession, and promote access to justice for all.
Actual improprieties include violations of law, court rules or provisions of this Code. The test for appearance of impropriety is whether the conduct would create in reasonable minds a perception that the judge violated this Code or engaged in other conduct that REFLECTS ADVERSELY ON THE JUDGE'S HONESTY, IMPARTIALITY, TEMPERAMENT, OR FITNESS to serve as a judge.
A judge should initiate and participate in community outreach activities for the purpose of promoting public understanding of and confidence in the administration of justice. In conducting such activities, the judge must act in a manner consistent with this Code.
And since the judge's testimony, witnesses are beginning to come forth with statements of how he mislead the Senate. One witness and former classmate of Kavanaugh, Chad Ludington, made a public statement concerning his drinking habits at Yale,
… at Yale, and I can speak to no other times, Brett was a frequent drinker, and a heavy drinker. I know, because, especially in our first two years of college, I often drank with him. On many occasions I heard Brett slur his words and saw him staggering from alcohol consumption, not all of which was beer. When Brett got drunk, he was often belligerent and aggressive. On one of the last occasions I purposely socialized with Brett, I witnessed him respond to a semi-hostile remark, not by defusing the situation, but by throwing his beer in the man's face and starting a fight that ended with one of our mutual friends in jail.

I do not believe that the heavy drinking or even loutish behavior of an 18- or even 21-year-old should condemn a person for the rest of his life. I would be a hypocrite to think so. However, I have direct and repeated knowledge about his drinking and his disposition while drunk. And I do believe that Brett's actions as a 53-year-old federal judge matter. If he lied about his past actions on national television, and more especially while speaking under oath in front of the United States Senate, I believe those lies should have consequences. It is truth that is at stake, and I believe that the ability to speak the truth, even when it does not reflect well upon oneself, is a paramount quality we seek in our nation's most powerful judges.
Moreover, new allegations point to Kavanaugh personally contacting old school friends from on via phone and text message in July 2018, attempting to get stories straight regarding the sexual misconduct accusations from Deborah Ramirez. Such evidence could show that Kavanaugh "may have initiated an anticipatory narrative" — tried to get out in front of the accusation, months before Ramirez went public. Thus, his September 27th sworn testimony stating that he first heard of the Ramirez allegations was "in the New Yorker story" could be considered felony perjury.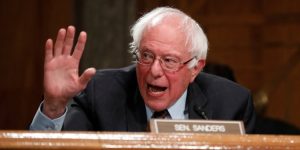 Based on the appearance of the judge's lack of honesty, and possible perjury, Sen. Bernie Sanders demanded,
"In order for this FBI investigation regarding Judge Brett Kavanaugh's nomination to be complete, it is imperative the bureau must not only look into the accusations made by Dr. Ford, Deborah Ramirez, and Julie Swetnick, it should also examine the veracity of his testimony before the Judiciary Committee."
Sanders also begged to allow the investigation to continue as long as it was needed, saying:
"If you are concerned with a delay in this confirmation process, remember that Senate Republicans refused to allow the Senate to consider Merrick Garland's nomination to the Supreme Court for nearly a year," Sanders wrote. "In addition to investigating the accusations made by multiple women, a thorough investigation should include a review of Judge Kavanaugh's numerous untruthful statements in his previous testimony before Congress."  
What will happen next in this highly unusual nomination process? It is too soon to tell as the process is extremely political at this stage. If perjury is found, my guess is it would be a quick end for Kavanaugh's hopes of sporting the robes of a US Supreme Court Justice.