The 2018 World Cup in Russia seems to come with endless surprises and upsets, all bets are out the window. The soccer greats of Argentina, Germany, and Brazil struggled from the beginning, yet underdogs, like Uruguay, Iceland, and England became surprising contenders. Nevertheless, each day that passes since I began to write this article the brackets seem to change again. I, like most, do not even know who to cheer for any more in a given game.
Meanwhile, another upset is occurring in the living rooms and pubs around the globe as female sports reporters are finally getting an opportunity to cover arguably the most critical competition that takes place every four years, and in noticeable numbers too! Never before have more woman participated in covering the world's most significant sporting event. However, this triumph comes with an onslaught of sexism and criticism in the male-dominated world of international soccer.
This year has broken or at least cracked plenty of glass ceilings. For instance, on June 16, Claudia Neumann became the first German first female to call a men's World Cup match with her coverage of Argentina versus Iceland on public broadcaster ZDF. And in the US, Viviana Vila and Aly Wagner made history becoming the first-ever women to do in-match commentary for a World Cup, on Telemundo and Fox Sports, respectively. Also, on June 20, Britain's Vicki Sparks reported on BBC's broadcast of Portugal versus Morocco.
Moreover, even parts of Latin America, where fútbol is a religion and machismo still thrives, female journalists are advancing. While it may not sound like much, 10 out of 220 Argentine journalists covering the 2018 World Cup are female — Less than 5 percent— but that actually is twice as many women than the number of women who covered the World Cup in Brazil four years ago, and a jump from the two Argentine journalists cover 2010 South Africa World Cup.
Veronica Brunati, the only female reporter on the team of 27 covering 2018 World Cup for Argentine's TNT Sports says, "We see that it's opening up, but the change is very slow." Brunati argues, "there is still no place for women in main roles (like sports coverage). There's no female presence in the top debates about soccer."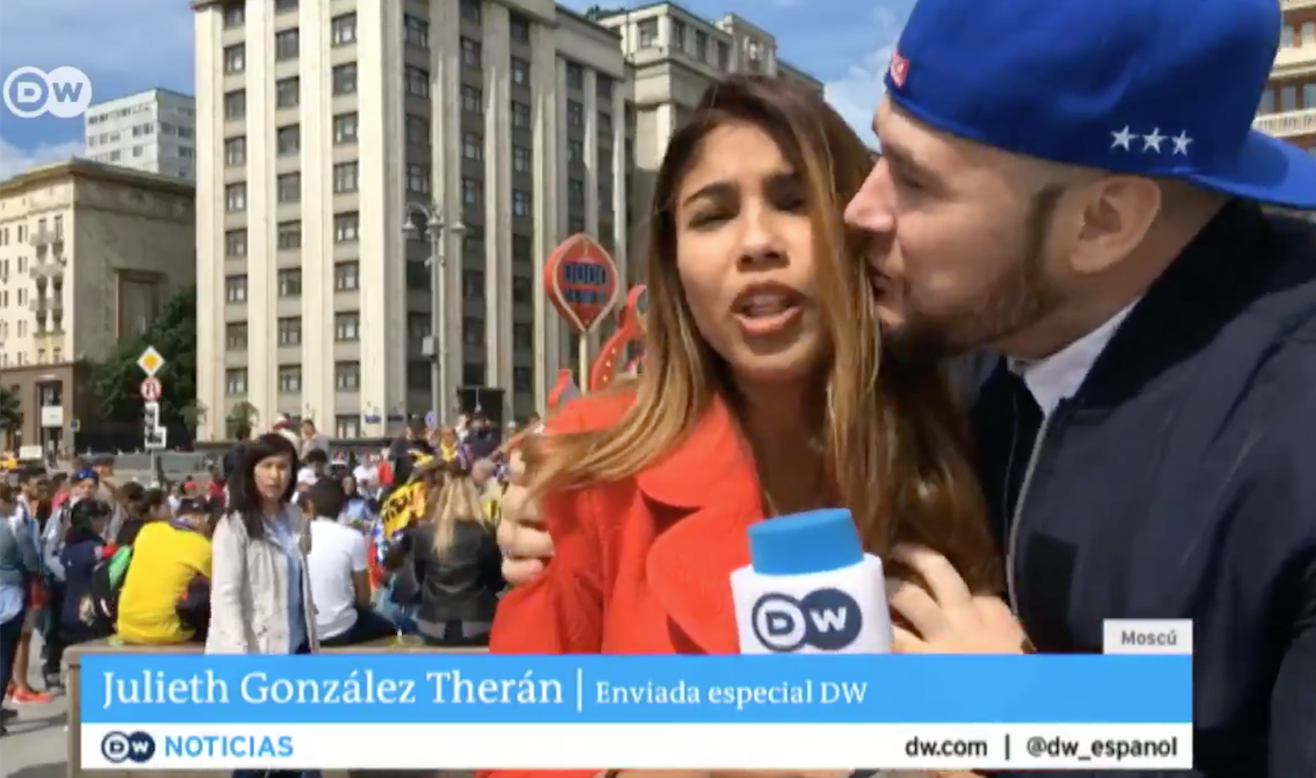 Personally, I still remember the first time I heard a woman's voice alongside a man covering a live match. First, I was surprised, then my shock quickly faded to happiness as I realized she was making history and "the times were a changin." Yet, not everyone shares my reaction. Unfortunately, too many of these breakthrough women are subject to disapproval, sexual harassment, and even physical assault. For instance, on June 14, Colombian reporter Julieth Gonzalez Theran was kissed and groped by a fan during a live broadcast in Manezhnaya Square, Moscow (https://www.dw.com/en/dw-reporter-sexually-harassed-during-world-cup-broadcast/a-44301268).
Of the attack, she said, "I had been at the scene for two hours to prepare for the broadcast, and there had been no interruptions… When we went live, this fan took advantage of the situation. But afterwards, when I checked to see if he was still there, he was gone."
Theran was forced to battle through her report despite the fan grabbing her and kissing her on the cheek. After, Theran posted on Instagram:
I reject this type of misogynistic behaviour in soccer and in other scenarios. I belong to that daily struggle of women who earn a space in a land full of male mistrust. This is not overlooked either. #metoo.
And yes, this sort of conduct does qualify as sexual harassment. Legally, sexual harassment involves an unwanted condition imposed on an individual because of his or her gender. Such behavior includes:
unwelcome or unsolicited sexual advances,
hostility towards your gender or sex,
offensive or pervasive acts toward one's gender, or
encouragement of an atmosphere that treats individuals of a particular gender inappropriately
In the employment context, sexual harassment may come from a victim's own supervisor, it can also come from others such as an immediate supervisor, a supervisor from another area, co-workers and even customers.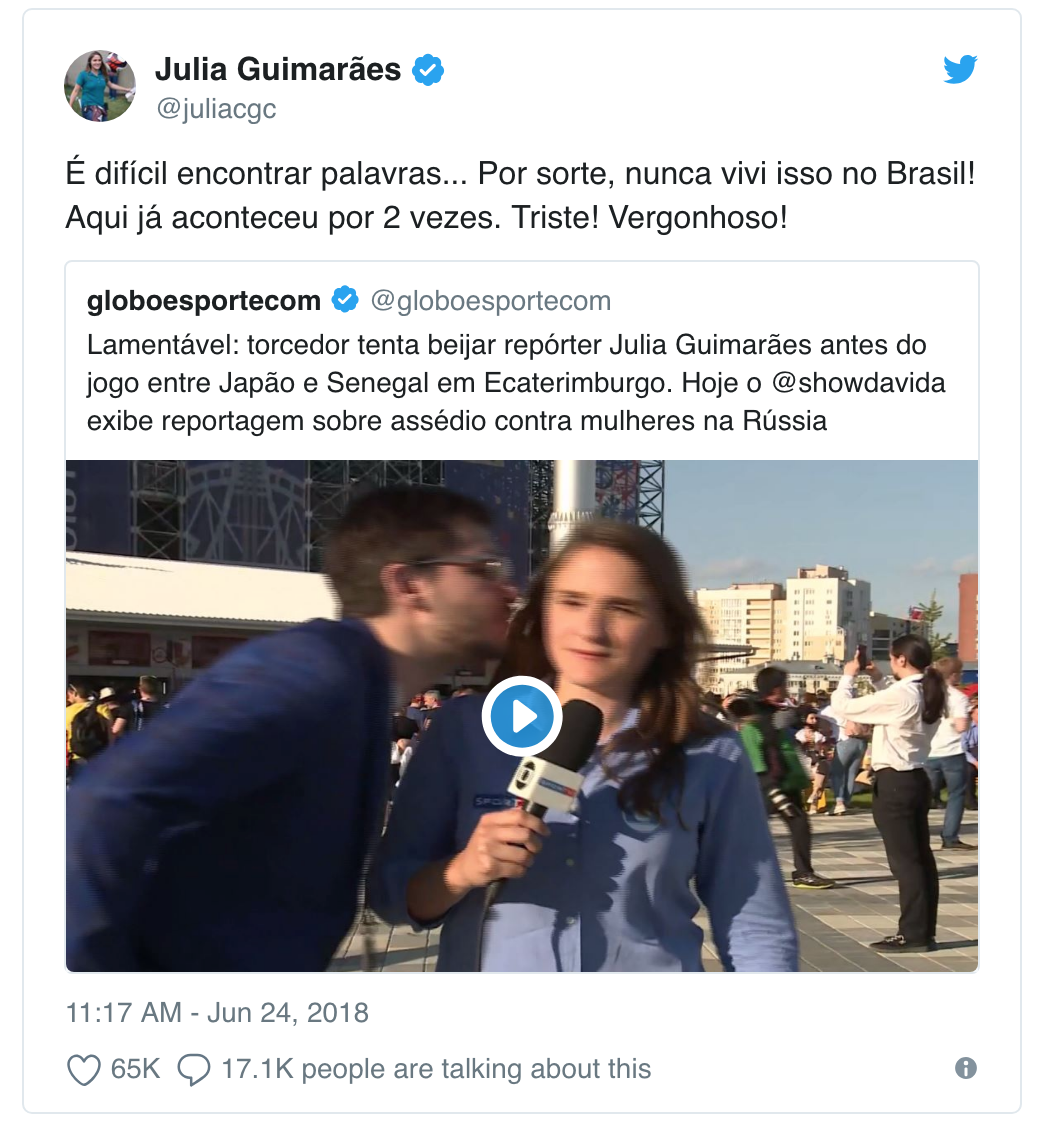 This sort of conduct is not reserved just for World Cup antics. And women are fighting back, literally. In April of this year, Maria Fernanda Mora, broadcasting for Fox Sports in Mexico, was also sexually harassed while reporting from a soccer match. As she was reporting live after a game, she was surrounded and groped by several celebrating male fans (https://www.youtube.com/watch?time_continue=37&v=zFA1OwzRd64). Like the professional she is, she finished her report but once off-air, she spun around to defend herself with her microphone by hitting her harassers.
Likewise, while broadcasting for the 2018 World Cup man approached Brazilian journalist Julia Guimaraes (https://twitter.com/juliacgc) and attempted to kiss her. But Guimaraes stopped him and called him out, "Don't do this! Never do this again… Don't do this, I don't allow you to do this, never, OK? This is not polite, this is not right," and, "Never do this to a woman, OK? Respect." The man is heard apologizing as he walks away.
Unquestionably, these women have touched a nerve. If you look at what is being said on social media, absolutely ludicrous things have been said about the change. In trying to explain the retaliation, German reporter Claudia Neumann said:
When a female reporter looks cute standing on the sidelines, it's usually OK. She's not invading any male territory. But if a woman spends 90 minutes talking about soccer and telling men things they don't know or maybe see differently, men have to be very self-aware to accept that. And maybe not so many are.
Obviously, misogyny in football culture remains rampant, but even tiny steps are better than none. While women's role in the media and in sports is an uphill battle different than many glass ceilings—like that of the boardroom or office setting—I am cautiously optimistic about our progress as women. Like many industries that have been shaken in the wake of Harvey Weinstein, overall in 2018, women are doing a good job fighting for equality and earning their place at the table or screen time.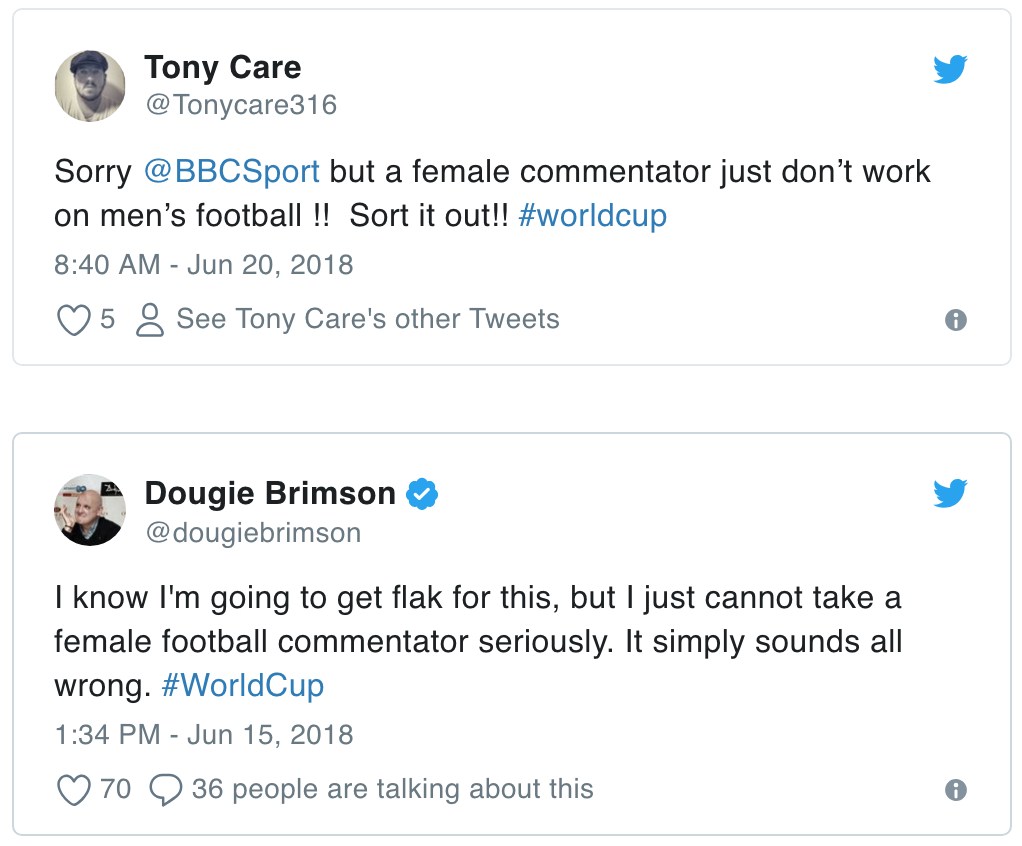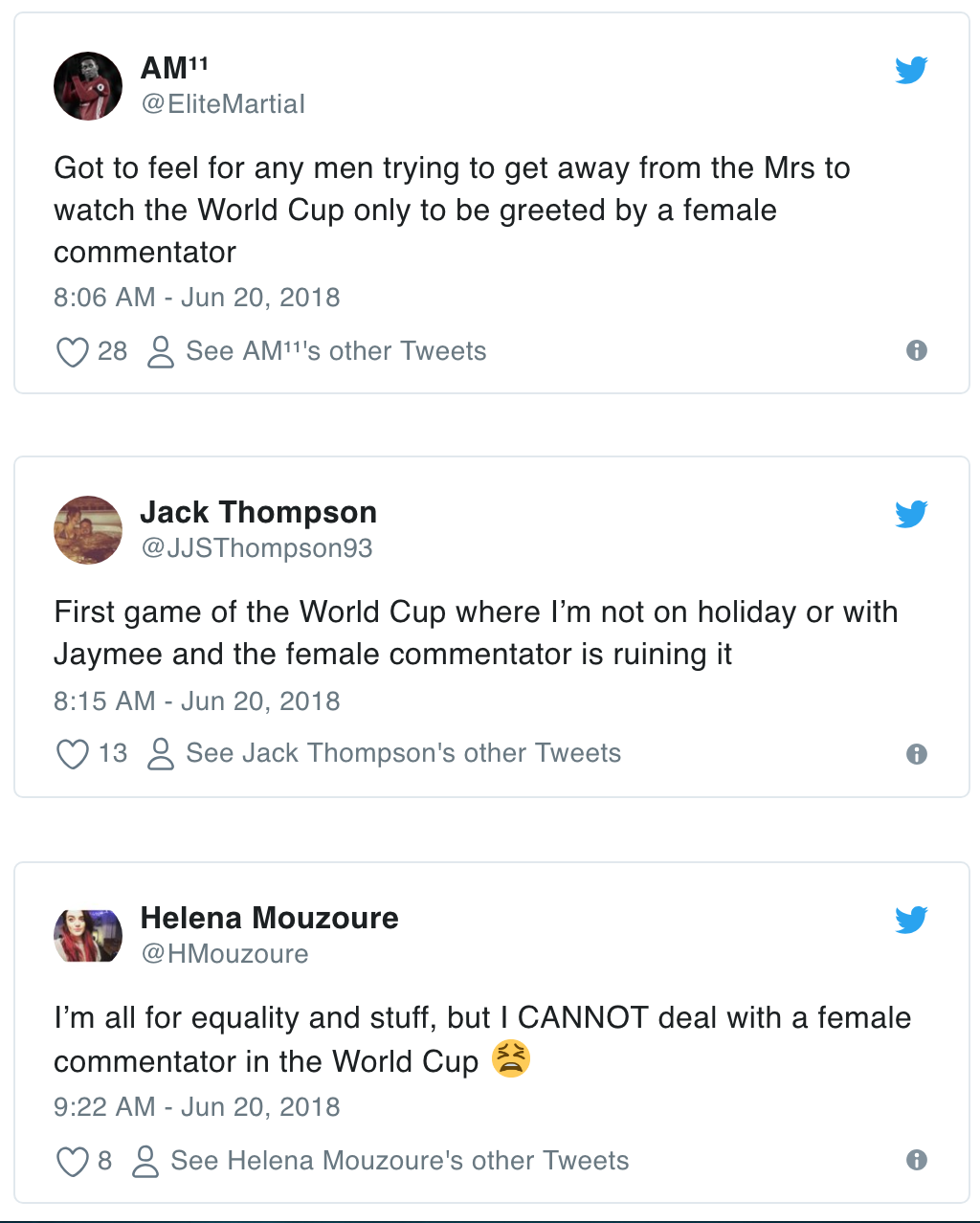 In the end, the job should go to the person best for the job period, no matter if they happen to be a man or a woman. However, women do need to be offered a seat because there are too many talented women for the job that know the ins and outs of the sport. While it may take some getting used to since it has been the status quo—literally forever—that men have provided commentary for such tournaments, it is exciting to see soccer turn a new page and be even more inclusive.
Aggressive machoism and sexual harassment do not have any place in the workplace, and the more often victims call out their attackers, the more frequently such offenders can be put in their place, and society can improve. Additionally, while not all of my clients are in a position where sexual harassment is caught on tape, or they have a platform to stand upon to bring attention to this vital global issue, what everyone can do is support women in business, especially in fields where women are a considerable minority. That is how change happens, and discriminatory viewpoints are broadened.
If you feel like you have experienced sexual harassment or discrimination in the workplace in New York, New Jersey, Florida, or Pennsylvania, contact the Derek Smith Law Group, PLLC. Our attorneys have years of experience litigating claims of gender discrimination and sexual harassment, and we have recovered millions on behalf of our clients who were discriminated against because of their gender. If you feel you have been discriminated against because of your gender, please give our attorneys a call at 800-807-2209 for your free consultation.