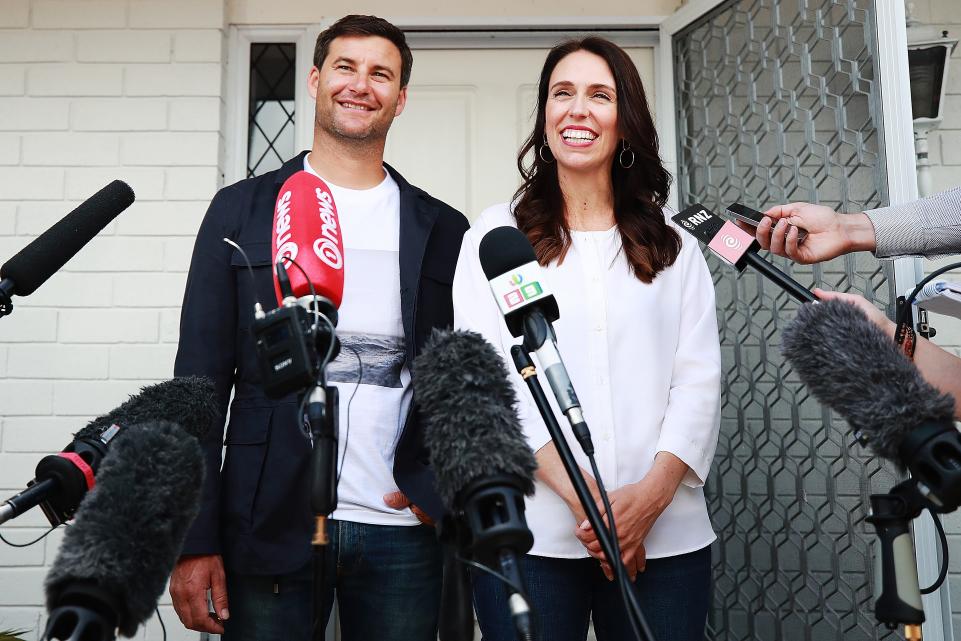 Women are amazing and continue to break glass ceilings! Recently, New Zealand Prime Minister Jacinda Ardern, 37, has announced that she is pregnant, making her only the second world leader to give birth while in office. Ardern, who was elected in October, is also New Zealand's youngest prime minister since 1856.
Ardern explained how she discovered she was pregnant only 6 days before becoming New Zealand's leader. "It was a week before (Deputy Prime Minister) Winston Peters made his decision about how to form a coalition government. It's been a long time to carry that secret," Ardern said.
The young Prime Minister already plans to take a six-week maternity leave. She will leave at the helm Deputy Prime Minister Peters, who will act as New Zealand's leader. After her leave, it will be back to business and her husband will be a "stay at home" dad and care for the new infant.
So far, the only other world leader to give birth in office is Pakistan's prime minister, Benazir Bhutto, who gave birth to a daughter in 1990 while serving her nation.
Women should never face the choice of "Career or family." Moreover, their employer or prospective employer should never ask such questions as it may be against the law as a form of gender discrimination or pregnancy discrimination.
New Zealand's Prime Minister Ardern is an amazingly strong woman and going against the grain of societies current norms. Surely her success as Prime Minister will go to show woman can do anything, including run a nation, give birth, and much more. While deciding when and whether or not to go public with one's pregnancy is a personal decision, just as how much maternity leave is a personal decision, fear of discrimination for one's pregnancy should not have to be a factor. There are laws that protect women from discrimination related to gender, pregnancy, and pregnancy-related conditions.
Pregnancy discrimination involves treating a woman (such as an applicant or employee) unfavorably because of pregnancy, childbirth, or a medical condition related to pregnancy or childbirth. Not only is pregnancy discrimination protected in New Jersey and Louisiana, it is protected under Federal law too. Federal law protects pregnant workers under the Americans with Disabilities Act, the Pregnancy Discrimination Act, and the Family and Medical Leave Act.
If a woman is temporarily unable to perform her job due to a medical condition related to pregnancy or childbirth, the employer or other covered entity must treat her in the same way as it treats any other temporarily disabled employee.
The Americans with Disabilities Act
The Americans with Disabilities Act, impairments resulting from pregnancy may be disabilities. Such disabilities may include gestational diabetes or preeclampsia, a condition characterized by pregnancy-induced hypertension and protein in the urine. An employer may have to provide reasonable accommodation, like time off from work or modifications that enable an employee to perform her job for a disability-related to pregnancy, absent undue hardship. Under the Americans with Disabilities Act, undue hardship means significant difficulty or expense.
The Pregnancy Discrimination Act
The Pregnancy Discrimination Act of 1978 forbids discrimination based on pregnancy when it comes to any part of employment, including hiring, firing, pay, job assignments, promotions, layoff, training, fringe benefits, such as leave and health insurance, and any other term or condition of employment. An employer that allows temporarily disabled employees to take disability leave or leave without pay must allow a pregnant employee to do the same. Moreover, employers must hold open a job for a pregnancy-related absence the same length of time that jobs are held open for employees on sick or temporary disability leave.
The Family and Medical Leave Act
Additionally, under the Family and Medical Leave Act of 1993 Act, a new parent (including foster and adoptive parents) may be eligible for 12 weeks of unpaid or paid leave that may be used for the care of the new child. To be eligible, the employee must have worked for the employer for 12 months prior to taking the leave and the employer must have a specified number of employees.
Call Our Discrimination Lawyers
Pregnant women have many rights in the workplace! The skilled New York City discrimination and sexual harassment attorneys at the Derek Smith Law Group, PLLC, have years of experience litigating claims of pregnancy discrimination. Working with our Philadelphia sexual harassment attorneys, we have recovered millions on behalf of our clients who have experienced sexual harassment discrimination. If you believe that you have been treated unfairly, do not hesitate to give our office a call, toll-free, at (800) 807-2209. for your free consultation.