Stalker Michael David Barrett and Marriot Hotel Chain hit with Huge $55M Verdict
Nashville, TN – Fox Sports reporter and former ESPN television personality, Erin Andrews, was awarded a huge settlement to the tune of 55 million dollars as a result of a stalking incident that took place in 2008 at the Marriot Hotel in Nashville, Tennessee at Vanderbilt University.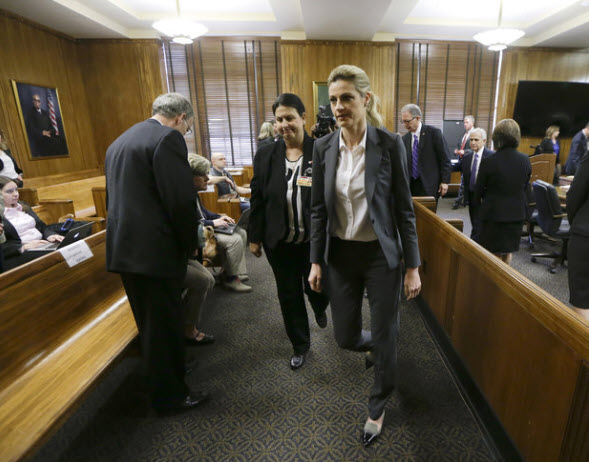 Who would have ever imagined that a small peephole could create a controversy of this magnitude in a woman's life? In 2008, Erin Andrews stayed at the Nashville Marriot Hotel. During her stay, Michael David Barrett violated her rights to privacy by successfully recording her through the peephole in her hotel room. According to court documents, stalker Michael Barrett used a hacksaw for the peephole that provided access to acquire some footage of Erin Andrews while she was in the nude and in the privacy of her hotel room. According to the attorneys for Andrews, Barrett was informed by the Marriot phone system which room Andrews was staying in and then asked to be put in the room next to hers.
The video footage of Erin Andrews broke the Internet. The video went viral as millions of viewers tuned to watch the video unbeknownst to Erin Andrews. The problem here is, she had no clue she had become an overnight Internet sensation. This unwanted fame brought her humiliation and unsolicited harassment by strangers. As a result of this, Erin Andrews filed a 75 million dollar lawsuit against the owner of the Nashville Marriot Hotel and Michael David Barrett.
Who is Responsible for this Unexpected Chain of Events?
First and foremost, the Nashville Marriot Hotel is responsible for providing the comfort and security that all their guests deserve. As a key component in the hospitality industry, it is their duty to uphold their core values and beliefs stating, "We put people first, pursue excellence, embrace change, act with integrity, and serve our world." As a respectable hotel owned by the West End Hotel Partners, the Nashville Marriot Hotel should have kept Erin Andrew's hotel information confidential along with every other guest for security purposes. The probability of Erin Andrews being recorded by Michael Barrett could have been significantly reduced if he did not have some alleged inside information from the hotel staff.
Michael Barrett managed to secure a room near hers that placed him in the perfect position to commit a crime that included stalking and mobile phone recordings. The jury found that both Michael Barrett and the Nashville Marriot Hotel were at fault. The jury held Michael Barrett 51% responsible owing more than 28 million in addition to the prison sentence he served prior to the verdict of this civil suit. They also held the Nashville Marriot Hotel 49% responsible for owing more than 26 million. The sad part is that Erin Andrews may only see a fraction or the award money.
Erin Andrews Faces Life After the Viral Nude Video
Michael Barrett attempted to "harass and embarrass" Erin Andrews when he recorded and released this video without her knowledge. A nude video of a woman of Erin Andrews' caliber is not something a person would expect to find in the media. As a sportscaster and TV personality, she carried herself with integrity and respect on and off the camera.
Erin Andrew is not a victim because she fought back and she won. Since this unfortunate incident occurred in her life, Erin Andrews still has a thriving career and an overwhelming amount of support from people all over the world. Sexual harassment comes in all forms. Erin Andrews happened to experience hers through social media, which certainly produced a far worse experience than one, which occurs in private or to someone who is not publicly known.
The attorneys representing the West End Hotel Partners attempted to argue that Erin Andrews went on with her life unaffected by the stalking incident. In Erin Andrews' defense, she made the best of a situation that the West End Hotel Partners are partially responsible for bringing into her life. Justice can never be served considering the video footage released cannot be undone and emotions cannot be erased, but a 55 million dollar award is a great way to send the message to anyone that may have the same agenda.
If you have ever been a victim of virtual sexual harassment in the workplace contact the New Jersey, Philadelphia, Miami &  New York City Sexual harassment Attorneys at the employment law firm of the Derek Smith Law Group.
Source: ABC News | CNBC | Source for Core Values: Marriott.com
Contact Our Sexual harassment Attorneys For a Free Consultation
If you feel you have been the victim of workplace sexual harassment in New York, New Jersey, Miami, and Philadelphia or if your employment rights have been violated, then you should immediately contact an employment law firm. No one deserves to work in a hostile job environment. Call today at 800-807-2209 to schedule a FREE sexual harassment legal advice Consultation with one of our top-rated sexual harassment lawyers here at the Derek Smith Law Group.