Lawsuit Filed by the Derek Smith Law Group Alleges GRINDR Puts Children in Danger of Sexual Assault Due to Bad Business Practices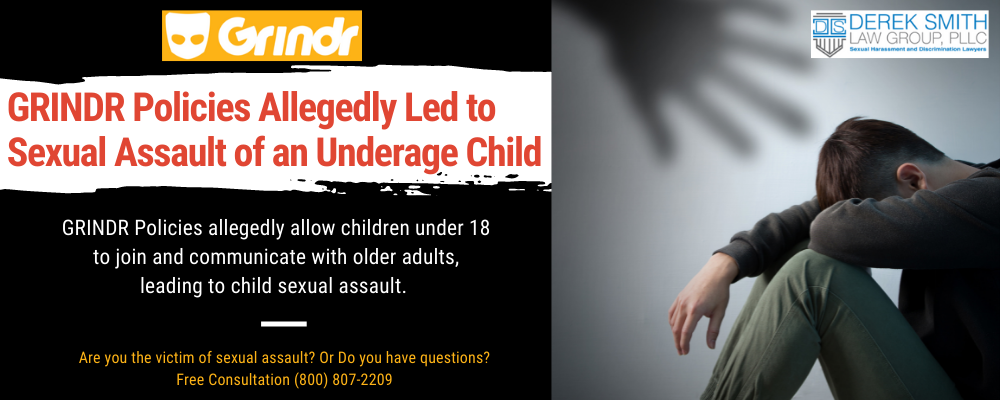 New York, NY– Derek Smith of the Derek Smith Law Group, PLLC filed suit in New York against GRINDR on behalf of a 16-year-boy who was sexually assaulted by a 48-year-old man he met on the sex platform.
As alleged in the lawsuit, GRINDR allows underage boys to easily bypass the 18-year-old age restriction. It does not require age verification. As further alleged in the lawsuit, liquor stores and strip clubs help to protect our children by requiring proof of age. As alleged, GRINDR, however, does not require a prospective user to upload his driver's license or other ID to prove his age.
As further alleged, GRINDR has long been aware of many instances of children accessing GRINDR's sex platform and being sexually abused by grown men again and again.
Identification or age verification online is easy and is used by many other online platforms.
We need to protect our children. This lawsuit seeks to not only compensate Derek Smith's client for the horrors he experienced. It also looks to prevent other children under 18 from falling prey to sexual assaults on GRINDR.
The Derek Smith Law Group Fights for Justice Against Child Sexual Predators
The Derek Smith Law Group fights for the civil rights of individuals in employment, public spaces, and online. The firm is especially proud of its ability to help children and their families recover from all forms of sexual assault, including child sexual assault.
Whether the assault results from religious leaders, online platforms, schools, and educators or other evildoers, children have the right to try to move on from the horrors inflicted on them by child predators. Our attorneys work to protect children from the horrors of child predators that exist in the world.
If You've Suffered Child Sexual Assault, Contact the Derek Smith Law Group.
Child sexual abuse laws protect children from the criminal actions of sexual predators. However, the laws also give victims the right to file civil lawsuits against the predator and anyone or any entity allowing such abuse to occur.
If you, a loved one, or someone you know is the victim of child sexual assault in New York City, New Jersey, Philadelphia, Miami, or Los Angeles, the lawyers at the Derek Smith Law Group can help. Call us at 800.807.2209 for a free consultation.