Derek Smith Law Group Named One of the Best Employment Law Firm in New York
We are proud to announce that the Derek Smith Law Group was chosen as one of the Best of Employment Law firms in New York for 2019 by Expertise.com. The Derek Smith Law Groups has built its practice representing victims of employment discrimination and sexual harassment in New York City and throughout the east coast. Our clients choose our New York City employment discrimination and sexual harassment attorneys because of our reputation to never back down from a challenge and demand high compensations from our opponents.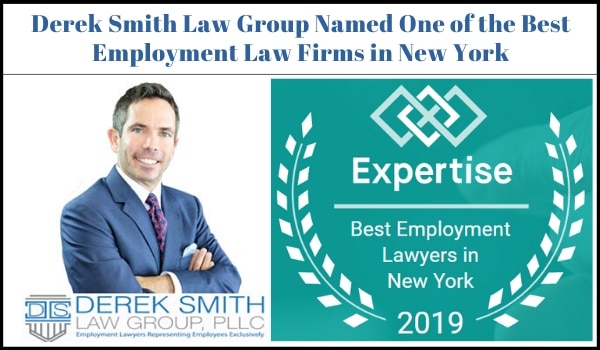 Who Are Our Clients?
The Derek Smith Law Group is a Plaintiff firm, helping employees and job applicants who have been wronged in the workplace by discrimination or sexual harassment. For over 25 years, we have helped clients get the justice and compensation they deserve, whether they are the victim of discrimination based on race, national origin, religion, age, disability, pregnancy, military status, immigration status, color, gender, sexual orientation, gender identity, genetic information, or sexual harassment. We understand our clients may be battling large corporations when seeking justice. We use our tenacity, combines with our warm hearts and skilled minds to help our clients stand up to injustice and fight for their rights.
Who Are We?
The Derek Smith Law Group is a team of amazing attorneys licensed in New York City and beyond. Our team of employment discrimination attorneys include skilled employment and labor attorneys, wage and hour attorneys, whistleblower attorneys, sexual harassment attorneys, and former sex-crimes prosecutors. Our attorneys have learned from many of the best and include a Harvard and Columbia graduate as well as attorneys having worked inside the EEOC prior to joining our team. The attorneys of the Derek Smith Law Group have been known to ask for the highest awards and negotiate ferociously to get as close to possible, if not exactly, what we ask for. We have recovered over $165,000,000 for our clients. We secured a settlement in excess of $15,000,000 on behalf of a client. A law firm does not reach these numbers by sitting down during a fight, and we will never sit down when fighting for your rights.
Helping Victims of Employment Discrimination Find Justice Under the Laws
As an employment law firm, we understand the issues you, as the victim of discrimination, can face when experiencing discrimination in the workplace. We believe in listening to our clients and helping them understand the process before ever jumping into filing a claim. Our clients know they are working with attorneys with a heart, that care about their well-being as well as getting the compensation they deserve.
Employment discrimination and sexual harassment is prohibited under federal laws such as Title VII of the Civil Rights Act of 1964, The Civil Rights Act of 1866 (Section 1981), The Age Discrimination in Employment Act, The Americans with Disabilities Act, and The Genetic Information Nondiscrimination Act, to name a few. Federal laws protect employees or job applicants who work in companies with 15 employees or more. Depending on the nature of your case, Our team will determine if federal court is the best option and which of these laws will be best suited for your case.
We also are versed in local laws designed to help protect you from employment discrimination and sexual harassment in the workplace. In New York City, The New York State Human Rights Law and the New York City Human Rights Law will protect you firm discrimination as long as you work with accompany with 4 or more employees. If you are the victim of sexual harassment, all employees are protected under these local laws, regardless of the size of the company.
Our attorneys will study the facts of your case and determine the best laws to use for your claim. We will speak with you to decide whether local or federal court is best. If you should be awarded a higher settlement, we will likely file locally, since the federal laws cap the amount of damages that can be awarded compared to state and local laws that do not cap damages for any claims.
Contact Our Experienced Employment Discrimination Attorneys for Your Free Consultation
As one of Expertise.com's Best of Employment Law Firms in New York City for 2019, we want to help you get the most experienced team of attorneys to help you get the justice you deserve. If you are the victim of employment discrimination or sexual harassment, the experienced attorneys at the Derek Smith Law Group can help. Contact us today at (800) 807-2209 for your free consultation. We do not collect any money until you win your case.