Seth Carson, Esq. Named a Rising Star By Philadelphia Super Lawyers.
Congratulations to Rising Star, Seth D. Carson, Esq. Mr. Carson was recently featured in a special "Super Lawyers Rising Star" Edition of a Philadelphia legal magazine. In his position at the Derek Smith Law Group, Mr. Carson helps clients dealing with workplace sexual harassment and employment discrimination. He also assists clients with other employment law issues affecting employees in Philadelphia and surrounding areas.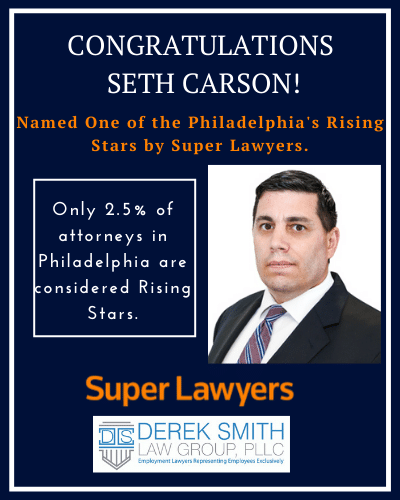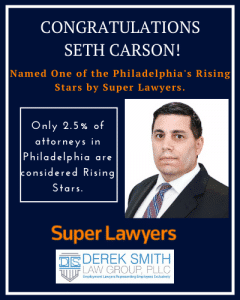 The Derek Smith Law Group is an employment discrimination and sexual harassment law firm with offices in Philadelphia, New York City, Miami, Los Angele,s and New Jersey. Our team of over 29 attorneys focuses on employment law issues affecting employees in all stages and areas of employment. Some of our focus areas include:
Employment Discrimination
Sexual Harassment
Wage and Hour Laws
WARN Act
Family and Medical Leave Act
Whistleblower Cases
Equal Pay Act
Discrimination in Public Accommodations
Sexual Harassment in Public Accommodations
Wrongful Termination
Retaliation
Military Status Discrimination
And More.
What Laws Help Our Clients in the Philadelphia Area?
Federal and state laws help our clients obtain justice. Title VII Of the Civil Rights Act of 1964 prohibits discrimination and sexual harassment at work. Discrimination relating to race, color, national origin, sex/gender, and religion come under Title VII, allowing our employment discrimination lawyers the tools to get justice for our clients.
Other essential laws helping our clients in federal and state court include:
The Americans with Disabilities Act
The Pregnancy Discrimination Act
The Age Discrimination in Employment Act
The Genetic Information Nondiscrimination Act
US 42 §1981
The Equal Pay Act
The Fair Labor Standards Act
The Family and Medical Leave Act
The Whistleblower Protection Act
The Uniformed Services Employment and Reemployment Rights Act
The WARN Act
The Pennsylvania Human Relations Act
The Philadelphia Human Relations Act
The New Jersey Law Against Discrimination Act
Whether our clients are victims of age, disability, pregnancy, military or veteran, gender identity, sexual orientation, or genetic information discrimination, these laws can help prevent them from continued abuse in a hostile work environment.
How Are Super Lawyers Selected?
Super Lawyers must receive a nomination for consideration. They must be nominated by a colleague, client, or industry peer.
Once superlawyers are nominated, the team at Super Lawyers goes through an internal vetting process. Superlawyers reviews each nominee's achievements, including verdicts, settlements, education, community service/pro bono work, and more.
Then, the votes commence. Attorney peers vote on each nominee. Nominees are not permitted to advertise, keeping the voting process an unbiased as possible.
Finally, the team of Super Lawyers conducts a final review of the candidates. They ensure each is in good standing with the Bar.
5% of all nominated attorneys make the list of Super Lawyers. 2.5% of those attorneys are considered Rising Stars.
Contact Our Team of Exceptional Employment Discrimination and Sexual Harassment Lawyers for Your Free Consultation
Whether you experience a quid pro quo sexual harassment claim, employment discrimination, or other employment law violations, you deserve representation from attorneys at one of the top law firms in Philadelphia. The dedicated sexual harassment and employment discrimination attorneys at the Derek Smith Law Group can help.
Call today at (800) 807-2209 or fill out our online form for your free consultation.