JetBlue Pilots Accused Of Assault
A Complaint filed on Monday in the United States District Court for the Eastern District of New York alleges two JetBlue pilots drugged and raped three female airline workers during a layover in Puerto Rico in May of 2018. The case is brought forth by two of the victims, identified in the Complaint as Jane Doe 1 and Jane Doe 2, who claim they were offered cans of beer "laced with a drug, and after that point, the rest of the night became a blue [for the women]."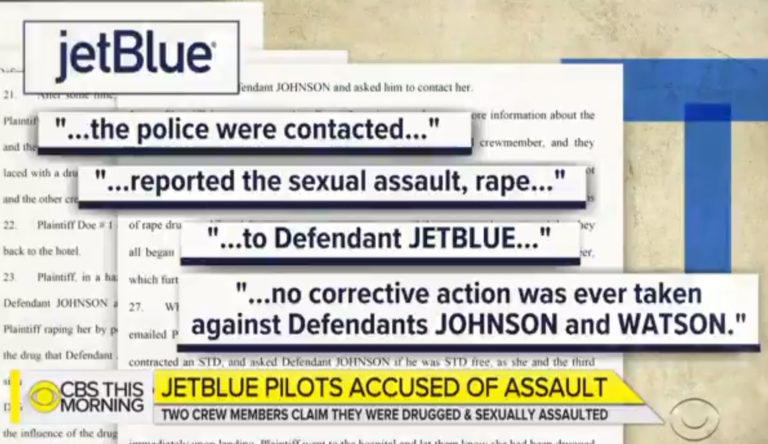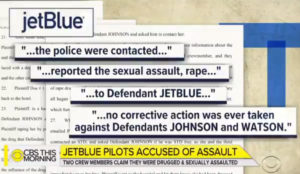 The story is this: two sketchy JetBlue pilots offer the three female JetBlue workers open containers of beer which were laced with drugs that caused the Plaintiffs to feel "groggy and numb." After the assault, as if being drugged and raped is not heinous enough, Defendant Johnson stated, "Thank you for making my fantasies come true" after the assault. The women then complain to JetBlue about the assault, but JetBlue does nothing.
Two of the three women are represented by Derek Smith Law Group, PLLC Managing Attorney Abraham Melamed, who was featured on CBS This Morning to discuss the case and its far-reaching ramifications in the area of employment law.
"[The women] deserve justice, [the women] deserve compensation for what they've undergone but more importantly, they're very concerned about the way in which JetBlue handled this, the way in which many companies handle these types of claims, these types of allegations," says Mr. Melamed during his interview with CBS.
The case presents an important question:

Do companies handle allegations of sexual abuse and sexual harassment as seriously as they should?

Within the last year, many women have summoned the courage to come forth about their experiences with sexual harassment and sexual abuse in the workplace. Many of these victims fear that if they complain, they may face retaliation at work, or even worse, that the companies will take no corrective action and victims will be forced to work with their harassers. What do you do when you have been raped or sexually harassed, you complain about it, and yet nothing is done to protect you? This is one of the major issues Mr. Melamed is tackling in this case. "This is about more than money," says Mr. Melamed.
Sexual Harassment in the Workplace
Title VII of the Civil Rights Act of 1964 prohibits discrimination on the basis of sex/gender, along with a host of other protected classes like race and religion. Sexual harassment is considered a form of sex/gender discrimination when an employee has suffered an adverse employment action, like suspension or termination. Additionally, when an employee is subjected to unwelcome comments and conduct of a sexual nature, he/she may be the victim of a hostile work environment which the employer has a duty to remedy if the employee comes forth about the sexual harassment. In the case against JetBlue, no immediate corrective action was taken to remedy the hostile work environment experienced by the Plaintiffs, according to the papers. The actions of the pilots are reprehensible and irrespective of any fancy legal jargon, the Plaintiffs deserve justice for the mental anguish and physical abuse they have experienced.
Consult an Experienced Sexual Harassment Attorney in New York City 
If you have been the victim of sexual harassment or any form of sex/gender discrimination in the workplace or a place of public accommodation in New York City, it is important to find an experienced attorney to represent you. Contact the Derek Smith Law Group, PLLC at (212) 587- 0760 or contact us through our online form to discuss your claim.