Jersey Shore Lifeguard Wins Age-Discrimination Suit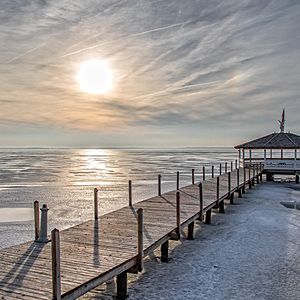 Jersey Shore Lifeguard Wins Age-Discrimination Suit
OCEAN CITY, NJ – A lifeguard who sued in 2013 a New Jersey beach municipality for age discrimination after he was fired at age 52 has won a nearly $130,000 jury award.
Paul McCracken a 'senior lifeguard,' was sacked in June 2011 by Ocean City, N.J., after the physical requirements for the job were raised in what he alleged was an effort to force out older lifeguards. Because of the changes in requalification criteria, McCracken passed the fitness test but narrowly failed the tougher swimming test.
Before changing the requirements, a tiered system was in place in which supervisory lifeguards, like McCracken, didn't have to complete a timed run or swim. As part of a scheme to force them to retire or face reduced hours, Ocean City required that he and other administrative lifeguards to take the requalification tests, which would cut their salaries and ultimately affect their pensions. The scheme of targeting the older lifeguards began in 2008 when Ocean City was cash-strapped so moved $53,000 from the senior lifeguard's budget and transferred it to the fire department.
Age discrimination is a form of employment discrimination that involves treating an applicant or employee less favorably because of his or her age. Under Federal law, the Age Discrimination in Employment Act forbids age discrimination against people who are age 40 or older, but not workers under the age of 40. It prohibits discrimination in any aspect of employment, including hiring, firing, pay, job assignments, promotions, layoff, training, benefits, and any other term or condition of employment.
Some states like New York have additional laws to protect younger workers from age discrimination. The New York State Human Rights Law covers employers with four or more employees. It protects persons 18 and over from age discrimination in employment, apprentice and training programs, promotions and termination. Under New York State Human Rights Law, an employer cannot refuse to hire or promote an employee, and may not terminate an individual because of age. Employers must provide the same terms and conditions of employment irrespective of age, including salary.
The experienced New York City discrimination and sexual harassment attorneys at the Derek Smith Law Group, PLLC have years of experience litigating claims of age discrimination. Working together with our Philadelphia sexual harassment attorneys, we have recovered millions on behalf of our clients who were discriminated against because of their gender. If you feel you have been discriminated against because of your gender, please give our attorneys a call, toll free, at 1877 4NYLAWS, for your free consultation.
---
Call today to schedule a FREE sexual harassment or employment discrimination legal Consultation in NY, NJ & PA with one of our top rated employment law or sexual harassment attorneys here at the Derek Smith Law Group. You can reach us online or by calling 877.469.5297. Our New York City, New Jersey and Philadelphia labor & employment law attorneys handle a variety of cases involving sexual harassment, racial discrimination, pregnancy discrimination, and other employment-related claims. We serve clients throughout New York, including Manhattan, Brooklyn, Queens, the Bronx, and Staten Island. We also have offices in New Jersey and Philadelphia to serve you.
Make Sure Your Lawyers Have the Verdicts To Back Up Their Negotiations – Results Matter!