A Washington County Jail inmate is planning to sue two prison guards he had sex with, for sexual harassment.  Prison guards, Jill Curry and Brett Robinson would release Jeng-Li Delgado-Galban from his jail cell to go into a supply closet and have sex with him. This was not a ménage a trois however; because neither woman knew that the 25-year old man was secretly having relations with the other one.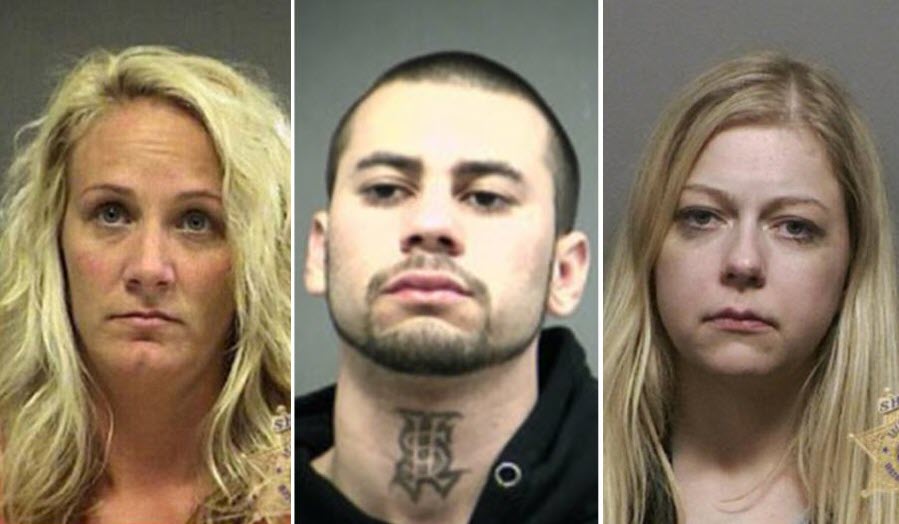 Curry, 38 was caught one month before 32-year old Robinson.  Both were terminated from their jobs; Curry who was married with children has now been divorced from her sheriff's deputy husband.  She has pleaded guilty to 28 counts which consist of first and second-degree sexual misconduct. She was sentenced to a little over four years for her criminal act. "I feel nothing but regret and sadness, she said while crying, "I'm so sorry."
Delgado-Galban is preparing to file suit against the county, saying damages have been incurred on his behalf: "These actions violated the Eighth Amendment to United States Constitution's prohibition of sexual harassment and abuse of an inmate by corrections personnel."
But sexual abuse is not the only thing the convicted felon is complaining about. He has also added criticism about the poor quality of food.
Delgado-Galban is no stranger when it comes to sexual misconduct; he was arrested in 2009 for sexual harassment.  He purportedly forced his way into a woman's home in Hillsboro, Oregon and raped her. During the plea deal that he agreed to, he admitted to one count of burglary with the intent to carry out rape, so that the rape charges could be dismissed. He was charged with failing to register as a sex offender, harassment, false swearing, illegal use of a weapon and second-degree assault.
While this registered sex offender continues to serve his sentence for the long list of charges indicated, it certainly hasn't caused him to lose his appetite for passion. To prove it, he wrote a love letter addressed to Robinson:
"Hi Baby, I am hoping this letter will better convey the love I feel deep inside for you. You are a constant presence in my thoughts, fantasies, and dreams, and I feel this pervasive emptiness without you by my side. It makes it hard to go about my normal daily activities when all I do is miss you. You are my everything, Baby – I could not envision my life without you in it."
The very first rendezvous of many occurred with Robinson on his birthday when he requested a birthday kiss from her.  She freed him from his cell at the time and took him to the control room.  According to Robinson "He kissed me so passionately, I was taken aback."  After that Delgado-Galban allegedly told her "I was hoping we could go farther."  He told her that they didn't have time to discuss it. "So I had sex with him," she said.
Their romance began to fizzle when word got back to Robinson that he had written a sexually explicit note to a nurse and forcefully pinned a female inmate against the wall and kissed her.
Have you or someone you know been the victim of sexual harassment?
While the above story may not be a classic example of a sexual harassment case, there are cases involving this type of workplace misconduct in which many victims have suffered severe mental distress and a host of other health issues due to working in a hostile job environment.
Here at the Derek Smith Law Firm, we feel it's important to let you know that as NYC, NJ, PA sexual harassment and employment law attorneys, we are passionate about what we do.  We will fight for your rights and get justice on your behalf.
Don't know what your rights are?  That's no problem. Give us a call today.  We will be more than happy to patiently explain to you what your rights are and how to go about making use of them.
Sexual Harassment & Employment Discrimination Attorneys | NYC – PA – NJ
For a FREE Consultation in New York, New Jersey or Philadelphia, schedule with a sexual harassment, discrimination and employment attorney at the Derek Smith Law Group, PLLC in New York City, New Jersey, Philadelphia and Miami. You can reach us by calling 877-469-5297 or online.  Our top-rated employment law attorneys handle a multitude of cases that include workplace discrimination, wrongful termination, sexual harassment and wage disputes, EEOC claims and other employment-related lawsuits. We serve clients throughout New York, including Manhattan, Brooklyn, Queens, the Bronx, and Staten Island. We also have offices in New Jersey, Philadelphia, and Miami to serve you.