Five Guys sued for Hostile Work Environment
Female Employee shares Hostile Work Environment Experience
West Virginia – Ex-Five Guys employee, Misty Ashworth, filed a lawsuit against Five Guys and her supervisor David Deerfield for subjecting her to a hostile work environment. Ashworth claims she reported the workplace misconduct and no one investigated or even considered reviewing her claims.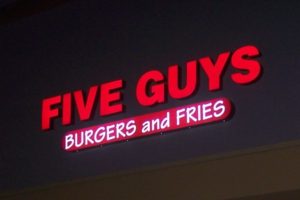 The lawsuit was initially filed in Cabell Circuit Court in June 2015 then transferred to federal court the following month. According to the lawsuit, Ashworth began working as server at the location in Pullman Square in April 2015. Ashworth claims her work performance surpassed her employer's expectations. Although Ashworth maintained a commendable work performance, she alleged Deerfield  approached her regarding sexual acts. Ashworth said his "sexually charged behavior" occurred frequently.
Ashworth and other female employees endured "quid pro quo" sexual harassment from Deerfield. Quid pro quo sexual harassment occurs when an employer or supervisor requests a sexual favor from an employee in exchange for something in return such as assistance with career advancement. The unsolicited behavior and misconduct caused the victims to become uncomfortable at work.
The Human Resources department was informed on several occasions about Deerfield's sexual harassment. Ashworth claims HR failed to investigate the sexual harassment complaints and take action against Deerfield. A combination of ongoing sexual harassment and the lack of support from Human Resources led Ashworth to leave Five Guys in April.
An intolerable hostile work environment is far too stressful for any employee to experience. The aftermath of Ashworth's experience with a hostile work environment included loss wages, emotional distress, inconvenience, and exasperation. The lawsuit indicates Five Guys breached the West Virginia Human Rights Act. The company's actions caused Ashworth both personal and professional hardships. Currently, she is seeking "compensatory and punitive damages" and "pre- and post- judgment interest."
Are you employed in a Hostile Work Environment?
The answer to this question could be difficult. Most individuals are unaware of what constitutes a hostile work environment. If you feel that you have fallen victim to consistent sexual harassment at work, but you're not sure if it qualifies as a hostile work environment, you should immediately seek a hostile work environment attorney to review the conditions of your work environment, and provide legal answers to your questions.
Employers or supervisors usually communicate with employees often because of the position they hold. It is their duty to make sure the workplace runs properly, remains free from misconduct, and always comply with the law. In the event that the communication becomes verbally abusive, vulgar and/or profane, and disrupts or compromises an employee's ability to work, he or she may have been exposed to a hostile work environment.
The severity of offensive conduct produces hostility. Some employees become intimidated by the work environment, and fear filing a complaint. It is very seldom that employees will ascertain a solution to the work related issue immediately following the complaint.
Individuals would expect a victim enduring a hostile work environment to report it, but other individuals indirectly affected face a dilemma. Fortunately, the law understands some people are affected from being in the presence of a hostile work environment. The individuals who reveal wrongdoings behind closed doors are called whistleblowers. No one wants to be a whistleblower, but they want the hostility to come to a halt. Under circumstances as such, speak to a hostile work environment attorney.
Isaac Newton's third law states, "For every action, there is an equal and opposite reaction." The same concept applies to the workplace. For example, if a female employee's employer is frequently subjecting her to a severe and pervasive workplace, and she reports it, there is a chance that she may experience workplace retaliation or termination following her report. The cycle continues until a hostile work environment attorney puts an end to the work battle.
Seek a Hostile Work Environment Attorney
If you are employee who suffered from a hostile work environment in New York, New Jersey, or Philadelphia, contact a hostile work environment attorney at the Derek T. Smith Law Group in New York, New Jersey, and Philadelphia. Our hostile work environment attorneys are knowledgeable about what constitutes a hostile work environment and experienced with the federal and state laws that protect employees from being coerced to work in an unethical place. For more information on a hostile work environment, read our employment law blog.
---
New York City, New Jersey and Philadelphia Employment Attorneys
If you feel you have been the victim of workplace sexual harassment in New York, New Jersey or Philadelphia or if your employment rights have been violated, then you should immediately contact the NYC, NJ, PA sexual harassment lawyers at the employment law firm of DEREK T. SMITH LAW GROUP, PLLC. No one deserves a hostile work environment.
Call today to schedule a FREE sexual harassment legal advice Consultation in NY, NJ & PA with one of our top rated sexual harassment attorneys here at the Derek T. Smith Law Group you can reach us online or by calling 877-4NYLAWS. Our NYC employment law attorneys handle a variety of cases involving sexual harassment, racial discrimination, and other employment-related claims. We serve clients throughout New York, including Manhattan, Brooklyn, Queens, the Bronx, and Staten Island. We also have offices in New Jersey, Philadelphia, and Washington D.C. to serve you.
Make Sure Your Lawyers Have the Verdicts To Back Up Their Negotiations – Results Matter!
---
Derek Smith Law Group, PLLC
Top Rated Employment Law Attorneys Representing Employees Exclusively.