English singer and songwriter, Adele has won numerous awards for her music ranging from several Grammys to Golden Globe Awards. Adele is so talented that she's even an honorable mention in the Guinness Book of World Records as having a stupendous achievement for the success of one of her songs.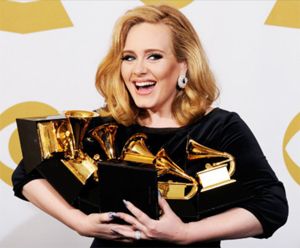 On top of having a delightfully soulful voice that can touch the very emotions of all who listen to her, Adele is a trendsetter, a record-breaker a vocal genius some would say. But having all of those gifts comes with a cost to the celebrity who bears them. One can only imagine the influence that she has on others as she bolts out a single note which represents a song carrying a message of intensity. She speaks to those who will listen – the ones who are ready to receive the message she's ever so gracefully conveying.
The downside is that just as there are those who appreciate her music, there are those who equally scrutinize it.
Right now one of the songs that has come under criticism is her number one hit, "Hello." The 27-year-old from London co-wrote the song with her producer, Greg Kurstin. The lead single from her album, 25 became almost an instant hit upon its release back in October, selling approximately 5 million copies to date. And while most people consider the song to be beautiful and harmless, there are others who would disagree.
The University of Oklahoma's Gender + Equality Center feels that the Adele's song "Hello" is creating a platform that may help to "normalize sexual harassment."
The group even gave out posters on campus at the university in which they quote the verse: 'I must have called a thousand times."
A credible news source indicates that the Director of Gender + Equality Center, Kathy Moxley said that the song was specifically chosen during Stalking Awareness Month to bring recognition of students to a crucial topic that would normally have been overlooked. Responses in the comments section of the article seem to support Adele and do not believe the song promotes a deleterious message.
What do you think? In your opinion does the song Hello promote a message of sexual harassment?
The Equal Employment Opportunity Commission is responsible for the enforcement of federal laws that make it illegal to discriminate in the workplace. The EEOC defines sexual harassment as requests for sexual favors and unwelcome sexual advances and other physical or verbal harassment of a sexual nature.
Have you or someone you know been experiencing sexual harassment at your place of work?
If so, the law was set up to protect you. You are the victim of these circumstances and you have a multitude of rights.
Recognizing that sexual harassment exists is only the first step in getting the issue rectified. The second step would be to stand up for yourself and your rights and take immediate action.
At the law firm of DEREK T. SMITH LAW GROUP, we are passionate about fighting for your employment law rights and bringing you justice.
No one deserves to be the victim of workplace sexual harassment or discrimination. If you are, then you should immediately contact an NYC, NJ, PA employment law attorney at the Derek Smith Law Group PLLC.
Call us today and schedule your FREE Consultation. You can reach us online or by calling 877-469-5297. We serve clients throughout New York, including Manhattan, Brooklyn, Queens, the Bronx, and Staten Island. We also have offices in New Jersey, Philadelphia, and Miami to serve you.