Healthcare Workers Have the Right to Report Unsafe Working and Patient Conditions without being Terminated or Forced to Quit Even During the Coronavirus Pandemic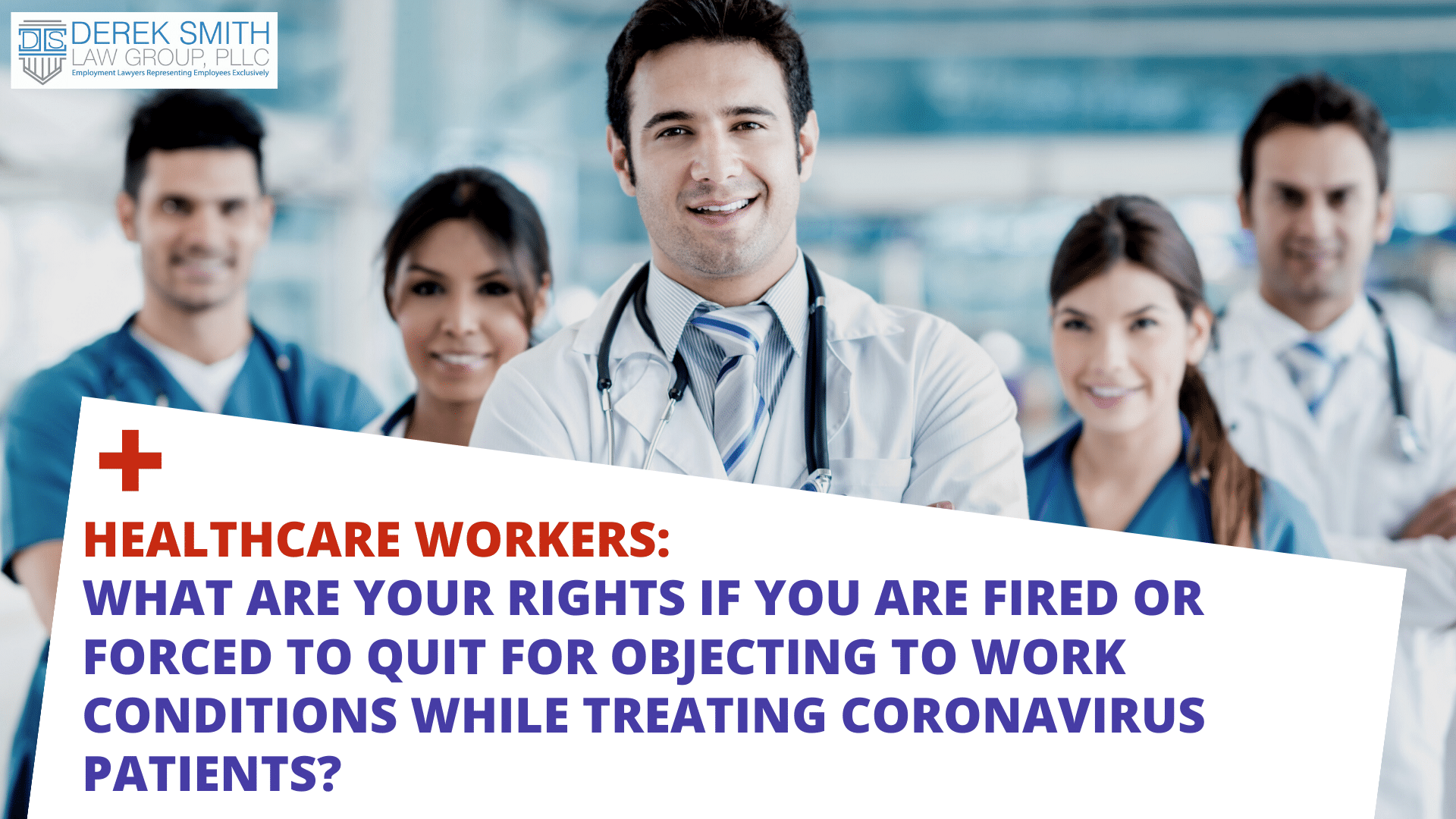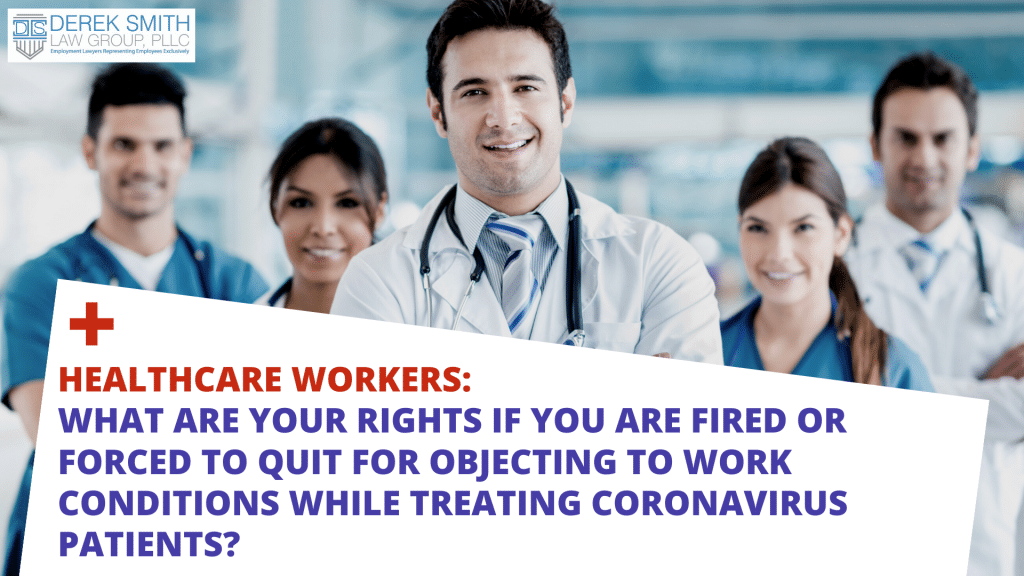 Healthcare workers are essential personnel during the Coronavirus Covid-19 pandemic. When the rest of us are practicing social distancing and isolation, healthcare workers are treating patients diagnosed with Coronavirus. However, even in the most infected areas, healthcare workers have a right to work in a safe environment.
When a healthcare facility doesn't meet the proper safety standards instilled by the Occupational Safety and Health Act (OSHA) or Covid-19 federal and state protocols, employees have the right to complain to the appropriate authorities. OSHA and healthcare whistleblower protections protect healthcare employees.
Yet, many hospitals and healthcare facilities will fire or force an employee to quit because the employee reported unsafe working conditions. Terminating a hospital employee or any healthcare employee, for this reason, is retaliation and is illegal.
During these unprecedented times, hospital workers and other healthcare employees should take the following precautions to protect themselves, their families, coworkers, and other patients from contracting the Coronavirus and spreading the disease. These are some of the precautions, as outlined by the CDC.
● Have patients call to see if they can use telemedicine
● Request EMT transport call in advance to warn of Covid-19 patient
● Limit points of entry for the medical facility
● Limit, as possible, number of Coronavirus patients in the hospital
● Immediate isolate patients testing positive or with symptoms of Covid-19
● Provide facemasks to patients with respiratory symptoms
● Provide separate waiting areas for respiratory patients
● Instill proper handwashing protocols for all medical staff
● Medical professionals should have appropriate hazardous material suits, masks, gloves, and gowns, as needed, when dealing with Coronavirus patients
● Provide respiratory masks or face masks for medical professionals entering a Covid-19 patient's room
● If a Covid-19 patient requires hospitalization, place him in a private room with a closed-door
● Notify all medical staff of Coronavirus patients and locations
● Implement proper environmental controls
● Train all medical staff regarding proper Coronavirus procedures
What Is a Whistleblower in the Healthcare Field?
Healthcare whistleblowers are medical staff and professionals that report unsafe or hazardous working conditions to the proper authorities. Most states have laws that protect healthcare workers from retaliation if they report hazardous working conditions to their employers or the state medical agency.
What Is an OSHA Whistleblower?
The Occupational Safety and Health Act (OSHA) mandates federal safe working conditions for all employees. OSHA mandates the laws to keep employees and patients safe in medical facilities as well as other employment environments. An OSHA whistleblower reports violations of these rules to the proper federal agency.
How Does an Employee Report Unsafe Hospital Conditions?
An employee may choose to report unsafe working conditions to both federal and state agencies. The complaint does not need to be in writing and can be made anonymously.
If you wish to file a federal complaint, you may file in person, or call, fax, or email your federal regional OSHA office. You may choose to fill out the online form on the Department of Labor's website.
If you wish to file a complaint in your state, you may contact your state's OSHA office and apply in person, online, or via fax or email.
Can a Patient be a Whistleblower?
Under OSHA Whistleblower protection laws, employees and their representatives, such as labor representatives, can receive protection. Therefore, a patient cannot be considered a whistleblower or receive whistleblower protections under federal law.
If a patient believes the patient conditions are not safe, they may tell their assigned medical providers or a patient advocate. The medical staff or patient advocate can report unsafe patient conditions.
Some state laws, such as California, provide whistleblower protections to patients who report safety concerns in medical facilities.
What Are the Risks of Whistleblowing?
Healthcare whistleblower protections exist because employers may retaliate against you for reporting unsafe work or patient conditions. Some of the risks of reporting such conditions in a hospital or medical facility include:
Being forced to quit
Demotion
Pay decrease
Shift changes
Denial of benefits
Suspension
What Are the Benefits of Whistleblowing in a Healthcare Facility?
While there are risks to whistleblowing, there are many benefits. Nurses, doctors, physician assistants, or other medical professionals and staff that choose to report unsafe working conditions can make a significant difference in the safety of the workplace, especially during the Coronavirus pandemic. Some of the benefits may include:
● Implementing safe treatment plans
● Creating a safe working environment with proper handwashing stations and limited entry points
● Establishing a respiratory illness waiting area
● Receiving proper safety attire and equipment for all medical staff and professionals
● Creating safe patient conditions
● Creating safe working conditions
● Enforcing appropriate medical staff services for safety and health
What Are Your Rights Under the Federal Law If You Are Fired or Forced to Quit Because You Reported Unsafe Working Conditions in a Healthcare Facility?
If you are fired or forced to quit because you complained about safety issues, you have the right to file a whistleblower retaliation complaint with the Department of Labor under OSHA within 30 days of the retaliation.
OSHA will investigate your claim and attempt to settle the issue. However, if no settlement is reached, you may file your complaint with the Department of Justice to have the case heard by an agency administrator.
What Are Your Rights Under State Laws for Medical Whistleblowers?
Most states have their own healthcare whistleblower protections.
California Labor Code 6310 protects employees against retaliation for complaining about unsafe and unhealthy work conditions. Code 6311 protects employees from retaliation from refusing to work if it violates OSHA standards where the violation creates a hazard to employees and coworkers.
California Labor Code 1102.5 mandates employees are safe from retaliation if they disclose information to the federal or state government or law enforcement agency if they believe the information provides state or federal law violations.
The California Health and Safety Code Section 1278.5 protects explicitly healthcare facilities from punishing employees or patients who file reports, initiate, participate in, or corporate in government agency investigations and administrative proceedings relating to the quality of care, services, or conditions at an accredited health facility.
New York Labor Law Section 741 protects employees who perform healthcare services through a public or private healthcare provider. The law protects them when disclosing or threatening to reveal any practices that provide improper quality of patient care, violates any laws, regulations, or declaratory rulings that present a danger to the public health and safety to a specific patient. The employee is also protected if he or she refuses to participate in policy or practice that constitutes improper patient care and may not be fired or forced to quit for engaging in protected activities.
The New York employee must inform a supervisor of his or her concerns before filing a complaint with the state agency.
The Pennsylvania Whistleblowers Act states, "No employer may discharge, threaten or otherwise discriminate or retaliate against an employee regarding the employee's compensation, terms, conditions, location or privileges of employment because the employee or a person acting on behalf of the employee makes a good faith report or is about to report, verbally or in writing, to the employer or appropriate authority an instance of wrongdoing or waste."
This law applies to public employees and those who work for an organization funded by the state of Pennsylvania, such as state hospitals or medical facilities receiving Medicaid reimbursements and highway transportation funds.
Under The Florida Whistleblower Act, an employee must disclose or threaten to communicate to an agency, under oath and in writing, an activity, policy, or practice of the employer that violates the law, rules, or regulations. The employer must retaliate against the employee because of this disclosure or threat. The employee must provide the employer with a written notice of the violation to allow the employer to correct the problem.
New Jersey's Conscientious Employee Protection Act (CEPA) protects employees from retaliation due to reporting an issue they believe violates the law. The protection also includes retaliation from refusing to participate in illegal, criminal activity, violations of laws or regulations, or events that go against legal requirements relating to public health, safety, welfare, or protecting the environment. Finally, CEPA protects employees from retaliation if they provide information or testify before a public body investigating, hearing, or questioning potential violations of law by the employer or another person or business that does business with the employer.
Regarding medical staff and professionals, CEPA protects doctors, nurses, and other licensed and certified medical professionals who object to, refuse to participate in, or disclose to supervisors or a public body any activity that creates improper or unsafe patient care.
Speak with Our Compassionate Whistleblower Retaliation Attorneys for Your Free Consultation Today.
Are you a nurse, doctor, physician's assistant, or other healthcare professional or staff member that has been terminated or forced to quit because you complained about unsafe Coronavirus conditions? Our experienced whistleblower protection lawyers can help.
Contact the dedicated attorneys at the Derek Smith Law Group at (800) 807-2209 today for your free consultation.