New York Employment Discrimination Lawyer Derek Smith Wins $4M Jury Verdict Against New York Presbyterian Hospital in NYC Disability Discrimination lawsuit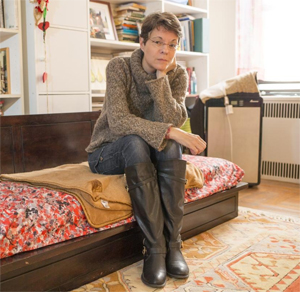 Employment Discrimination Attorney Derek Smith obtained a $4 million jury verdict in a Disability Discrimination lawsuit against  New York Presbyterian Hospital. The lawsuit filed on behalf of Rebecca Serdans, an ICU nurse at the New York Presbyterian Hospital, is being called a huge victory for employees with Dystonia everywhere.
Rebecca Serdans is being called a hero for first being able to work as a nurse with Dystonia, using a deep brain stimulation and second for having the strength to stand up for her rights in this 7-year lawsuit.
Rebecca Sedans said her bosses at New York-Presbyterian had endangered her life by forcing her to work near electromagnetic machines even though she has a neurostimulator implanted in her brain. The electronic device was implanted in Sedans in 2004 to help her cope with the symptoms of a Parkinson's-like disease, but the deep brain stimulator can go haywire and cause seizures or worse if exposed to electromagnets like those in MRI machines.
The details of the case are heartbreaking, Serdans worked for nine years for New York Prebysterian – the nation's largest hospital. She was a devoted employee who dedicated her life to helping others.
But – Serdans suffers from Dystonia, a movement disorder similar to Parkinson's disease. She has a Deep Brain Stimulator (DBS) to help her deal with the Dystonia. The stimulator consists of electrical probes implanted deep inside her brain. The DBS sends electrical impulses in her brain and is very sensitive to EMI or Electrical Magnetic Interference.
According to the lawsuit, due to the nature of her work at the New York hospital, Serdans was constantly exposed to EMI. However, there was one particular unit that Ms. Serdans called her "Safe Place" because it did not have much EMI and did not interfere with her DBS.
Despite her repeated attempts to have her employer provide "reasonable accommodations" for her – which is required by disability law in New York and across the country – NYPH refused to consistently assign Serdans to work in a unit that was not compatible with her DBS. The case involved issues of the Electro Magnetic Interference (EMI) and its effect on her DBS.
The original settlement offer on the case was $20,000 for Ms. Serdans. However, a New York jury verdict found New York Presbyterian Hospital liable for punitive damages due to their reckless indifferent towards Ms. Serdans. The jury also considered possible issues of New York Presbyterian Hospital covering up their wrongdoing.
Read this NY Post article about the story.
The Employment Law attorneys at the Derek T. Smith Law Group, PLLC handles a multitude of cases that involve employment discrimination and workplace sexual harassment in Manhattan, Brooklyn, Queens, the Bronx, and Staten Island and throughout New York  State. We also represent clients in New Jersey, Philadelphia and Miami For further information, please feel free to call us at 877-469-5297 or click here to contact us online.