Understand Your Employee Rights To Religious And Medical Exemptions Under A Company Vaccine Policy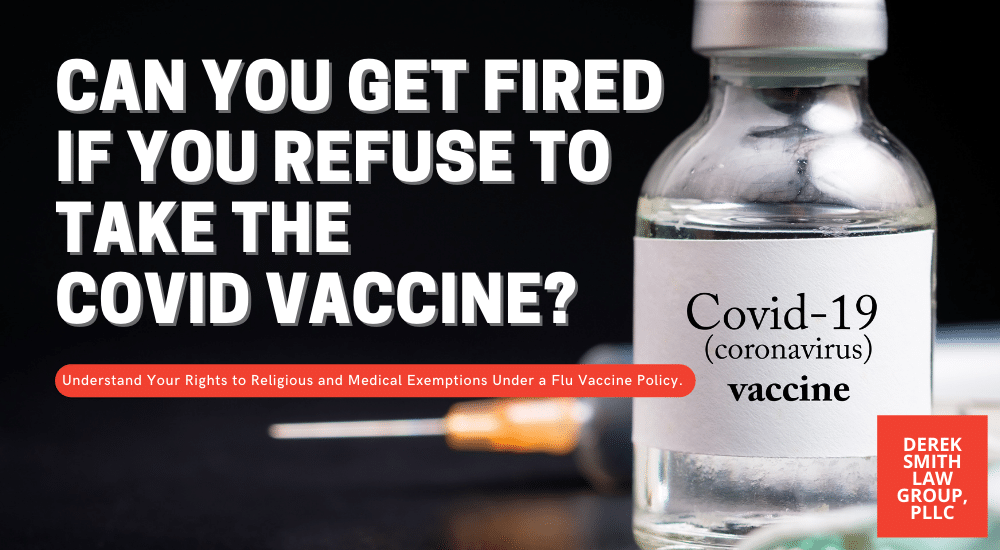 Flu season normally causes worry for most adults, especially those in the healthcare industry. However, flu season during a global pandemic causes even more concern.
COVID-19 symptoms can mimic flu symptoms. As a result, people do not know if you have the flu or Coronavirus. Anyone with the flu must still quarantine for two weeks unless tested and negative for Coronavirus. Even then, they insist sufferers are fever-free for at least 24 hours before returning to work.
Now, the new COVID vaccine is available. Anyone aged 12 and over is eligible to receive the Coronavirus vaccine in all 50 states and the District of Columbia.
Employers may consider mandating flu shots to avoid health concerns related to the flu and COVID. What are your rights regarding mandatory vaccines? Can you refuse them? Can your boss fire you over your refusal?
Since the flu shot has full FDA approval, it is best to understand your rights regarding it first.
Can Your Boss Make You Get a Flu Shot?
The law is clear. A company vaccine policy can only mandate the flu vaccine if it serves business purpose and is job-related.
In other words, a company can mandate a vaccine if it has a clear business reason. Hospitals, medical care facilities, nursing home facilities, or medical supply companies may have a legitimate business purpose to mandate a flu shot.
However, other companies requiring close contact, like retail businesses, delivery services, law enforcement, emergency medical and fire organizations, and more, may also have a clear business reason to mandate a flu vaccine.
The Occupational Health and Safety Organization (OSHA) tells employers to educate their employees about the flu shot's benefits. It does not mandate employers enforce a mandatory flu shot policy.
It also does not allow any retaliation, such as wrongful termination or suspension for refusing the flu shot.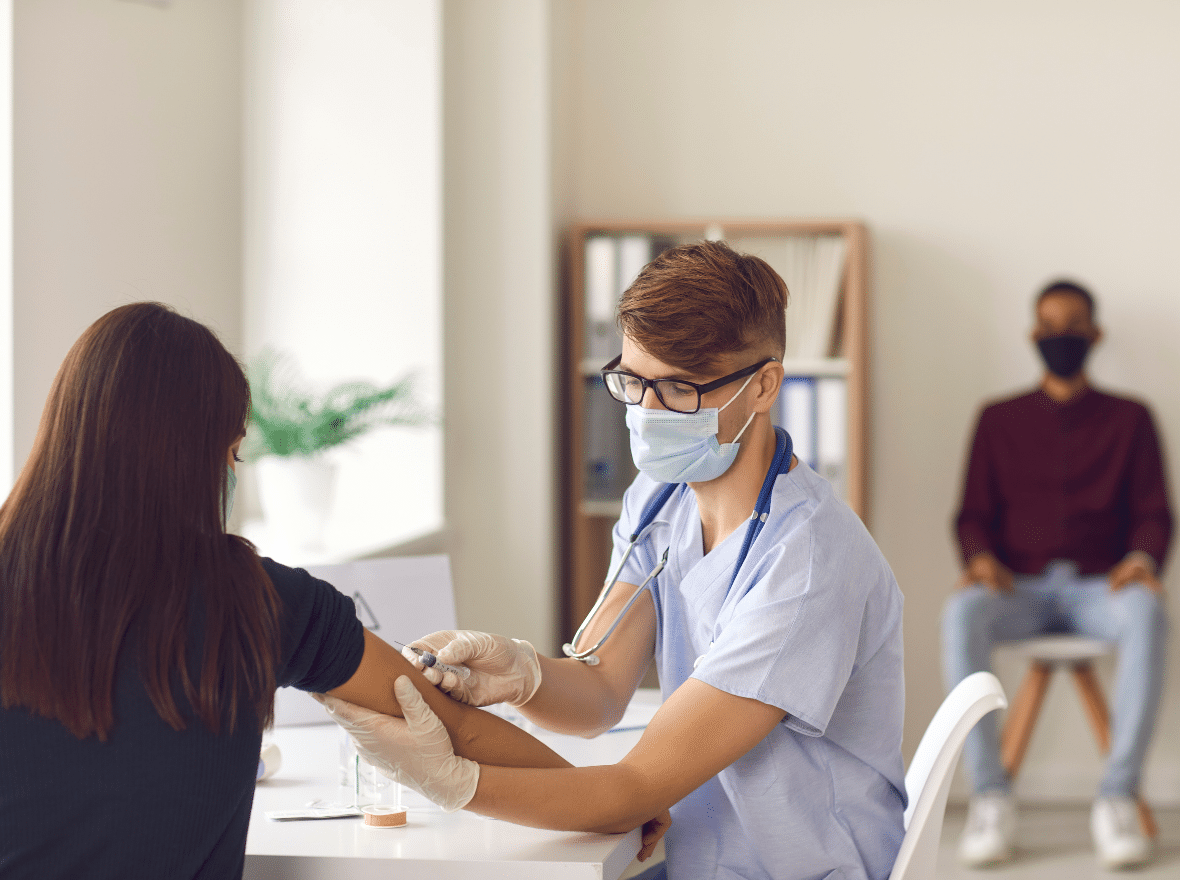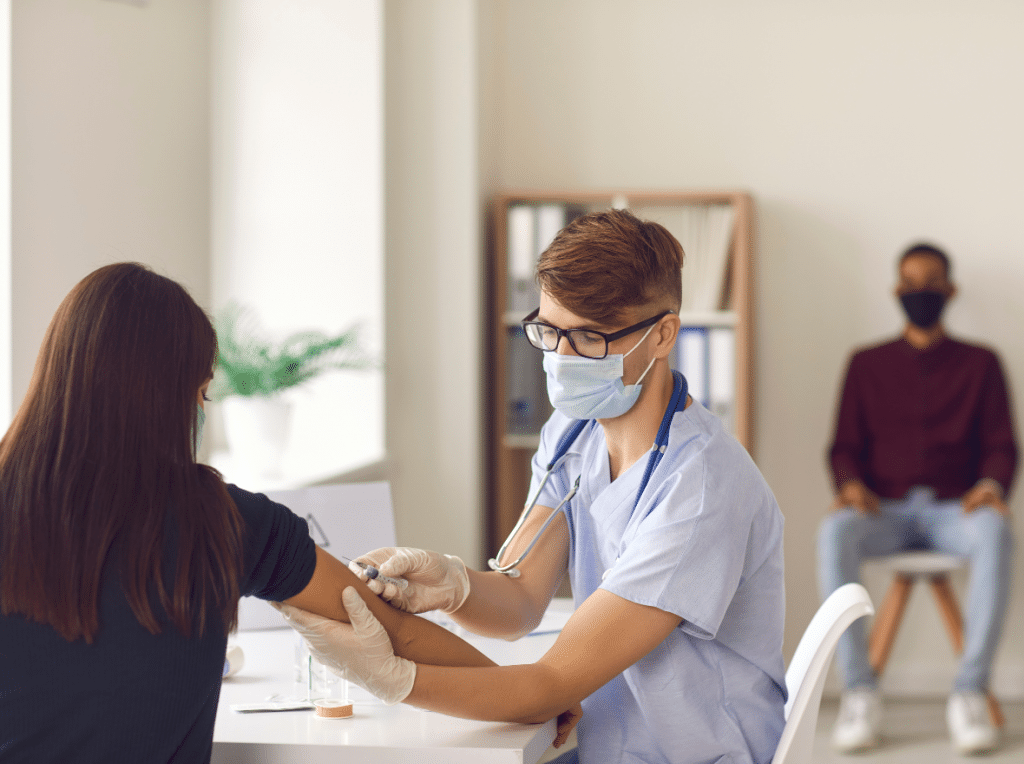 Can Employees Refuse the Flu Shot?
Even when employers mandate flu vaccines, employees may have the right to refuse. The Americans with Disabilities Act Amendments Act (ADAAA) and Title VII of the Civil Rights Act of 1964 protect employees' rights to refuse the shot for medical and religious reasons.
The ADAAA protects people with a covered disability from negative employment actions based on medical needs. Any employee with a believed medical reason can refuse the flu shot.
Many employees have conditions that cause a negative reaction to the flu shot. People with cancer, pregnant women, and those with immune-deficiency issues may be medically exempt from the influenza vaccination.
Title VII provides a religious exemption to the mandatory flu vaccine. An employee may refuse the flu shot for a deeply held religious belief. For instance, a practicing vegan can refuse the flu shot because it is made from eggs.
Employers cannot retaliate against an employee claiming an ADAAA or Title VII exemption for the vaccine. Firing an employee or laying them off for the season may be a wrongful termination.
How Can Employers Accommodate Employees with Flu Shot Exemptions?
Exemptions do not mean employees must go completely unprotected. Instead, you have a right to reasonable accommodations. Employers can provide other protective measures to help you stay safe and healthy throughout the flu season.
Some accommodations include:
Providing PPE to at-risk employees
Allowing at-risk employees to work from home when possible
Providing frequent handwashing breaks
Providing hand sanitizer throughout the workplace
Providing a private working space to at-risk employees when possible

How Should Your Company Handle Flu Shot Policies?
Yes, flu vaccines are important to protect employee and customer health. Some studies have shown the flu shot can help limit the effects of Coronavirus as well. However, forcing employees to get a flu shot can lead any company down a long, slippery slope. Instead, your boss can try some other ideas to encourage flu shots.
Your boss may choose to recommend and encourage vaccines instead of mandating them. Some things they can implement may include:
Post information about the influenza vaccine within the workplace.
Bring a nurse into the office to administer flu shots.
Pay for any flu shots not covered by insurance.
Discuss options with employees who may not want to get the flu shot or cannot get it.
Provide a hotline for employees who have questions regarding the flu shot before or after they receive it.
Your boss should never offer work benefits for those receiving the flu shot. Doing so would unfairly discriminate against anyone with a medical or religious exemption for the vaccine.
Can Your Boss Mandate a Coronavirus Vaccine?
The Coronavirus vaccine originally rolled out during the holiday season of 2020. Initially, it was made available to front-line workers, such as doctors, nurses, EMTs, and medical personnel.
As the vaccine rollouts continued, the general public received permission to get the vaccine. Can your employer insist you receive the vaccine now that it is your turn?
Many people are worried about the safety of the vaccine. They quote the standard time it has taken to release a vaccine in the past. They quote unknown (and possibly unfounded) side effects. They also quote the standard religious and disability exemptions.
The CDC, OSHA, and Department of Labor Answer to Mandatory COVID
Vaccines
The CDC, OSHA, and the Department of Labor have said an employer may be able to mandate the Coronavirus vaccine if it serves a clear business purpose. However, it also says, no entity can mandate a person receive a vaccine without FDA approval. Currently, the Pfizer Coronavirus Vaccine has full FDA approval. The Johnson and Johnson and Moderna Coronavirus Vaccines only received emergency FDA approval. Therefore, under the CDC, OSHA, and DOL rules, your employer can only mandate employees receive the Pfizer vaccine, as it has full FDA approval.
The EEOC Answer to Mandatory COVID Vaccines
The Equal Employment Opportunity Commission (EEOC) has released guidelines for employee rights regarding the COVID vaccine. According to the EEOC, the same rules as the flu shot apply for ADAAA exemptions and religious exemptions. Therefore, you can rightfully refuse the COVID vaccine if you have a medical or religious reason to do so.
The Courts' Answers to Mandatory COVID Vaccines
Several lawsuits are currently in court regarding an employee's right to refuse the COVID vaccine. Many of the lawsuits address the concern that the vaccine is not fully approved by the FDA. As the cases move through the court system, we will better understand your right of refusal regarding an employer-mandated vaccination policy.
If you refuse the vaccine for a legal reason, your employer must provide reasonable accommodations for your safety, your customers' and clients' safety, and their safety. These accommodations should be similar to those provided for people refusing the flu vaccine.
Is There a Better Option for Employers to Address the Need for Vaccines?
Most employee rights advocates recommend employers strongly recommend employees get vaccinated against the Coronavirus (instead of mandating the vaccine). Instead, employers can post information about the COVID vaccine, offer educational information sessions regarding the pros and cons of the vaccine, and bring in a medical professional to administer the vaccine to employees. Employers may even consider offering employees paid time off to get the vaccine and deal with any adverse side effects relating to the vaccine.
You Have the Right of Refusal
Even in places where vaccines are mandated, you may have the right to refuse them. You have a right to disability and religious exemptions. Make sure you let your boss know of your rights, concerns, and reasons. Help your boss come up with accommodations to keep you and others safe.
If your employer denies you these rights, seek legal help. The dedicated employment discrimination lawyers at the Derek Smith Law Group in New York City, New Jersey, Philadelphia, Miami, and Los Angeles can help. Call 800.807.2209 for a free consultation.