The New York Super Lawyers of 2019 has been released by Super Lawyers Magazine. We are proud to announce that Derek Smith of the Derek Smith Law Group has made the Super Lawyers list for the 6th year since 2010 as a top Employment and Labor attorney in New York City.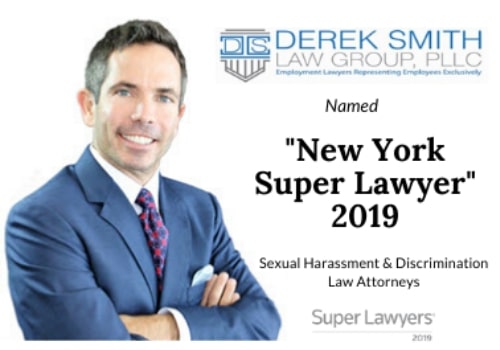 The New York Super Lawyers top Lawyers list only shows the top 5% of attorneys in New York City. While peers and colleagues nominate an attorney for the list, the attorney must go through a rigorous process of independent research across 12 categories, peer evaluation by a Blue-Ribbon Panel of attorneys, and then the final selection process. To be named in the list is an honor that Derek Smith is proud of and grateful to accept.
The Derek Smith Law Group focuses on sexual harassment and employment discrimination laws. For the past 25 years, we have been working with victims of workplace discrimination, sexual harassment, and even rape victims to help them get the justice and compensation they deserve.
Speak with a Knowledgeable Sexual Harassment & Discrimination Law Attorney
A workplace should be a safe environment, but many employees are subjected to ongoing harassment and discrimination. At Derek Smith Law Group attorneys will work tirelessly to help you in the pursuit of compensation for your harm. We can be reached at (212) 587-0760 or through the online consultation form to schedule a conference regarding your case.