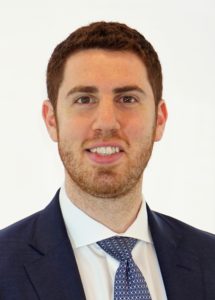 Zack Holzberg, Esq. | Managing Partner
New York Sexual Harassment Lawyer
Email: zachary@dereksmithlaw.com | Phone: 212-587-0760.
Practices Areas: New York & New Jersey Employment law focusing on:
Sexual Harassment
Employment Discrimination
Civil Rights cases
College:  University of Delaware, Bachelors of Science in Finance and Marketing.
Law School: Pace Law School, cum laude
---
Admissions:
State Bar Admissions: New York and New Jersey
Federal Court Admissions: Southern and Eastern Districts of New York
Biography:
New York & New Jersey Employment law attorney Zack Holzberg brings impressive experience and successful case results to the Derek Smith Law Group, PLLC.
Attorney Holzberg is an Associate with the Derek Smith Law Group where he focuses on Employment Discrimination and also handles Sexual Harassment and Civil Rights cases.
Attorney Holzberg received his Bachelors Degree from the University of Delaware where he was a double major in Finance and Marketing.
During his time at Pace Law School, Attorney Holzberg gained significant legal experience while clerking with the Senior Justice of the Commercial Division of the New York State Supreme Court. Furthermore, Zack worked as a law clerk with Welby, Brady & Greenblatt LLP, where he was involved in a number of high profile construction law cases. Zack also worked as an extern with a hedge fund, The Kenmar Olympia Group, where he gained significant experience working as in-house counsel and handling the fund's regulatory compliance.
Additionally, Attorney Holzberg was a member of the Executive Boards of the Corporate and Commercial Law Society, as well as the Sports, Entertainment, Art and Law Society.
After law school, Attorney Holzberg worked as an Associate at the firm of Bruno, Gerbino & Soriano LLP, where he did primarily insurance defense work.
Attorney Holzberg brings this skill set with him to the employment law firm of the Derek Smith Law Group to help New York & New Jersey employees in the area of employment discrimination and Sexual Harassment. As a passionate legal advocate, Zack believes in a hands-on approach and working diligently on each step of a client's case from inception through the solution, to ensure the best possible legal result.
---
Zack Holzberg Blogs
---
Zack Holzberg in the Media