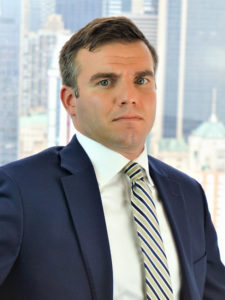 Kyle Bruno
New York & New Jersey Attorney 
Email: kyle@dereksmithlaw.com
Phone: 212.587.0760
Paralegal: Awa Henderson | 212.587.0760 Ext. 228
Practice Areas:
Sexual Harassment | Employment Law | Workplace Discrimination
Kyle is an experienced litigator who specializes in employment discrimination law.  Kyle handles all aspects of litigation, from client intake through trial.  As lead trial attorney, Kyle has received favorable jury verdicts for his clients in both Federal and State Courts.  Kyle's practice is client focused and he is driven by a strong desire to achieve the best possible results for the people he represents.
Before joining the Derek Smith Law Group, Kyle was an Assistant Corporation Counsel for the New York City Office of Corporation Counsel, where he represented the City of New York and its various agencies.  While working for the City of New York, Kyle handled employment discrimination cases, labor law cases, police brutality cases, and personal injury cases. Due to his strong performance, Kyle was recognized with a Division Chief Award and named Part Head of his litigation unit.
Kyle attended Seton Hall University School of Law where he earned a Juris Doctorate in 2013.  During his time at Seton Hall, Kyle earned the Raymond Tufo Top Constitutional Law Student Award for the Class of 2013 and was also named Best Oral Advocate for Appellate Advocacy.  Kyle also worked in the Civil Rights and Constitutional Litigation Center at Seton Hall where he helped represent marginalized individuals who lacked access to legal representation.
In addition to his legal experience, Kyle also has experience working in television production.  In particular, Kyle has been part of the broadcast teams that produced the 2008 Beijing Olympics, 2012 London Olympics, and Super Bowls XLIII, XLVI, XLIX.  Kyle also previously worked at MSNBC where he covered politics, finance, and foreign affairs.
Kyle earned a Bachelor of Arts Degree from Saint Joseph's University in Philadelphia where graduated Magna Cum Laude and was a member of Phi Beta Kappa, the nation's oldest honor society for liberal arts and sciences.  Kyle also earned a Masters of Arts Degree in Broadcast Journalism from New York University.
Kyle enjoys running, collecting vinyl records, and reading United States history.  Additionally, Kyle just completed a lifelong goal of traveling to all 50 States in America.