Workplace Sexual Harassment and Sexism is Illegal | NJ Sexual Harassment Lawyers Protect Your Rights

---
What exactly is Workplace sexual harassment in New Jersey? | Newark, NJ Sexual Harassment Lawyer Explains
New Jersey sexual harassment includes unwelcome sexual advances, requests for sexual relations or other verbal or physical conduct of a sexual nature. One example of sexual harassment in New Jersey is when someone; either a supervisor, co-worker or customer makes constant sexual requests from you.
Sexual harassment does not always have to be of a sexual nature. It may include remarks about a person's gender. For instance a male co-worker who consistently refers to his female coworker as a "dumb broad" is breaking the law and should be reported for sexual harassment.
Some other examples of sexual harassment are:
Unsolicited comments that are offensive about sexual orientation, sex, or gender.
Asking questions pertaining to sex, such as questioning a person's sexual history or sexual orientation.
Sharing inappropriate sexual pictures or videos with coworkers.
Making comments that are sexual about a person's clothing, body parts or overall appearance.
Sending inappropriate letters, emails or notes.
Making sexual gestures.
Staring in a suggestive or offensive way; or whistling
Unwanted physical contact, such as touching, rubbing, patting or even constantly brushing up against another individual.
A recent survey conducted by a popular magazine discovered that a surprising number of Newark, Jersey City, Hoboken, and throughout New Jersey employees had suffered some form of sexual harassment in the workplace. They found that as many as one in three women and men have been sexually harassed while employed in Newark, Jersey City, Hoboken or throughout New Jersey.
Now picture yourself seated at work in your cubicle or office space with one co-worker to your left and the other to your right – Well if your place of employment is in New Jersey, there's a good chance that one of you has been sexually harassed; but which one is it? The Newark, New Jersey sexual harassment attorneys at the Derek Smith Law Group
The chances of anyone knowing who the person that has experienced sexual harassment in Newark, Jersey City, Hoboken or throughout New Jersey are quite slim. The reason – because there is a strong possibility that the New Jersey employee will not report it – a 71 percent chance in fact, that it will go unreported. You immediately say to yourself "If I were sexually harassed at work, I would certainly file a complaint. I work hard at my job and no one deserves to get away with imposing that type of treatment on me or anyone else." But what if the individual who is being sexually harassed is not quite aware that the conduct he or she has experienced, is harassment?
That's right. Newark, New Jersey Sexual Harassment may not always be apparent. Ask any individual to describe workplace sexual harassment and you will find most are aware of what the basic definition is; but sexual harassment comes in various forms making it difficult at times to determine if it really is sexual harassment or if it's harmless office flirting. Sexual harassment raining in Newark, New Jersey sexual harassment law is not required of employers, but it is strongly recommended to avoid problems between employees and between supervisors and subordinates. Sexual harassment in the NJ workplace can be one single incident or a combination of incidents that occur over time and are of varying seriousness. For example, unwelcome touching would be a single act serious enough to constitute harassment in New Jersey. However, repeated, smaller offensive actions can also constitute sexual harassment actions serious enough to justify an official compliant. However, not every action of a sexual nature is considered harassment in New Jersey. Minor teasing or casual, one-time sexual references are not generally considered sexual harassment in New Jersey. An action must be seriously offensive, done on a repeating basis and must cause distress to the individual who is the target of the action. If you feel you are the victim of workplace sexual harassment or sexism in Newark, Jersey City, Hobken or throughout New Jersey call the NJ sexual harassment attorneys at the Derek Smith Law Group today for a free consultation.
---
The U.S. Equal Employment Opportunity Commission | New Jersey Sexual Harassment EEOC Claims Attorneys
The U.S. Equal Employment Opportunity Commission (EEOC) is a federal agency responsible for implementing and enforcing laws that make it illegal to discriminate in the workplace based on a person's color, pregnancy, religion, race, national origin, gender, or age (40 or older), genetic information or disability. Furthermore, discrimination against an individual because that person complained about employment discrimination, filed a charge of employment discrimination or participated in an employment discrimination lawsuit or investigation is illegal.
The top rated New Jersey EEOC attorneys at the Derek Smith Law Group are experienced in all phases of the New Jersey EEOC sexual harassment and employment discrimination legal process and can guide you in your EEOC claim. Our New Jersey EEOC attorneys offer a free consultation and take charge no fee unless we recover for you in your EEOC claim or sexual harassment lawsuit. Our New Jersey sexual harassment attorneys have received multi-million dollar verdicts for the last four years. We don't just talk about getting you great results in your sexual harassment or employment discrimination legal case, our employment law verdicts speak to our results and results matter.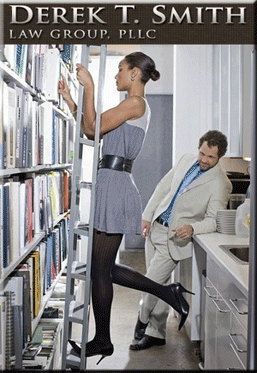 New Jersey companies who employ 15 people or more are in adherence to the laws of the EEOC. In addition most employment agencies and labor unions are covered. EEOC laws also apply to various work situations which include hiring, firing, promotions, wages, benefits, training and harassment.
According to the EEOC, sexual harassment is considered to be a form of discrimination. Federal workplace laws recognize two types of sexual harassment:
Quid Pro Quo (the Latin translation meaning this for that): This type of sexual harassment is when an individual in an authoritative position, such as a supervisor, requests sex in exchange for the employee keeping his or her position; or for raises, bonuses or a promotion. Thus, an employee may perceive that he or she must tolerate sexual advances or engage in a sexual relationship in order to continue employment, to achieve advancement, or to avoid adverse employment consequences such as poor evaluations or demotions.
Hostile Work Environment: This type of sexual harassment takes place when employees or non-employees demonstrate inappropriate behavior by joking, threatening or displaying sexual photographs in the workplace. Such conduct creates an unlawful work environment when it is severe or pervasive enough to make a reasonable person of the employee's gender believe that the conditions of employment have been altered and the working environment has become hostile or abusive.
---
The New Jersey Law Against Discrimination (LAD) | Top Rated New Jersey Sexual Harassment Lawyers
Not only are employees protected against sexual harassment by federal laws, but they are also covered under state laws, as well.
The New Jersey Law Against Discrimination (LAD) makes it illegal for employers to discriminate against any individual in any action relating to his or her employment. This includes interviewing, recruiting, promoting, hiring, compensating and discharging. Furthermore, the terms, privileges and conditions of employment based on creed, race, national origin, color, ancestry, nationality, national origin, sex, age (including pregnancy and sexual harassment), marital status, domestic partnership or civil union status, sexual orientation, gender identity or expression, physical or mental disability, including HIV and AIDS related illnesses. The LAD prohibits intentional discrimination based on any of these characteristics.
There are also other forms of sexual harassment that may not appear to be the "typical" kind. Some forms of slightly uncommon sexual harassment scenarios are when:
Both the harasser and the victim are of the same sex. Sexual harassment can either be man on man or  woman on woman;  the harasser and the victim can be the same sex.
The harasser can also be the victim's supervisor, a supervisor in another area, a co-worker or someone who is not an employee such as a client or a customer.
An employee is offended by the actions of another co-worker(s). The actions may be consenting or non-consenting on the part of one or both; but if it offends another employee, then that individual has that right to take action.
You should not have to go to work each day, subjected to a hostile work environment. As a general rule, if it feels uncomfortable, you need to question the type of conduct that you are experiencing. Every day you go to work with the intent to complete your job. If you do not perform your daily job duties, your superiors will be quick to replace you. So why work in an environment that would hinder you from effectively fulfilling the expectations your employer requires from you?
---
When and How Does Sexual Harassment occur? | Sexual Harassment and sexism Attorneys in Newark, New Jersey
Sexual harassment can occur in any type of work environment. Ingrained in our minds are the fact that we have been taught to respect our co-workers, supervisors and clients but when any one of those individuals steps out of the line of respect into the boundaries of unsuitable behavior toward us, then we must take the necessary action to correct the misconduct.
Being a victim: Once an employee becomes sexually harassed or experiences any misconduct by his/her employer, that employee becomes a victim. Many victims who experience sexual harassment do not report it. It may seem foolish that the victim would choose not to report this type of behavior but standing up to an individual who works for a company that issues our paycheck, can be quite a daunting task. Some of the most common reasons why a victim would fail to report this crime are because:
The sexual harassment victim often feels that he/she is to blame
The sexual harassment victim feels helpless
The sexual harassment victim feels that his/her complaint will not be taken seriously
The sexual harassment victim is afraid to lose his/her job
The sexual harassment victim feels embarrassed
The sexual harassment victim believes that somehow he/she misunderstood the harassment
The individual does not know how to go about reporting the sexual harassment
It is extremely important for the victim to understand that he or she is not at fault. Be quick to recognize the signs of sexual harassment and report it. When the victim knows and understands his/her rights, it gives that individual a sense of enlightenment as well as a feeling of empowerment. Here at the employment law firm of the Derek T. Smith Law Group, our Newark and Jersey City New Jersey sexual harassment attorneys are here to assist you. We will do everything we can to help you understand your rights as an employee as our sexual harassment lawyers fight for justice on your behalf.
The sexual harassment attorneys at the Derek T. Smith Law Group have committed themselves to making sure no individual would be subjected to the transgressions of sexual harassment in Newark, Jersey City or throughout New Jersey without due process.
---
Title VII of the Civil Rights Act of 1964 | Employment Discrimination Attorneys in Newark, New Jersey
Our employment discrimination attorneys are compassionate and understanding toward our clients. We are familiar with all facets of New Jersey employment law including sexual harassment, workplace discrimination and wrongful termination. Our Newark, Hoboken and Jersey sexual harassment lawyers take pride on being highly skilled and passionate about defending the rights of New Jersey employees who are involved in sexual harassment of any type in the workplace throughout New Jersey, New York and Philadelphia. The New Jersey employment discrimination attorneys at the Derek Smith Law Group, PLLC are experienced employment law mediators and litigators who work diligently on your behalf against those who violate your rights as a New Jersey employee.
Under Title VII of the Civil Rights Act of 1964, it is illegal for a person to harass another person because of that person's sex. New Jersey Sexual harassment may include unwelcome sexual advances or the sexual harassment maybe a requests for sexual favors, and other physical or verbal harassment of a sexual nature.
New Jersey law does not prohibit offhand comments, simple teasing, or isolated incidents that are not very serious, however it is illegal when it is so severe or frequent that it creates a hostile or offensive work environment or when it results in an adverse employment decision (such as the victim being demoted or fired).
If you have experienced workplace sexual harassment in Newark, Jersey City or throughout New Jersey, you may be feeling an array of different emotions. As a victim of sexual harassment, it's not unusual that you may feel frustrated, confused and emotionally drained. Being the victim means that you have been harassed and victimized against your will however, it does not mean you have to continue to suffer at the brunt of inappropriate workplace behavior or be subjected to a hostile job environment on a continual basis. Take control of the situation and put a stop to this inappropriate treatment immediately by calling one of our sexual harassment attorneys.
It's essential to obtain legal representation of a competent New Jersey sexual harassment attorney who is not only capable of fighting for your rights but passionate about your case as well. Our sexual harassment attorneys are just that. We take a personal interest in every client that comes through our office. We care about you and are committed to making sure justice is served on your behalf.
---
New Jersey Sexual Harassment Attorneys | Free Consultation – No Fee Unless We Recover | Call Today 800-807-2209

Our New Jersey sexual harassment and employment law attorneys fight to obtain compensation for New Jersey employees affected by sexual harassment and gender discrimination in New Jersey. We also have offices in New York City, Philadelphia & Washington D.C.. Our New Jersey Sexual Harassment Attorneys offer a free consultation and take no fee unless we recover for you in your sexual harassment lawsuit.
Call today and schedule a free consultation with one of our New Jersey sexual harassment attorneys. Our Newark sexual harassment lawyers serve employees in Newark, Jersey City, Paterson, Woodbridge, Toms River, Hamilton Township, Clifton, Trenton, Camden, Cherry Hill, Passaic, Old Bridge, Bayonne, Vineland, North Bergen, Union, Hoboken, West New York, Perth Amboy, Parsippany, Piscataway, Washington Township, East Brunswick, West Orange, Sayreville, Hackensack, Elizabeth, Linden, Atlantic City, Long Branch Manalapan, Rahway, Bergenfield, Paramus, Point Pleasant Beach, Weehawken, Wildwood, Livingston and throughout New Jersey. For more information on New York, New Jersey and Philadelphia labor & employment laws, and other types of Sexual Harassment and Employment Discrimination visit our New York City Employment Law Blog
Sexual Harassment Attorney in Newark, NJ | NYC, NJ and Philadelphia Sexual Harassment Lawyers

 
 
 
New York Office
1 Pennsylvania Plaza, 49th fl.
New York City, NY 10119
Phone: 877-469-5297
Fax: 212-587-4169
Click for street directions »
Philadelphia, PA Office
1845 Walnut Street,
Suite 1600
Philadelphia, PA 19103
Phone: 215-391-4790
Click for street directions »
New Jersey Office | Hewitt
73 Forest Lake Drive
Hewitt, NJ 07421
Phone: 800-807-2209
Fax: 212-587-4169
Click for street directions »
 
 
 

Newark Sexual Harassment Lawyers offer a Free Consultation and we charge No Fee Unless We Recover